It was warmer and sunnier than predicted when more than 450 Harvard students, staff, and faculty crossed the Charles River on Sunday to run in the Brian J. Honan 5K, an event that has become a tradition for the Harvard community.
Now in its 12th year, the race benefits the Brian J. Honan Charitable Fund, which fosters local and national programs supporting education, recreation, housing, and healthcare. With a total of 1,198 registered, 889 finished the run.
Boston Mayor Martin J. Walsh thanked the runners who came out to participate and to celebrate the spirit of Honan, a city councilor for Allston-Brighton who died in 2002.
"Brian Honan was a friend of mine, and a friend to a lot of us," Walsh said. "He was a beautiful, wonderful public servant, and this event is a great way to support his work and his family."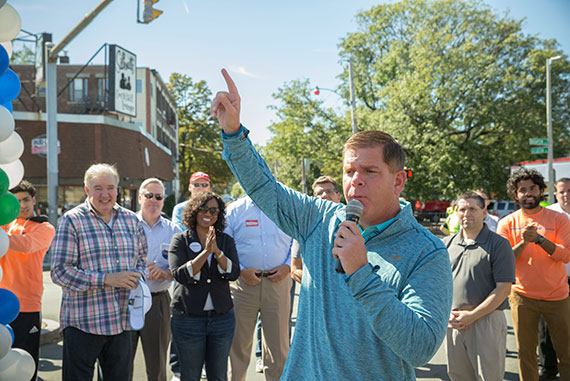 State Rep. Kevin G. Honan said the annual race was "a wonderful way to remember my brother and all the good things he did for this neighborhood. It's got a big impact on local causes. For example, the Brian J. Honan Fellowship at the West End House puts students from Allston, Brighton, and Boston in nonprofit situations for the summer, helping them learn about government and community service."
Honan said that support from Harvard and other area universities and colleges is crucial to the race's success. That support, he said, is "very critical. This event brings the whole community together — long-term residents, new residents, and all the students. We're very grateful to the University for stepping up, and helping to share Brian's vision for our community."
"The positive spirit of community and the opportunity to engage with our friends and neighbors in celebrating and supporting such an important cause makes this event a fall favorite for all of Harvard," said Kevin Casey, associate vice president for public affairs and communications. "Brian Honan was a great friend to Harvard and an incredible advocate for the entire Allston-Brighton community. We are always proud to be part of helping honor his legacy."
Katie Quissell watched with her 5-month-old daughter, Sydney, as her husband, Sean Martin, ran in the race.
"It's our first year living in Boston, and a bunch of his colleagues were participating, so we came out," she said. "It's a beautiful day, and everyone's having such a good time. I'm on the sidelines this time, but maybe I'll run next year!"
Greg Parker '17, who is a member of the Harvard Running Club, relaxed after the race. "It was a lot of fun. I did it last year, too — the whole Harvard Running Club comes out together. Everyone's busy, but when we can, we always like to come out here to do this race."
Members of the Harvard Running Club were also on hand at the finish line to pick up the Honan Race Cup Championship plaque. Every year local colleges have a friendly competition to see which school can mount the best overall finish times.