Anyone who doubts the importance of global health issues or thinks that national boundaries will ensure safety from emerging diseases, consider this: We live in a time when the incubation period of every known human pathogen is longer than the longest intercontinental flight.
"Think about that," said Ashish Jha, director of the Harvard Global Health Institute, professor of medicine, and K.T. Li Professor of International Health. "You can pick up an infection in Mumbai, feel perfectly well and get on a plane, get off in Manhattan without showing any signs of illness. It's just the world we live in."
That fact, regularly shared by former Harvard T.H. Chan School of Public Health Dean Julio Frenk and repeated by Jha on Thursday, illustrates just half of the modern reality of global health. Because of modern transportation systems, an international economy, and rapidly advancing computer and communications technology, the world is more tightly knit than ever. When it comes to disease — such as the Ebola outbreak in West Africa — the problems of other countries are now ours as well.
But the other side of the coin is that health professionals have more diagnostic and treatment tools than ever. Rapidly advancing knowledge is driving new technology, drugs, and procedures that collectively have made major strides in fighting once-intractable ailments, like HIV, malaria, and polio. Harvard is a leading player in creating, teaching, and sharing the knowledge that underlies those advances.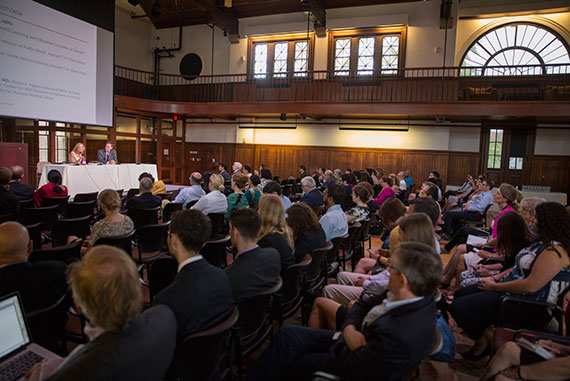 "That's our core business, knowledge," Jha said. "We can create it — we do a pretty good job creating it. We can teach it. We can share it with the world … Knowledge is probably the single biggest force for good that the world has ever known."
Jha made his comments during a symposium at the Radcliffe Institute for Advanced Study's Knafel Center. The daylong event was organized to mark the fifth anniversary of the creation of the Harvard Global Health Institute and intended, Jha said, as a look both back and forward.
The symposium featured comments by Harvard President Drew Faust, a retrospective look at the Institute's founding by former director Sue Goldie, remarks by David Golan, dean for graduate education at Harvard Medical School, David Hunter, acting dean of the Harvard Chan School, and Paul Farmer, Kolokotrones University Professor of Global Health and Social Medicine. The symposium also featured discussions on leading and managing health systems, building human networks, and generating the knowledge needed to improve global health.
In her opening speech, Faust reflected on Harvard's longstanding efforts to improve health around the world, from past work that contributed to the eradication of smallpox and the near-eradication of polio to more recent work to fight HIV, the cholera epidemic that erupted in Haiti after the 2010 earthquake there, or the Ebola outbreak in West Africa.
Global health, Faust said, is a uniquely interdisciplinary problem, touching all aspects of society and requiring insights and collaboration of faculty across discipline lines. She applauded the institute's role in inducing that collaboration and called its work an example of the "One Harvard" that she has advocated during her presidency.
"Global health … embodies what that integration and common purpose can be," Faust said. "Global health was an ideal candidate for silo-free thinking."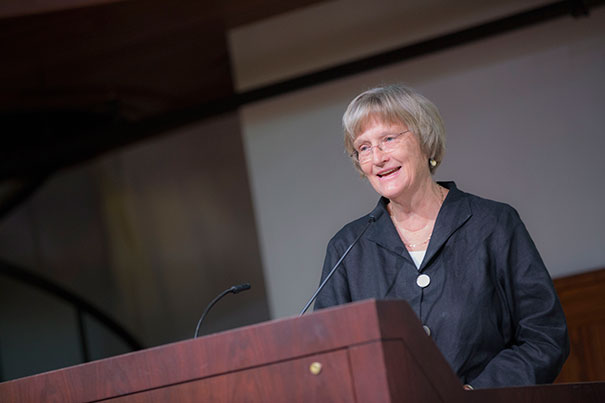 Faust said she saw global health as an area not just of great potential for progress in the world, but as an area where Harvard's strengths could have impact. New knowledge and tools, she said, make a leap in progress possible, even as new threats emerge.
The student body seems to recognize this time of opportunity in worldwide health as well, Faust said. The number of undergraduates studying global health as a secondary field has doubled over the last five years. Students worldwide have expressed interest, Faust said, flocking to a HarvardX course on biostatistics and epidemiology, including some 8,000 participants in India alone.
Roger Irving Lee Professor of Public Health Goldie, who stepped down as institute director last year to create the Global Health Education and Learning Incubator at Harvard University, reflected on the institute's early years in answer to questions posed by Bruce Walker, professor of medicine and of microbiology and immunology.
The success among students of the global health secondary field is important, Goldie said, but a bigger achievement is that 5,800 undergraduates have taken courses that make them literate on the subject before they leave Harvard. It's also important, she said, that the institute became a place where people could come together around the issue.
While there are large challenges remaining, Goldie said that the world is in "a really unique moment" of progress on global health issues and that shared concern in that area can be a force for broader peace and security.