As brilliant as any of the works in the Harvard Art Museums' galleries is a rainbow of small glass jars on the building's fourth floor.
Curious visitors who turn left exiting the museums' elevators will see the Forbes Pigment Collection, a floor-to-ceiling wall of color compiled between about 1910 and 1944 by the director of the Fogg Art Museum.
"In thinking about the role of a university museum, he was the first to conceive of it as 'a laboratory for the fine arts,' " noted research curator Francesca Bewer in her book "A Laboratory for Art: Harvard's Fogg Museum and the Emergence of Conservation in America, 1900–1950."
Edward Forbes' fascination with a painting's colors and their binding medium — a close inspection of which could help to determine a work's authenticity — fueled his desire to use science to understand and study great works of art. He is often cited as the father of the field of art conservation in the United States.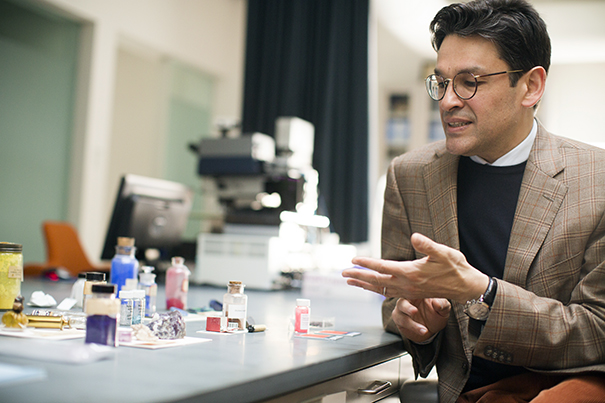 By the 1920s, Forbes had amassed containers of deep blues, rich purples, vibrant yellows, and myriad other colors from his travels to Europe and the Far East. Through the years, word of mouth helped the collection to grow as other art lovers and experts donated their own pigments. The museums' collection, which is continually added to, now contains more than 2,500 samples and is renowned in the art community. For years, the pigments have helped art experts to research and authenticate paintings. Samples from the collection have been sent to the J. Paul Getty Museum, the Library of Congress, the Asian Art Museum of San Francisco, and the National Research Laboratory for Conservation of New Delhi, India.
In Cambridge, Forbes' legacy thrives in the museums' Straus Center for Conservation and Technical Studies, where experts preserve masterworks for future generations and decipher the chemical makeup of paint and pottery glaze. In addition to being their own artworks, Forbes' pigments are a window to the past, shedding light on the working methods and preferred materials of renowned artists. Studying the pigments also reveals the effort it took, in the days before synthetic pigments, to get colors just right.
Earlier this year, Narayan Khandekar, the Straus Center's new director, pulled out for inspection a selection of intense colors with curious backstories to share:
A piercing, precious blue
Skill was needed to extract the rich blue hue from the lapis lazuli stone mined from quarries in Afghanistan. Preparers carefully ground the precious rock into particles small enough to work with yet "large enough to contain the blue color," said Khandekar, holding up a jar of intense deep-blue powder. The color was used in medieval paintings. More prized than gold, it "often warranted its own budget line in agreements."