The work of British artist Walter Crane serves as an intricate key unlocking a man of many parts.
Best known as an illustrator of colorful and carefully detailed children's books, Crane (1845-1915) was also a painter, writer, poet, and designer. He added his voice to London's Victorian-era Socialist movement.
Harvard has one of the world's largest and most important Crane collections. Houghton Library is the trustee of some 3,000 pieces, including the artist's published work as well as many of his paintings, sketchbooks, manuscripts, and preliminary drawings.
Hope Mayo, the Philip Hofer Curator of Printing and Graphic Arts at Houghton, said the University's extensive archive of Crane's work is relatively unknown — seen only by a few people since the late 1920s, when the bulk of the collection was gifted to Harvard by Augustin H. Parker 1897, husband of the Boston collector Caroline Miller Parker.
Now comes a chance for a wider view. An exhibition of materials drawn from the University's holdings is open at Houghton Library, marking the 100th anniversary of Crane's death.
"We have a very important collection of works by him, representing almost all the different aspects of his artistic production," said Mayo. "This exhibition is a jumping-off point to inspire more cataloging and digitization of Crane's work, and to share to it all via the Internet, where anybody can see it. Scholars have to know the collection exists before they can take advantage of it."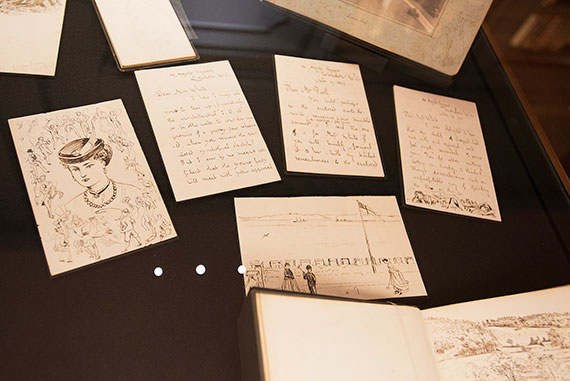 Crane was born to an artistic family in Liverpool in 1845. His father, Thomas, was a painter. His siblings Lucy and Thomas were a writer and an illustrator, respectively.
Francesca Tancini, curator librarian of the art library of the Federico Zeri Foundation at the University of Bologna, who has focused her research on the work of Crane and other illustrators of his era, is one of the few scholars who have surveyed the entire Harvard collection. At the peak of his career, she said, Crane was a major success whose work was well-known across Europe and the United States.
"Crane was a very prolific, versatile, and gifted artist," said Tancini. "He was the first to firmly believe that children deserved work of the same quality as that created for adults. He assigned to children's books — hitherto perceived as mere editorial products — a completely new status, that of works of art."
The exhibition features much of the work that made Crane famous in his time, including many of his nursery rhymes, fables, and bedtime stories. Also included are books Crane created to help children learn the alphabet and numbers, and to read.
Some of the books in the exhibition are accompanied by the preliminary drawings and sketchbooks behind them. Many of Crane's characters were based on members of his own family, including his wife and children.
"He was able to engage with children even before he had children of his own," said Mayo. "In fact, about half of his toy books were done before he had children. So from the very beginning, he had thought about what children like to see and how children perceive things. He used nursery rhymes and stories with very colorful illustrations to try to present little lessons."
The exhibit touches on other pursuits in Crane's life, such as designing wallpaper and home decor, and his diaries from travels across the United States. It also addresses his support for the Socialist movement in London in the late 19th century, which extended to producing cartoons for publications and illustrations for pamphlets.
"Crane constantly questioned the social status of art products and the role of the arts and tested the boundaries between high and low arts," said Tancini.
"The World of Walter Crane" runs through Dec. 28 at Houghton Library's Edison and Newman Room. An illustrated catalog of the exhibition will be published in a forthcoming issue of the Harvard Library Bulletin. Francesca Tancini will deliver a lecture titled "A for Art, B for Books, C for Crane" at 5:30 p.m. Sept. 30 at Lamont Library.