When most students vacate the University at the end of May, they make room for a new cohort: the tourists!
Summer in Harvard Square is a bustling mix of street musicians, artists, city residents, and visitors from around the globe clamoring to see the famous College. Whether arriving in droves by bus or in small groups stepping off the subway, tourists are everywhere, and here to greet them and show them around campus are tour guides. They are young and old, current Harvard students, alumni, and actors. Some have even "traveled" through time. Curious? So were we.
Here are several of the tour guides manning the front lines of the tourist invasion, with their thoughts on the tour-guide life and the University itself.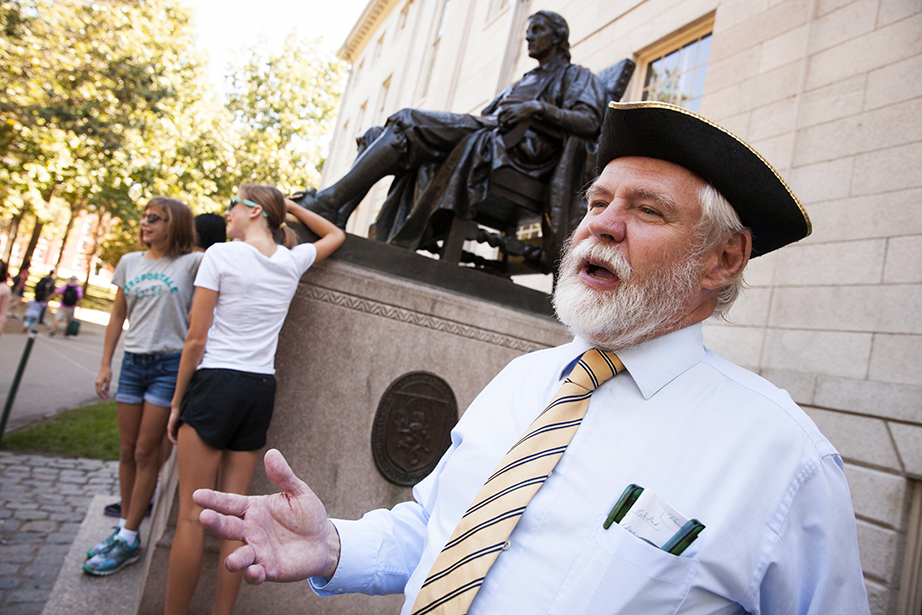 Who: Vincent Dixon, Harvard Extension School '75, Ed.M. '77; works for Cambridge Advantage Tours
Resides: Winchester, Mass.
Why tours? After careers in business and politics, Dixon was asked to give tours in his former hometown of Cambridge. "One, giving tours does generate some income," he said, "and two, Harvard is, more than ever, kind of a translation between a world of ignorance and a world of inspiration. I have the opportunity to give people the details that make Harvard what it is, and inspire them."
Favorite spot: The John Harvard Statue. "It's called the 'statue of three lies,' but for a University dedicated to veritas, or truth, I call it 'the statue of three truths.' Those truths are that the man represented is dressed as a minister in the local Calvinist tradition … and President [Drew] Faust dresses in a distinguished black gown at Commencement and other major convocation events; secondly, John Harvard as a Calvinist minister was in an important sense a founder of Massachusetts, a church state; and lastly, 1638 is the first year that degree candidates were admitted — first degrees were granted in 1642."
Fun fact: Dixon has given tours to Kim Campbell, the only female prime minister of Canada, and he continued giving tours through the Occupy Movement: "I negotiated the allowance of tours," he said. "I said, 'Look, I'm a Harvard alumnus. I'm not a threat.'"
Call of duty: Youngsters interested in applying to Harvard often visit three to four years in advance of graduating high school, Dixon said, "and as an alumnus, I have a deep sense of responsibility to represent the University well."
Who: Kara Birkenmayer, Harvard College student; works for the Harvard Information Center
Resides: Cambridge, Mass.
Tour guiding for: A month
Why tours? "Giving tours has always been something that I've wanted to do because I was so terrified of it. Public speaking is one thing when you've got a written-out, prepared speech that you deliver to a panel of judges. But if you're speaking to tourists who are asking questions, where you have to think in the moment, change up a few details here and there, that's different. And I think it's a hugely beneficial life skill, really. I knew it would be a challenge that would be very beneficial."
Favorite spot: Widener Library. "Giving tours has made me appreciate Harvard so much more. When I walk into Memorial Hall and see the expressions on people's faces, and I say, 'Teddy Roosevelt was here'; 'Winston Churchill spoke here'; 'Lady Gaga was here,' it brings home the fact that I am in such a huge, internationally acclaimed institution. And I think that Widener especially epitomizes that. I stun myself every time I say that we have 16.8 million volumes in over 70 libraries. That just absolutely blows my mind. I think it's really incredible. That's why I like Widener."
Common inquiry: "I've been asked a few times: How did I get in? I don't know, nobody knows. It's not as if it's a recipe."
Say what? "I had an entertaining conversation with a little boy who was asking me about the Harvard sports team, what we were called. I said the Harvard Crimson, and that we don't have a proper mascot. He said, 'My dad told me you were the Harvard Snails.' Either that's a really lame joke, or he's ill-informed. But cute, anyway."
Favorite fact: "My favorite fact is one that isn't from the official tour. Around the 1970s, someone tried to steal the Gutenberg Bible from Widener. He managed to get past the alarm systems. He was actually busy exiting, but he was doing so by rope from the roof, and he fell. He fell, and he was found the next morning unconscious. The Bible was in his rucksack. Apparently, the binding was slightly damaged, but it was fine."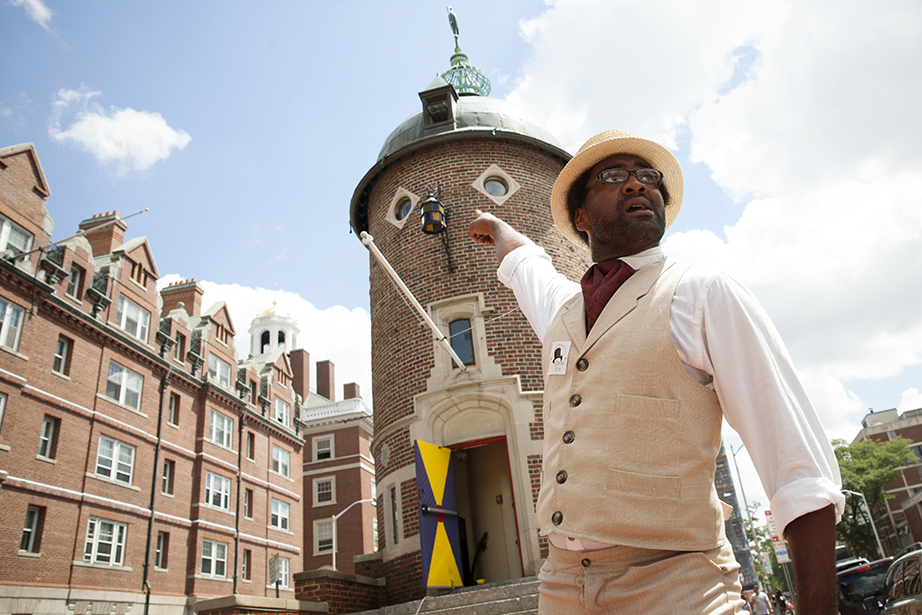 Who: Stewart Smith, actor, works for Cambridge Historical Tours, portraying Clement G. Morgan, a son of slaves and a graduate of Harvard College and Harvard Law School, the first African-American to hold degrees from both Schools
Resides: Allston, Mass.
Tour guiding for: "A year and some change."
Why tours? Stewart, who leads tours as Morgan, said: "I get to talk about history with people who actually want to listen to what I have to say."
Common inquiries: "I get a lot of simple inquiries. 'How much is tuition?' 'What is the student population?'"
Favorite stop: The Lampoon Castle, designed to resemble the face of a surprised Soviet guard. "I love that story because it's a great thing to do," said Smith. Additionally, there's the rivalry between the Harvard Lampoon and the Harvard Crimson, with elaborate pranks carried out by the two organizations. Notably, the theft of the building's copper ibis — a gift from former Lampoon writer William Randolph Hearst — which was donated to a representative of the Soviet Union at the United Nations. However, the Lampoon was able to retrieve the bird before it was sent to Russia.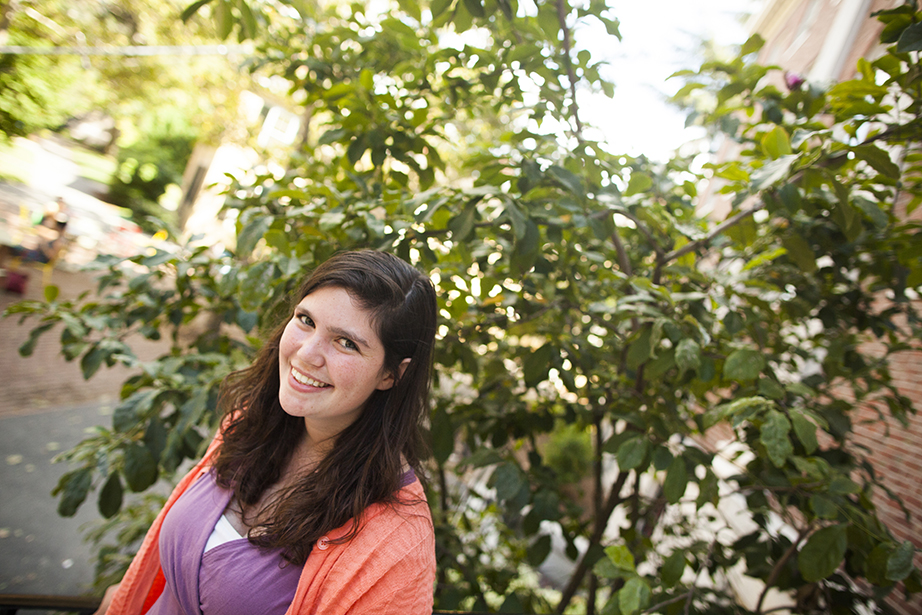 Who: Annie Manhardt, first-year Harvard Law School student; works for the Harvard Information Center
Resides: Newton, Mass.
Why tours? "I wanted to work part-time over the summer and get to know people in the community here. So I looked online and found this job. It's been really good for me to learn about the campus and about the student experience, and get to know people at Harvard. It's helped me get more comfortable, so I'm not as nervous going into the school year."
Favorite tour stop: "Dudley Hall. It's the part of the tour where I talk about Radcliffe College and women's history at the University — how they were integrated, slowly."
Common inquiry: "How do you get into Harvard?"
Weirdest inquiry: "One time someone asked me where the nearest microwave was."