Harvard announced today that alumnus John A. Paulson, M.B.A. '80, founder and president of Paulson & Co., has made the largest gift in the University's history, a $400 million endowment to support the School of Engineering and Applied Sciences (SEAS). To honor his generosity, the School will be renamed the Harvard John A. Paulson School of Engineering and Applied Sciences.
Paulson's gift comes at a time of great opportunity for SEAS. Founded in 1847 as the Lawrence Scientific School, it later became the Division of Engineering and Applied Sciences and then, in 2007, the School of Engineering and Applied Sciences. Since becoming a School, SEAS has added three undergraduate concentrations (biomedical engineering, mechanical engineering, and electrical engineering) and a master's program in computational science and engineering, the faculty has grown by nearly 30 percent, and course enrollment has increased by nearly 150 percent.
The School is also planning for expansion into Allston, where its scientists and engineers will occupy state-of-the-art research and teaching facilities within a campus anchored by science and adjacent to Harvard Business School (HBS) and the Harvard Innovation Lab (i-lab). In Allston, SEAS will be at the center of a community of entrepreneurs and innovators in an emerging research enterprise zone.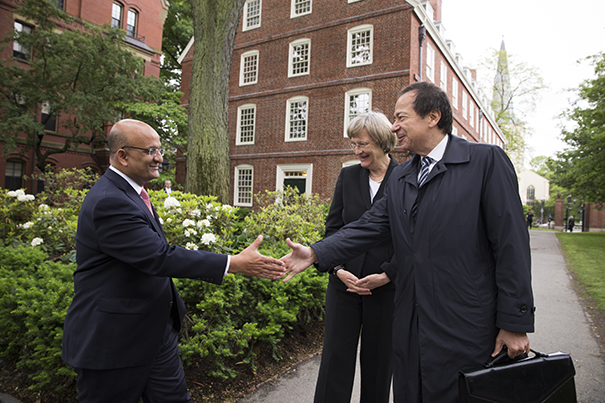 "John Paulson's extraordinary gift will enable the growth and ensure the strength of engineering and applied sciences at Harvard for the benefit of generations to come," said Drew Faust, president of Harvard University and Lincoln Professor of History. "His appreciation of the importance of SEAS to faculty, students, and Schools across the University has motivated a historic act of generosity that will change Harvard and enhance our impact on the world beyond."
Paulson's gift comes in the midst of The Harvard Campaign, publicly launched in September 2013. The campaign seeks to raise $6.5 billion to shape the future of education with a focus on University aspirations, including advancing new approaches to teaching and learning, attracting and supporting the best students and faculty, creating a campus for the 21st century, and supporting multidisciplinary research.
"There is nothing more important to improve humanity than education," said Paulson. "For 379 years, Harvard has had a profound global impact across a multitude of disciplines that benefits all of humanity. Today's gift will help continue that legacy by making SEAS a 21st-century engineering leader. It provides a solid endowment for faculty development, research, scholarships, and financial aid.
"SEAS is the next frontier for Harvard, and its expanding campus in Allston promises to become the next major center of innovation. As an alumnus of Harvard, one who has benefited greatly from the education I received here, it is both a privilege and an honor to support this endeavor," he added.
Through research and teaching, SEAS faculty and students address some of the greatest challenges facing society. SEAS laboratories have achieved remarkable discoveries, including recent breakthroughs such as an organ-on-a-chip platform that can be used for drug testing, a swarm of self-organizing robots, novel nanotechnology devices that are changing optical electronics, an implantable cancer vaccine, new knowledge about the links between atmospheric chemistry and climate change, and a robot that can assemble itself from a flat sheet.
SEAS also offers all Harvard College students an introduction to engineering and technology — essential knowledge for leaders in any field in the 21st century. Alumni include former Microsoft CEO Steve Ballmer '77, NASA astronaut Stephanie Wilson '88, U.S. Secretary for Housing and Urban Development Shaun Donovan '87, M.Arch. '95, M.P.A. '95, and Zappos CEO Tony Hsieh '95.
Student interest in engineering and applied sciences continues to grow rapidly. The number of undergraduate concentrators has risen exponentially in recent years, and this past year the introductory computer science course CS50 became the most popular course at the College, with more than 800 registered students.
Incoming dean Francis J. Doyle III will serve as the inaugural John A. Paulson Dean of SEAS, in addition to his assuming the John A. and Elizabeth S. Armstrong Professorship of Engineering and Applied Sciences.
"There is no easy formula for innovation, in both the physical and digital worlds — in both atoms and bits — but SEAS accomplishes both," said Michael D. Smith, Edgerley Family Dean of the Faculty of Arts and Sciences and John H. Finley Jr. Professor of Engineering and Applied Sciences. "From the groundbreaking 'sharing economy' entrepreneurship of Airbnb co-founder Nathan Blecharczyk '05 to the transformative work of biomimetic engineer Professor Joanna Aizenberg, SEAS demonstrates what's possible when you combine a world-class research and teaching environment with a fundamental commitment to the liberal arts. That's engineering at Harvard. That's what this gift will multiply."
"SEAS has a rich history of extraordinary discovery and innovative teaching," said Harry R. Lewis, interim dean of SEAS and Gordon McKay Professor of Computer Science. "This visionary gift will enable our faculty, researchers, and students to build on that legacy and fulfill our potential to become one of the world's premier engineering and applied sciences programs."
"John is the epitome of a visionary leader," said Nitin Nohria, dean of HBS and George F. Baker Professor of Administration. "He understands that this gift will be the cornerstone for a Harvard campus in Allston where multiple disciplines can converge and combine their passion for knowledge, unleashing discovery in ways that truly benefit society and the world."
Paulson graduated from HBS with high distinction in 1980. He founded Paulson & Co. in 1994 with $2 million and one employee. Today the company, which specializes in alternative investments, manages more than $19 billion and employs more than 125 people worldwide.
Over the course of his career, Paulson has given generously to support a number of causes, including in education, the arts, health care, and conservation. He also serves as a board member to a number of nonprofits, including the Harvard Business School Board of Dean's Advisors, the New York University Board of Trustees, the 92nd Street Y, the Central Park Conservancy, the Metropolitan Museum of Art, and the Council on Foreign Relations.