Many are called to accept their degrees during Morning Exercises. But only three are chosen to speak.
This year, two Harvard seniors and one doctoral student from Harvard Medical School will deliver Commencement's orations: English, Latin, and Graduate. They were chosen in a speech-writing competition held yearly by the Harvard Commencement Office.
The orators represent a speaking tradition at Harvard that evolved from a 17th century requirement for seniors graduating from Harvard College: Defend your senior theses in Latin, Greek, or Hebrew.
This year's topics seem both timely and traditional: Know your personal worth. Embrace what is enduring. And maintain perspective, bolstered by friendship and everyday kindness.
Here are the speakers:
James P. McGlone, Latin speaker
Harvard is full of eloquent people, but few of them converse in Latin. Ergo, James P. McGlone, 22, is interesting in a magnus or summus kind of way. The New Jersey native started studying the language of Cicero, Ovid, and Horace at age 12, topped that off with three years in high school, and then took two semesters' worth in college. Latin is hardly dead or irrelevant, he said, since it lies at "the roots of our civilization," and to this day has an influential beauty, logic, and order.
"Knowing this language has improved the quality of my writing," said McGlone of his English composition, and he foresees the rigor and order of Latin helping him in law school some day. (Both his parents are lawyers, and his mother supplied some early Latin lessons at home.) Last summer, McGlone spent five weeks sharpening his Latin at the Paideia Institute in Rome, where after graduation he will spend 10 months as an instructor.
At Harvard, McGlone also took two years of Greek while studying ancient history; debated at the John Adams Society (usually in English, though "I've been known to start rambling in Latin"); took part in the University's Roman Catholic chaplaincy from freshman year on; played softball on several Kirkland House teams; and wrote his senior thesis on the letters of St. Augustine, whose "Confessions" remains a moral compass. And nota bene: McGlone, with a passion for Irish music, has played the bagpipes since age 9. Kitted out in waistcoat, sporran, and kilt, accompanying his father and brothers, he still plays in parades and weddings with the Essex Shillelagh Pipes and Drums in New Jersey.
McGlone will deliver the Latin oration this year, a five-minute speech he practiced in front of friends. But a sustained oratio in front of tens of thousands ratchets up the pressure, he admitted — you don't need to be an oraculum to predict that. "I'm going to try to be more excited than nervous," he said.
As for the topic, said McGlone, "I don't want to give too much away ahead of time," but the title, "Quid durat?" ("What lasts?"), offered one hint, and McGlone offered another. The oration will touch on "what in life and in our shared Harvard experience is not fleeting but really lasting."
For McGlone, "the two major themes of my life" really endure, he said, in "my faith and my family — and Latin maps onto both." McGlone prays his daily Catholic liturgy in Latin. All three brothers are studying too, and he plans to tutor one of his two sisters this summer. Mirabile!
— Corydon Ireland
Jake Silberg, Undergraduate speaker
It was while on a medevac flight home from Italy, on a layover in Iceland, that 14-year-old Jake Silberg had the greatest meal of his life. After a month of intravenous fluids, Kentucky Fried Chicken tasted like a five-star feast.
"It was delicious," said the senior.
Silberg was returning from what began as a family vacation but ended in his hospitalization for a large tumor between his large and small intestines. Tests revealed he had Burkitt's lymphoma, an aggressive cancer but one that responds well to treatment. After chemotherapy treatments, Silberg eventually became cancer-free.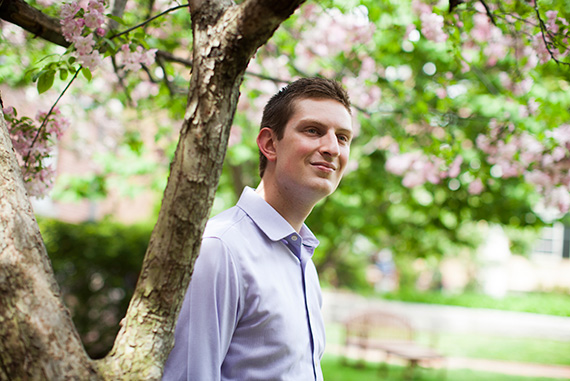 The experience gave the teenager perspective far beyond his years. "It made me more outgoing," Silberg said. "There were fewer things to be nervous about. It made me really want to enjoy everything that I did more, to take things in a more positive light."
That unbridled joy of life translated to his time at Harvard. A realization that students in less-affluent areas than his own New Jersey neighborhood often missed out on rich learning fueled a passion for education and inspired his social studies concentration with a focus on U.S. education policy. After a fellowship year to study the Spanish election system and a consulting job, Silberg hopes to go into public-sector education work.
Aside from studying with "professors at the top of their fields," Silberg said his most significant Harvard memories involve friends. Three of his closest high school classmates attended Harvard. He also made friends at Adams House and with the Immediate Gratification Players. He called the Harvard improv troupe "by far my most important activity at Harvard outside the classroom."
While he lauded the notion of Harvard graduates eager to change the world, he said that his Commencement-day talk will embrace "how we make a difference for people in our everyday lives." That notion is close to his heart. During college he mentored a New Jersey teen with leukemia. That experience inspired him to speak about giving to others.
"If I could impart one piece of advice, it's how do we help others and make a difference for others even through very small actions. It's so easy to be very busy. Just making a simple extra effort to remember the people who you care a lot about and who care a lot about you, and making time for them, can make a big difference for them, but also really helps you grow as a person."
— Colleen Walsh
Anna Wang Erickson, Graduate speaker
Anna Wang Erickson vividly recalls a conversation she had a few years ago with an undergraduate who was frazzled because she'd done poorly on a test and wanted advice. A longtime resident tutor at Mather House and a Harvard Medical School (HMS) student, Erickson could relate to feeling panicked about possible failure and the effect that can have on self-esteem.
She counseled the young woman to keep things in perspective, that grades and test scores were not the true measure of her value — or anyone else's.
"I told her that she had intrinsic worth and to remember that," said Wang Erickson.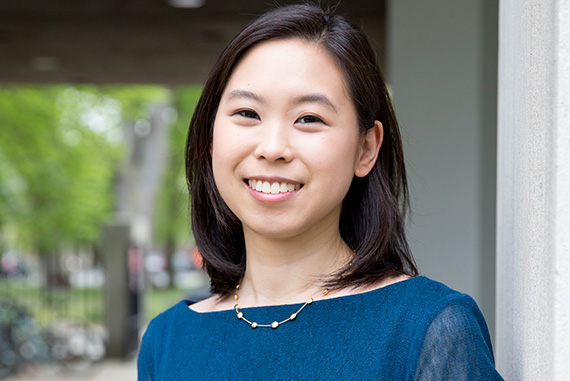 It was time-tested advice not only for the student, but for Wang Erickson, who recalled her experiences with frustration and failure as a chemistry concentrator at Princeton University and later as a Ph.D. candidate here at Harvard.
"Because I'm also a student and trying to get experiments to work, and things fail, you can very easily feel like your whole identity is wrapped up in how well you do and all the accomplishments you have or don't have," she said, describing life in graduate school as akin to "long periods of failure on a daily basis punctuated only rarely by incremental progress."
"Every day when we do research, it can be really depressing" because success often appears "so far down the line," Wang Erickson said with a laugh.
Since 2009, Wang Erickson has studied gene regulation in Bacillus subtilis, a bacterium found in soil, as part of the biological and biomedical sciences program at HMS. She will receive a doctorate in molecular and cellular biology from Harvard's Graduate School of Arts and Sciences. After graduation, Erickson will remain at Harvard for a postdoctoral year to complete her research. She hopes for a career in research and teaching.
"What I'm trying to develop in my speech is that if we really recognize that [we] have intrinsic worth that can't be lost, then that should give [us] the courage to move forward" and try bold things. And if those efforts don't always work out, knowledge of personal worth "gives us the motivation and resources to persevere" and try again.
— Christina Pazzanese