To address the evolving student and faculty needs of a 21st-century education, many Schools across Harvard have embarked on significant construction and renovation projects this year.
Earlier this month, Harvard Kennedy School (HKS) began its most dramatic transformation in four decades. A $125 million renovation will add nearly 30 percent, or 91,000 square feet, of new space in three new structures, unifying the connections among the School's four core buildings for the first time.
Visitors approaching from Eliot Street and the Charles Hotel complex eventually will find two dramatic new gateways that will house more-flexible classrooms and collaborative spaces, along with a new student lounge and study area and a glass-enclosed winter garden. Added conference rooms and a new 200-seat dining room will provide communal gathering space.
The campus driveway and loading dock service will be moved underground so that the interior courtyard can be raised to street level, opening up more recreational and communal green space and vistas. An array of new systems, including HVAC, solar photovoltaic panels, and rainwater collection and recycling will be installed to improve sustainability and reduce the School's environmental impact.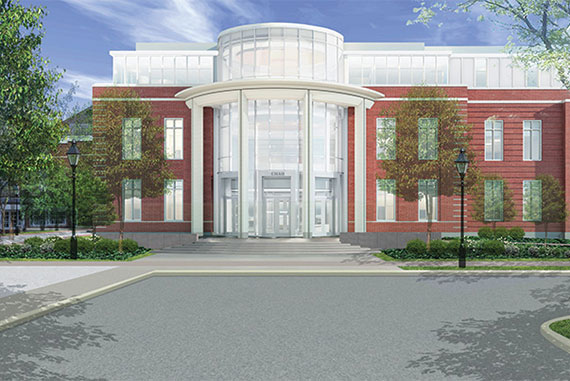 The project, expected to be completed by fall 2017, will reshape the School's campus, "greatly enhancing our ability to deliver on our mission of training public leaders and developing solutions to public problems," said HKS Executive Dean John Haigh.
Nearby, an unprecedented $1 billion initiative to both restore and modernize the historic Houses for Harvard College students, known as House Renewal, continues to move forward. Following the completion of work to Stone Hall in 2013 and McKinlock Hall last year, the Dunster House renovation is scheduled to wrap up in the fall. Preconstruction work on the next enterprise, Winthrop House, will begin this summer. House Renewal strives to fulfill the changing technological, social, and programmatic needs of Harvard students while also preserving the character of buildings that are almost — and sometimes more than — a century old. Preliminary work on Lowell House, among Harvard's oldest undergraduate Houses, is expected to begin in the summer of 2016.
Planning and architectural design for the Harvard School of Engineering and Applied Sciences' (SEAS) future campus in Allston is now underway. With new teaching, research, and community space that builds upon the School's inherently collaborative approach to learning, the upcoming proximity to Harvard Business School (HBS) and the Harvard Innovation Lab (i-lab) will encourage fresh insights between technology and entrepreneurship and provide an even stronger link between Harvard's Cambridge and Allston campuses.
Harvard Business School (HBS) recently completed structural work to the Ruth Mulan Chu Chao Center, a four-story, 90,000-square-foot building that will contain classrooms, meeting space, offices, and dining facilities for the more than 10,000 guests who attend courses and events annually through the Business School's Executive Education program. The Chao Center, which replaces the Kresge building, is expected to open in June 2016.
At the Harvard Graduate School of Education (HGSE), the first major upgrade to Longfellow Hall in 50 years was completed this month. The existing fourth floor was renovated and a fifth floor was added to create 2,800 square feet for new classrooms and meeting spaces. The expansion allows for some HGSE staff and research activities that have been operating off-campus to relocate to Longfellow, bringing them into the Appian Way fold while trimming costs for two leased properties.
In addition to the launch of a new medical education curriculum this fall, the Tosteson Medical Education Center on the Harvard Medical School (HMS) Quadrangle in Boston is undergoing an upgrade. Work to convert part of the former anatomy lab into a "dry anatomy" study and collaboration space is already underway. Four new learning suites, including classrooms, studios, lab rooms, and collaboration space on the first and third floors will be completed by early August. Further, HMS officials are working with architects to develop a long-term, master-planning framework for the campus.
For more details on Harvard's construction and renovation efforts, visit the One Campus site at http://onecampus.harvard.edu/.