One hundred and fifty years ago, scholars, dignitaries, and members of the military gathered at the end of a week of Commencement celebrations for a special service in Harvard Yard. The lengthy ceremony marked the end of the Civil War, and honored those Harvard sons who served — and those who gave their lives — in the conflict.
"This was the celebration of peace and of those who had won it, and a marking of Harvard's role in preserving the nation," said President Drew Faust, who addressed the crowd assembled for the Reserve Officers' Training Corps (ROTC) commissioning ceremony at Tercentenary Theatre on Wednesday.
"From the founding days of the nation, when George Washington's troops bivouacked on that rise over there and used my office as a hospital, Harvard has played a central role in America's military traditions," Faust said. "Today we recognize your part in carrying on that legacy — your part in the long Crimson line."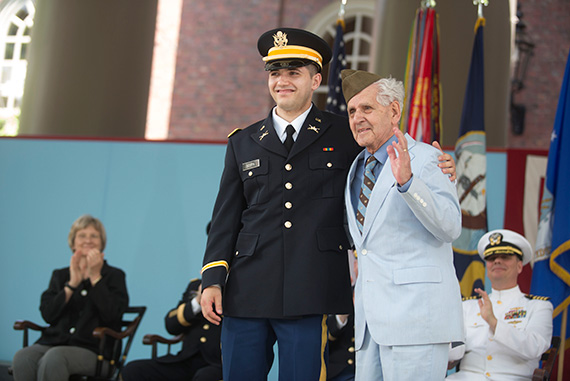 Four Harvard seniors were commissioned as officers in the armed forces and received their first official assignments.
The new Army officers are 2nd Lts. Sophia Chua-Rubenfeld of New Haven, Conn., a philosophy and South Asian studies concentrator who will attend Yale Law School on an educational delay and plans to work as a judge advocate; Molly McFadden, a history concentrator who will attend the Military Intelligence Basic Leadership Course in Fort Huachuca, Ariz.; and William Scopa, a social studies concentrator with a focus in war and democracy, whose first assignment is the Armor Basic Officer Leadership Course at Fort Benning, Ga. Navy Ensign Sebastian Saldivar graduates with a degree in applied mathematics and will report to Nuclear Power School in Goose Creek, S.C.
Harvard and ROTC share a drive for excellence and a desire to educate and train future leaders of character who are committed to both excellence and to instilling in those they lead "a jealous regard for the honor of your unit," said the day's guest speaker, Army Gen. David G. Perkins.
In becoming officers, instead of relying solely on people above them to grade their performance, the new officers should use the people they lead and serve, Perkins told to soon-to-be graduates, as "the greatest gauge" of their success.
McFadden, surrounded by family and friends, posed for pictures with Chua-Rubenfeld and Scopa on the steps of Memorial Church before the service began. The Dunster House resident, who will report to the 2nd Cavalry Regiment in Vilseck, Germany, after completing her military intelligence course, said she was honored to be part of such a long tradition of service at Harvard. "That makes it very, very meaningful to all of us," said McFadden. "That this day is not just about us, it's about everyone at Harvard who has served, or will serve, or is serving right now."
Faust presented the newly commissioned officers with two books on behalf of the University, "No Man's Land: Preparing for War and Peace in Post-9/11 America" by West Point Professor Elizabeth D. Samet, and "Very Good Lives: The Fringe Benefits of Failure and the Importance of Imagination" by J.K. Rowling. In her remarks, Faust also thanked them.
"Many of your classmates will serve society, the nation, and the world in other ways," Faust said. "But we honor you in this ceremony for undertaking a special calling grounded in sacrifice, commitment and, yes, danger. We honor you for honoring the tradition of national service that Harvard has so long embraced."
To read the full text of President Faust's remarks, visit her website.