For George Reed, the weekend was like coming home.
Nearly 16 years after he graduated from Harvard with a concentration in Environmental Science and Public Policy (ESPP), Reed was back, talking with fellow ESPP concentrators and faculty members he had worked with as a student.
"For me, it was a little bit of a Harvard family reunion," Reed said of the gathering a week and a half ago. "It was a pretty small concentration, 30 or 40 people, so there was a good sense of community within the group. We had close relationships with the professors because of the small size."
Reed, who runs the U.S. division of a global LED lighting company, was among about 80 students, alumni, and faculty members to attend the first reunion of those with the concentration, which is more than 20 years old. Caroline DeFilippo, a New York-based physician who graduated with an ESPP concentration in 2001, said she also felt a strong connection with other attendees at the event, which began with an evening reception on March 27 and ran through the afternoon of March 28.
"They were people who think like me; we share the same dreams," DeFilippo said.
The idea for the reunion came from Professor of Organismic and Evolutionary Biology Paul Moorcroft, the concentration's head tutor. Appointed in 2012, Moorcroft has worked with his colleagues on the ESPP Board of Tutors for the past two years to modernize the concentration's requirements, the secondary's requirements, and to create a secondary field in Energy and Environment in collaboration with the Harvard University Center for the Environment.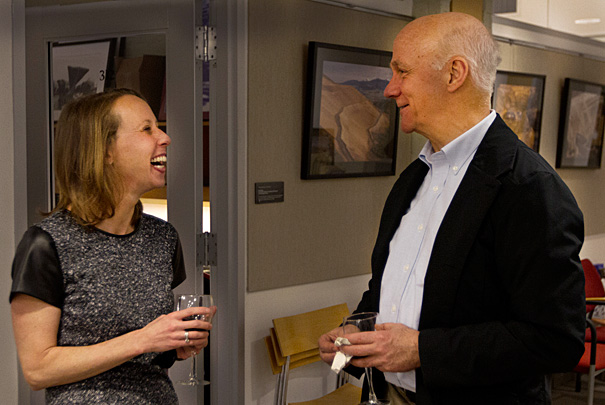 As part of that effort, Moorcroft sent out a survey to alumni and was surprised when he received 250 replies, many of them very enthusiastic about the concentration and its relevance to the respondents' current careers, which were highly diverse. He had been thinking that connections with alumni should be strengthened, so a reunion was planned.
"The purpose was to bring together alumni, students, and faculty, and I believe we were successful in achieving that goal," Moorcroft said. "The feedback I've received from alumni, students, and faculty has been truly heartwarming and inspiring."
In addition to the Friday night reception and dinner, Saturday's program included two panel discussions, one looking at the concentration's past and present, and another examining the broader issues of environmental science and public policy in this century. The day also included three break-out groups in which alumni, faculty, and students had more focused discussions about environmental issues: the ecology of human and natural landscapes, environmental politics and policy, and the intersections of climate, energy, food, and water.
The day ended with a slideshow by Richard Forman, research professor of advanced environmental studies in the field of landscape ecology at the Graduate School of Design (GSD), about the recently implemented ESPP field trips that he and Alexander Agassiz Professor of Biological Oceanography James McCarthy led during the January break.
ESPP was born largely in response to student demand, according to Gilbert Butler Professor of Environmental Studies Michael McElroy. McElroy, who at the time was chair of both the Department of Earth and Planetary Sciences and the then-University Committee on the Environment, said that students were increasingly interested in the science and policy implications of environmental problems, but had to create their own special concentrations to study such interdisciplinary issues.
Faculty members created a concentration that blended hard science with policy and economics, and that provided sufficient scientific background to fulfill pre-med requirements. That proved useful for students like DeFilippo, who found herself at medical school and who is now a practicing physician. DeFilippo said she is constantly using the perspective given her by the concentration, talking to patients about the intersection of health and the natural environment on topics such as Lyme disease and West Nile virus, or about the intersection with the built environment when talking about daily life and healthy habits such as exercise.
"It gave me a solid science foundation so I could pursue any path. No doors were closed to me," DeFilippo said. "Even though I'm a physician, I'm always talking about the environment with my patients."
In the years since ESPP's founding, McElroy said, he's been gratified to see all the different fields that ESPP students have ventured into, from those involving some aspect of the environment to law, medicine, public health, and others.
"I'm very proud of what happened," McElroy said, adding of the reunion: "The turnout is just astonishing."
As for Reed, he attended law school after graduating, then worked on Wall Street. But he couldn't shake the sense he should be doing something about the environmental problems he learned about in ESPP. Today, his company, Greenwich, Conn.-based Green Ray LED, manufactures commercial and industrial LED lighting to replace the ubiquitous fluorescent bulbs in offices and factories.
"I felt the concentration personally gave me a purpose," Reed said. "I felt aware and trained about an issue, and I knew something had to be done about it. The question was: What was I going to do?"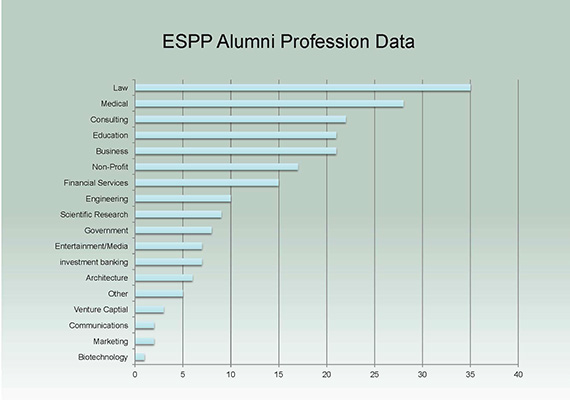 In recent years, the concentration has changed with the times. Harvard began to allow students to pick secondary concentrations in 2007, but Moorcroft said the large number of requirements meant that choosing the ESPP concentration made it difficult for students to pursue a secondary field alongside their concentration.
On becoming head tutor two years ago, Moorcroft and the other members of the ESPP Board of Tutors, which oversees the concentration, conducted a detailed internal review of ESPP and reduced the number of courses required from 16 to 13, enabling students to study a secondary field. Another change requires students to declare a customized focus area, which ensures depth in at least one area. This focus is chosen and defined by the student in consultation with a concentration adviser in order to match the student's interests and future career goals.
"What was and still is the essence of the ESPP undergraduate programs is bringing together environmental science with real-world decision-making," Moorcroft said. "This prepares them for a diversity of future careers, including graduate study in both the sciences and social sciences; professional degrees in law, public health, and medicine; careers in government agencies; and jobs in nonprofit and for-profit companies."