"The channel for the arts at Harvard has never been more open," said President Drew Faust on Thursday afternoon at Farkas Hall, the soon-to-be home for the University's recently approved undergraduate concentration in theater, dance, and media.
"We can think of no greater honor than to keep the channel open with such a master of life and art," she said of this year's Harvard Arts Medal recipient: the ballet dancer, director, and arts leader Damian Woetzel. Faust bestowed the honor during the annual ceremony, which is hosted by actor John Lithgow '67, Art.D. '05, and launches Arts First, four days of performances, installations, and exhibits across campus.
Faust called Woetzel's dancing "legendary," and said he has harnessed his "power as a performer and choreographer to reveal our common humanity."
"As an advocate for the arts, he is prominent and inexhaustible," said Faust. "More like what someone called his exit in a Balanchine ballet: a 'great, spinning, accelerating tornado.'"
Accepting the award, Woetzel spoke of his experiences at Harvard, including earning a degree at the Kennedy School, and thanked Faust for her commitment to the arts.
"This is how things happen. This is how things change. To me, being someone who can represent the arts and push them as best I can is an honor and a duty, and you've given me incredible tools, and continue to."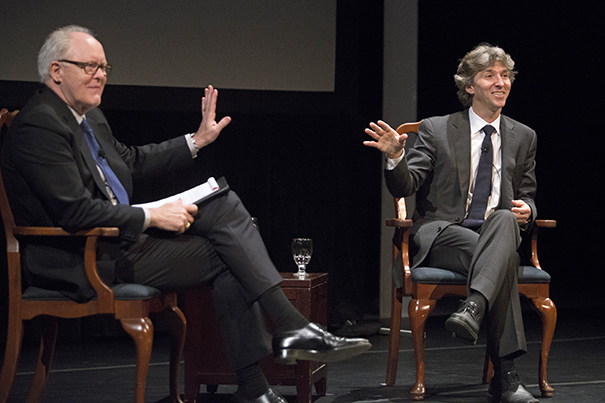 The event included a performance by some of Woetzel's former students, video clips of his work, and an entertaining talk with Lithgow about his early interest in dance, his time at the New York City Ballet, and his post-dancing work in the arts.
Woetzel was 4 when he began dancing, one of the many things his parents introduced him to as part of a "classical education" that included literature and multiple languages. At first, Woetzel just "loved being on stage," and stuck with classes for a chance to perform each year in "The Nutcracker." But he soon fell in love. By age 12 he knew he "wanted to be a dancer."
The right kind of body combined with a natural ability to turn and a knack for remaining injury-free meant his life on stage lasted for two decades. He rose quickly at the New York City Ballet, becoming a principal after four years and working closely with the famed choreographer Jerome Robbins.
"You were such a leader in that company and people respected you so much," said Lithgow. "I found it very logical what's become of your career."
In his life after ballet, Woetzel has taken the helm of the arts program at the Aspen Institute, a Washington, D.C.-based educational nonprofit.
Woetzel said while he was still performing, his interest in a wider range of pursuits "started to assert itself a little bit and I started to think about and get involved in things beyond simply dancing."
Woetzel, the first dancer to win the Arts Medal, has deep ties to Harvard. In addition to receiving a master's degree in public administration from the Kennedy School in 2007, he served as a visiting instructor at the Law School in 2010, co-teaching a class on the performing arts and the law.
He has worked closely with Yo-Yo Ma's Harvard-based Silkroad Project, and was a member of Harvard's 2008 Task Force on the Arts. While at the Kennedy School, he and his wife, the ballerina Heather Watts, helped "shape the burgeoning dance program" said Faust. He has also collaborated with Harvard professors Michael Sandel and Howard Gardner.