Harvard President Drew Faust delivered Morning Prayers on Friday, offering the intimate crowd in Appleton Chapel some deeply personal and pointed reflections on her experience with the Civil Rights Movement 50 years ago.
"History says, don't hope on this side of the grave," said Faust, reading from the poem "The Cure at Troy" by Nobel laureate and Harvard Professor Seamus Heaney. "But then, once in a lifetime the longed-for tidal wave of justice can rise up, and hope and history rhyme."
In 1965, Faust was a freshman at Bryn Mawr College in Pennsylvania when grainy, black-and-white images flashed across the TV screen of peaceful protesters being beaten by police on the Edmund Pettus Bridge in Selma, Ala. The marchers were demonstrating for their constitutional right to vote.
In the wake of the Supreme Court's 1954 school desegregation ruling in Brown v. Board of Education, Faust saw in the growing Civil Rights Movement "the compelling nature of what was right," and its goals "appeared both unquestionable and unavoidable."
When civil rights leader Martin Luther King Jr. declared: "No American is without responsibility," and called for another march, Faust said she knew she "had to go" and take part. "It was a moral imperative. I could do more than hope; I could act. I did not have to await a tidal wave; I could be part of it."
So Faust skipped her midterm exams and headed to Selma. The experience offered her a moment of "absolute and powerful moral clarity," though over time, she added, she has come to realize that "justice requires perennial struggle."
"No victory is absolute; we have to keep our eyes on the prize to hold on — even to the Voting Rights Act itself, which is being threatened and eroded at the same time we are celebrating its passage."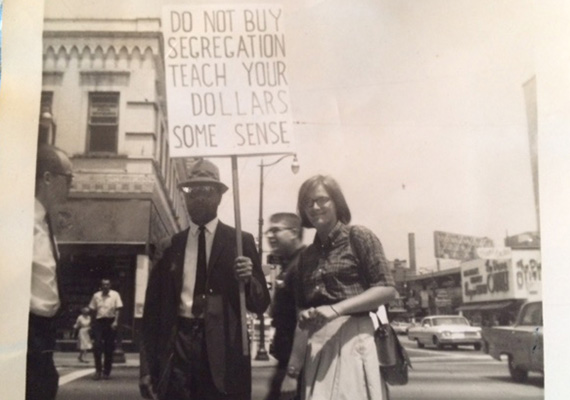 In his own brief remarks, Jonathan Walton, Harvard's Plummer Professor of Christian Morals and Pusey Minister in the Memorial Church, echoed Faust's sentiments. "May we both commemorate the past and be catalyzed to act in the present," he said, "realizing that injustice anywhere is a threat to justice everywhere, and may we do our small part to enable hope and history to collide."
In a show of remembrance and solidarity with those hard-fought civil rights victories, Faust, along with President Barack Obama and thousands of others, traveled to Selma on Saturday for the 50th anniversary of the first march to Montgomery on March 7, 1965.
"I will never forget that I was given a moment where I could help make hope and history rhyme," said Faust, looking ahead to the trip. "And I go to Alabama to remember as well those for whom it was far more than just a moment, or a series of abandoned midterms. I go in honor of Martin Luther King, of Hosea Williams, of James Bevel, of Diane Nash, of Andrew Young, of Jimmie Lee Jackson, of John Lewis, and of so many others who have devoted their lives to the cause of justice and freedom."
"I go to Selma to honor these lives — and all lives and times of such meaning and purpose."
During the brief service, the Choral Fellows of the Harvard University Choir offered a moving musical tribute to King, singing "Precious Lord, Take My Hand," his favorite hymn, as the opening anthem.
"Precious Lord, take my hand, bring thy child home at last, where the strife and the pain all are past," one verse read. "I have dreamed a great dream that thy love shall rule our land: Precious Lord, precious Lord, take my hand."
"Powerful remarks," said Julian K. Braxton, Ed.M. '99, a history teacher at the Winsor School in Boston, following the service.
Braxton, whose father grew up in Alabama, said he attended Morning Prayers as a way to remember his father and "all the foot soldiers in the Civil Rights Movement." He praised Faust, saying, "I thought her remarks were quite powerful because it's about action. The movement was about action, and she, in her own way, created some."
Harvard President Drew Faust — Friday, March 6 | Morning Prayers
Harvard President Drew Faust led Morning Prayers on the 50th anniversary of the Selma to Montgomery march to offer reflections on her trip there as an undergraduate. She decided to answer the Rev. Martin Luther King Jr.'s call to join protesters from across the country, and now understands her participation as a decisive moment in her life.
For the text version of her speech, visit President Faust's website.