Steve Moundou-Missi posted a double-double, scoring 21 points and grabbing 10 rebounds, but the Harvard men's basketball team fell to Yale in front of a sold-out Lavietes Pavilion crowd Friday evening, 62-52.
With the loss, the Crimson (20-7, 10-3 Ivy) slips to one-game behind the Bulldogs (22-8, 11-2) in the Ivy League standings with one game to play. Harvard will host Brown on Senior Night Saturday at 6 p.m., while Yale will visit Dartmouth at 7 p.m. The Crimson will face the Bears live on the CBS Sports Network.
Harvard shot only 32.7 percent (18-of-55) for the game and was 2-of-17 (.118) from 3-point range. Wesley Saunders had 11 points and seven boards, and Siyani Chambers added 10 points and six assists.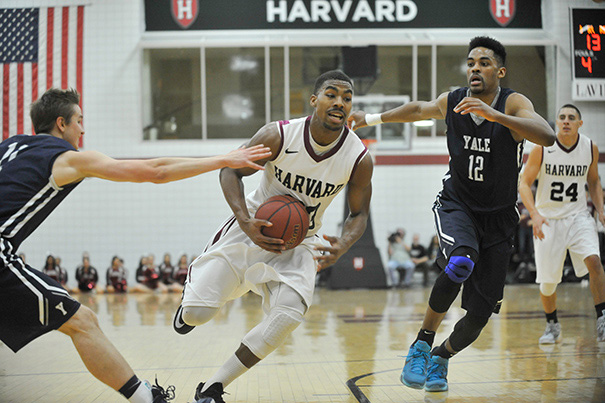 Harvard now trails Yale by one game with one game remaining, and needs a win versus Brown on Saturday coupled with a Yale loss at Dartmouth to tie the Bulldogs for the Ivy League crown and force a one-game playoff for the conference's bid to the NCAA tournament.
For complete coverage, visit the Harvard Athletics website.