Chances are, you've never thought much about whether an orca or a pack of hyenas would win in a fight.
Katie Hinde has.
An assistant professor of human evolutionary biology, Hinde is also the creator of Mammal March Madness, an annual NCAA basketball-style tournament that pits mammalian species against each other in simulated combat. (Last year's tournament ended with the orca-hyena faceoff, which the hyenas won in something of an upset.)
This year's bracket features divisions made up of Mighty Mini-Mammals, Mythical Mammals, Critically Endangered Mammals, and Sexy Beasts (species shaped by sexual selection). The competition will begin on March 9 with a bout between the pygmy jerboa and bumblebee bat, so participants are now researching each species before making their picks.
The competition is fun and games, but there's serious science behind it.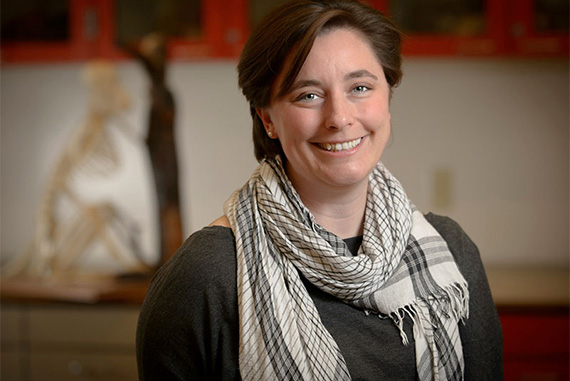 Hinde and her co-organizers — Kristi Lewton, assistant professor at Boston University School of Medicine; Joshua Drew, lecturer at Columbia University; and Christopher Anderson, assistant professor at Dominican University — rigorously research each species, and the outcome of each match is based on a host of attributes, including temperament, size, weaponry, defensive mechanisms, and habitat.
"These are the most rigorous fake animal battles you will ever encounter," Hinde said. "Our preparations are basically biology boot camp. I read hundreds of research articles about the different animals: their natural history, their environment, their adaptations, and their interactions with other animals. And we calculate the probability of the outcome for each bout. I primarily study monkeys, so this is an amazing opportunity to think more broadly about the animal kingdom and share that awesomeness with others."
While that scientific rigor can make the contests more genuine, it also demands some creativity from organizers.
In last year's tournament, Hinde said, one bout saw a binturong, also known as a bearcat, come up against a dhole, a canid species native to Central and Southeast Asia. Despite having only a 5 percent chance of winning, the team's randomization program showed the binturong coming out on top.
"We had to find a justifiable reason, grounded in natural history research publications, to explain that outcome," Hinde said. "I ended up reading about how long it takes different canid species to digest their food, and was able to show, since the dhole had won its battle the day before, it was so full it wasn't motivated to fight the binturong."
In another case, Hinde said, only days before a battle involving a pangolin, research was published showing it to be the most trafficked animal species on the planet. In that case, the battle ended before it began, with the pangolin being captured by poachers and shipped to Asia.
The idea for the competition grew out of Hinde's love for the NCAA basketball tournament.
"When I was an undergrad, we would skip two days of classes to watch the first round of the tournament," she said. "My roommates and I would put our brackets on the wall, and we'd make fun of each other's teams, and we had this camaraderie and fun around the whole thing."
The idea for an animal competition came two years ago, when Hinde stumbled onto a blog post that pitted species against each other to determine which was cutest.
"I said there's no way I want to do this, so I went to my office and pulled down my 'Encyclopedia of Mammals' and made up my own bracket," she said. "I put it online, thinking that maybe my mom would play, and it just exploded. I had a research trip planned for the Kalahari, and when I got to the field site, the Internet would only work in the middle of the night, so I'd stay up until 2 a.m. live-tweeting the battles, and then follow meerkats during the day."
Hinde said she tries to include an unexpected twist each year to keep the competition interesting. This year, in addition to a bracket dedicated to smaller mammals, the competition will include mythical creatures, including the unicorn, Pegasus, the water horse, and the Yeti.
"Part of this is to, hopefully, get more classicists to play the game," Hinde said. "But this is also a chance to talk about different aspects of the human mind, and how we are adapted to think about mythical creatures. As I was researching this, I found that many cultures through human history have included wolf creatures or horse creatures, because the mythology is largely built around animals that are dangerous or important to them."
In the end, Hinde hopes that those who participate have fun and learn something about species that they may not have known even existed.
"People get really excited to find out how we play things out," she said. "It's a very active 'spectator sport.' As things are happening, I can usually see people tweeting about how nervous or excited they are. It's so much fun to see, and I look forward to all of it."
To download your Mammal March Madness bracket, visit Hinde's blog. The results of each match will be revealed via Twitter (follow along at the hashtag #2015MMM) and will be recapped online.