Located in the modern and contemporary gallery of the Harvard Art Museums is something straight out of the sci-fi fantasy "Doctor Who": A quirky sculpture of metal, plastic, and glass with a mechanical motor and a futuristic name, "Light Prop for an Electric Stage (Light-Space Modulator)."
It's a fun piece to simply observe and enjoy. But thanks to a new museum program, not just visitors but Web surfers can access insights into its form and function, as well as its creator's fascination with industrial materials and light manipulation.
Just as the new building's revamped study centers and reconfigured galleries offer up new ways of engaging with the art on-site, a series of virtual tours enables a deep dive into the meaning, materials, and interpretations of selected items.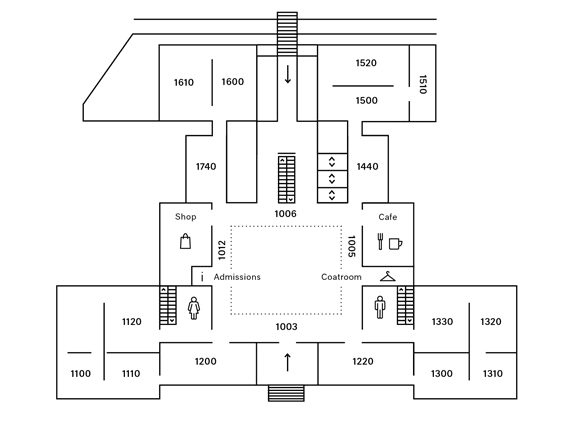 "The digital tours answered a big question for us. How can technology assist with the work of teaching and learning in the new Harvard Art Museums?" said Chris Molinski, Rabb Curatorial Fellow in the museums' division of academic and public programs, who helped create the initiative.
On the "Hotspots" tour, Web visitors can develop a richer understanding of Hungarian painter László Moholy-Nagy's "Light-Space Modulator." Viewers can watch the short black-and-white 1930 film "Lightplay: Black-White-Gray" to see Moholy-Nagy's machine twirling and turning and casting shadows on an adjacent wall. The film reinforces the work's purpose: the creative manipulation of light.
"It's a sculpture that's meant to be in motion but is often seen just in a still state in the galleries," said Molinski, "so obviously the online tours are one way to facilitate that kind of experience."
If it's technical analysis you're seeking, check out the "Art and Science" tour, which explores the museums' history of conservation and the use of modern science to restore works in various media. Online visitors can scan a series of abstract paintings by Mark Rothko to see his giant splashes of color, faded from sun exposure, restored to their original rich hues. The conservation work was done using a digital projection system, the tour notes, created with the help of Harvard curators.
A third tour, "Driving Concepts," invites viewers to take five different approaches to any single work. The tour is based on a set of universal themes already at play in the galleries, said Molinski, ― mapping, time, longing, revolution, and fragment ― that viewers can apply to any item. An example is the work by painter Mary Cassatt titled "The Bath," an intimate print depicting a mother washing an infant. The work is revolutionary, the online tour explains, because of Cassatt's incorporation of color and complicated etching techniques.
Designed to be accessible to scholarly and non-scholarly audiences alike, the "Driving Concepts" tour, like the others, offers viewers new ways of engaging with and understanding artworks, said Molinski. "That was the mission … to come up with different fun ways of thinking about an object that's on display and to provoke people to think about or consider an object that they might not have previously. It's an onramp for continued thinking."
Taking a virtual tour is only part of the fun of the Harvard Art Museums' new digital program. Visitors can also sign up online to create a personalized collection by choosing from the museums' more than 225,000 digitally cataloged items. In addition, Harvard faculty, teaching fellows, and K-12 educators can use the site's digital tour builder to customize virtual visits.
For Molinski, the program fits the museums' commitment to teaching and research. Unlike the common online tour focused on a "simulated physical experience, this is a scholarly experience," he said. "So it really pushes forward our mission of being a teaching museum."