When Harvard's Gore and Standish halls were built more than a century ago as freshman dorms, the architects of what later became Winthrop House couldn't have dreamed of the social, technological, and programming needs of 21st-century students.
But as one of Harvard's oldest undergraduate Houses enters its second century, it will soon be able to meet those needs for decades to come.
By far the most visible change in the plan for House renewal is the construction of a contemporary addition to Gore Hall, dubbed "Winthrop East." The five-story addition, which would replace an existing garage at the corner of Mill and Plympton streets, is designed to bring students currently housed on DeWolfe Street "home" to the Winthrop House community, and will allow for more social, classroom, and programming space.
"As we started to think about Winthrop House renewal … we felt there was an opportunity here to provide a relief valve for the fact that there is so much pressure to accommodate students and programming in Gore and Standish halls," said Elizabeth Leber, a partner at Beyer Blinder Belle, the architects overseeing the project. "This will truly be a seamless extension of Gore Hall, [and that] will allow us to house all the Winthrop House students under the roofs of Gore and Standish and Winthrop East. This also provides us with an opportunity to create some terrific spaces for programming and some very special spaces we think will become wonderful assets for Winthrop House."
As with other House renewal projects, the design calls for corridors to connect the House's traditional vertical entryways, as well as lower-level connectors designed to improve accessibility, allowing students to make their way within Gore and Standish halls while still in their slippers.
The plans include expanded terraces at both Gore and Standish halls, a larger dining hall that can accommodate the full House population, and new front entrances to both Gore and Standish halls.
In addition to renovating the living spaces for students, the construction of Winthrop East will create a host of social, classroom, and programming spaces. Though preliminary plans include everything from "smart" classrooms to art rooms, music practice spaces, and areas for socializing, final decisions on how the new space will be used will be based on input gathered from students during meetings in the coming weeks.
"Stephanie and I are elated that work will commence on Winthrop House," said Ronald S. Sullivan Jr. and Stephanie Robinson, co-masters of Winthrop. "We are excited that our students, tutors, and staff can begin working with us to design a model House for the 21st century. Generations of Winthropians to come will benefit from the work that the Winthrop family is about to undertake. We are confident that the end product will be one that will serve as a beacon of pride for the entire College community."
Other key aspects of the project will include the addition of a signature entry with space for study and socializing, and the potential for a student-run grill at the corner of Mill and Plympton streets, which could serve as a magnet for students as they traverse Harvard's expanding campus. Plans also include relocation of the House master's residence to a renovated and expanded 11 Riverview, a large terrace that would connect the master's residence in Winthrop East, and a glass-enclosed rooftop balcony overlooking the Charles River.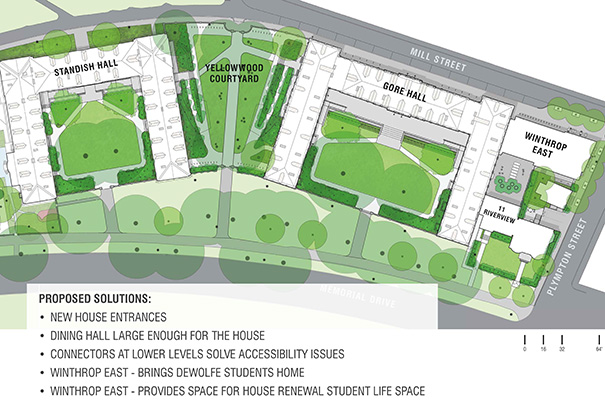 "We've been able to create what we're calling the rooftop common room," Leber said. "We see this as a truly special space ― we'd like this to be a beacon for Winthrop House and give it a place of prominence on this corner — with a south-facing terrace overlooking the river."
Rather than attempting to replicate the distinctive neo-Georgian character of Winthrop, the architects said the new Winthrop East addition features a contemporary design that alludes to the House's history through the use of traditional materials.
"We felt that it was appropriate that a building should be of its time, rather than trying to be what it's not," Leber said. "Winthrop House has a number of wonderful entablatures that announce entries and provide a good deal of character and stature to the building. What we're proposing is a contemporary way of using similar traditional materials."
Administrators will meet with Winthrop students to gather input on the project. Advance construction and site enabling will begin this summer, with renewal of Winthrop to begin immediately following Commencement 2016. The renovated House will open to students in the fall of 2017.
"We want to be very thoughtful as we proceed through the renewal process. These buildings are National Historic Landmarks, and we want to preserve their character as the treasured assets they are," said Merle Bicknell, assistant dean for Faculty of Arts and Sciences (FAS) physical resources. "We look forward to working with students, tutors, and alumni of Winthrop House to ensure the building is renewed in a way that best serves the needs of students going forward."
Over the next year, before work begins on Winthrop, administrators will undertake a strategic assessment, including surveys of students, audits of energy usage, and operating costs analyses of the first three House renewal projects, including the Stone Hall test project, the McKinlock Hall renovations, and the renewal of all of Dunster House. The assessment will document lessons learned in design, construction, financing, and programming from earlier projects, and evaluate how those lessons can be incorporated into the planning for Winthrop House renewal.
"The House system is one of the cornerstones of the Harvard undergraduate experience," said FAS Dean Michael D. Smith. "By allowing faculty and students to live and learn together, the Houses play a key role in the social and intellectual life across the Harvard community. By renewing the Houses, we are committing ourselves to maintaining that experience for generations of College students to come. I am excited to see that process take the next step with Winthrop House."