Despite the mounds of snow and bitter cold, more than 100 faculty, staff, and students gathered in the Science Center Plaza on Wednesday for the opening of this year's Harvard Skate season.
"It was so cool. It was a spontaneous decision to come here on our part, and I'm so glad we did. It really made my day," said Celeste Mendoza '17, who was making s'mores after watching the festivities' opening acts.
The annual celebration was significantly expanded this year. In addition to the skating, visitors could try their luck at curling and shuffleboard, warm up by toasty fire pits, and snack on some treats courtesy of the food trucks and Greenhouse Café. Harvard College student and 2012 Skate America silver medalist Christina Gao, 2010 U.S. Junior silver medalist Yasmin Siraj, and other talented figure skaters treated onlookers to a live performance.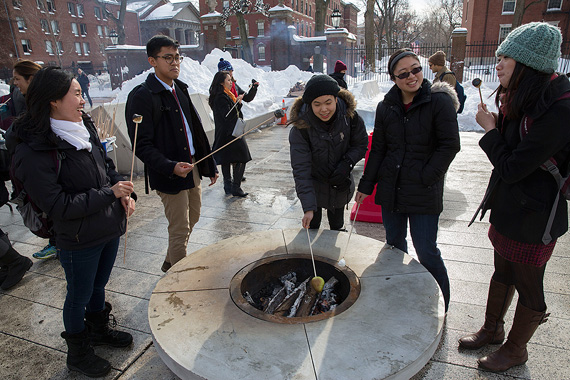 "I'm so excited that this year's opening day was such a huge success. Last year's was on a much smaller scale, and we really added a lot more this year, and the turnout was huge! I hope we can do this every year, with each one just getting better and better," said Harrison Choate '17, manager of Harvard Skate.
The rink is 64 feet by 44 feet, and features lighting and audio systems as well as built-in benches. The temporary ice rink is located on the plaza adjacent to the Science Center. Skating is free and open to all. Skate rentals, which are managed by students from Harvard Student Agencies, are also available.
Upcoming, there will be many special events as well as free skating lessons on Fridays (check website for times), depending on the weather. Lessons are first come, first served, so those interested should gather at the rink at noon.
"Harvard is thrilled to once again be able to offer this exciting program. Nothing says New England like outdoor skating and drinking a cup of hot chocolate while sitting by a warm fire," said Meredith Weenick, vice president of campus services. "We hope faculty, staff, students, and community members alike all take the opportunity to enjoy the offerings, and we can't wait to see everyone out there!"
"They really did a great job making sure that everyone involved had a lot of fun," said Preeti Srinivasan '18.
Harvard Skate is an integral part of Harvard President Drew Faust's Common Spaces program. Created in 2009, the program's goal is to strengthen the sense of community by developing inviting, usable, and flexible spaces to bring students, faculty, and staff closer together.
The rink will be open every day from noon until 9 p.m. (weather permitting) until early March.
For more information on event times, special events, and the food truck schedule, check the site.