Acclaimed actress Eva Longoria was presented with the 2015 Harvard Foundation Artist of the Year award at the 30th annual Cultural Rhythms festival in Sanders Theatre on Saturday.
As she sat in a throne-like chair at the back of the stage, Longoria was serenaded by some of Harvard's best-known cultural performers. Twelve student groups belted out songs, stomped out dances, and even turned somersaults. The performers included Ballet Folklorico de Aztlán, Harvard's oldest cultural organization; Harvard Taekwondo, a spirited martial-arts group; the Pan-African Dance and Music Ensemble; the Harvard College Hellenic Society; and Mariachi Véritas.
"I have seen the face of Harvard, and it is very diverse," Longoria said after receiving the award. "And, I applaud Harvard for its diversity."
In a retrospective moment, the actor talked about the discrimination she faced growing up as a Mexican-American in Texas. "People who can break the chains of oppression are the people who know what those chains felt like," she said. "Put yourself in other people's shoes."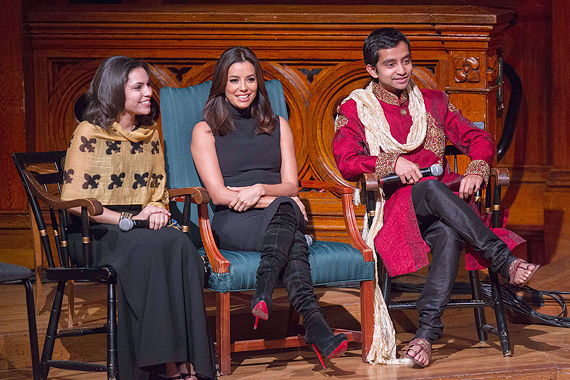 Well known for her work with the poor and oppressed, Longoria is executive producer of the documentaries "Harvest" and "Food Chains," both of which explore the current and historic exploitation of farm workers. Her Eva Longoria Foundation (ELF) helps Latinas build better futures for themselves and their families through education and entrepreneurship.
"One of the most special things about Cultural Rhythms is the way that Sanders Theatre is transformed into an international, intercultural platform for sharing talent," said Cultural Rhythms co-director Cary Williams '16. "When I think about all the dignitaries, world leaders, and brilliant scholars who have graced this stage, it is thrilling that, on this day every year, we fill this stage with undergraduates representing rich cultural traditions."
Co-director Irfan Mahmud '16 added, "What I love the most about Cultural Rhythms is bringing together and celebrating the absolutely astonishing diversity we are lucky to have on this campus. It is a festival that gives us a formal chance to recognize the beauty of cultures different to our own, something we will continue to do every day in our lives."
As yet another snowstorm swirled around Memorial Hall, Longoria said to the hundreds of students in the audience, "You are such an inspiration. Use the tools gained here at Harvard to make society more equal for others."
Before she dashed off the stage to catch a waiting plane, trying to beat the deteriorating weather, she said to a standing ovation, "Thank you for making me feel very special today."