Harvard ice hockey is flying high. With the Crimson men and women both ranked in the top four nationally, the sport some call the fastest game on earth has been bringing new excitement to the renovated Bright-Landry Hockey Center.
"They're playing great hockey this year," said former men's coach Bill Cleary '56, looking on as the Crimson hosted St. Lawrence Jan. 17. Gesturing across the arena, where more than 3,000 fans streamed through the refurbished concourse under images of past Harvard greats, he added, with a broad grin: "It's like a brand-new rink."
Certainly for the Harvard men there's a new spirit in the air. Coming off back-to-back campaigns of only 10 victories apiece, this year's team got off to one of the best starts in the program's history. Since the 1988-89 national championship season, only the 1992-93 squad reached 10 wins faster than the 2014-15 team.
Paced by the high-scoring line of Jimmy Vesey '16, Alexander Kerfoot '17, and co-captain Kyle Criscuolo '16, and with defense from net-minder Steve Michalek '15, Harvard (12-4-2, 8-3-2 in the Eastern Collegiate Athletic Conference), with 10 National Hockey League draft picks on its roster, is second in the ECAC and fourth in the U.S. College Hockey Online Division 1 rankings.
Charlestown native Vesey, a forward who has been drafted by the Nashville Predators, is second in the country in goals, with 17 in 18 games. Harvard ranks third in the nation in offense and power plays. The Crimson's 12 wins include road victories against nationally ranked opponents such as Boston College, Boston University, Quinnipiac, UMass Lowell, and Colgate.
The team hit a rough patch in January, dropping three of five games, including a last-minute 3-2 heartbreaker against archrival Cornell in New York. Harvard bounced back with a 6-1 win at 15th-ranked Colgate on Jan. 24. On Friday, Vesey and Co. duel with Union, last year's national champion.
From there, the Crimson will compete in the Beanpot tournament on Feb. 3, facing off against second-ranked Boston University, which has won the fabled battle for Boston bragging rights 29 times. The victor will meet Boston College or Northeastern in the final on Feb. 9. Harvard hasn't won the Beanpot since 1993.
"Obviously we'd love to have a good showing," said co-captain Max Everson '15, a defenseman drafted by the Toronto Maple Leafs. "That first game against BU is going to be a great matchup. They've got some incredible talent on that team. I don't want to make any predictions: I know we'll be ready to go and I know they will, too."
Beyond, the NCAA tournament beckons, with the Frozen Four set for Boston this year, April 9 and 11.
"Right now we have our eyes on the league, continuing to put up two points a night, and four points a weekend," said Everson, a native of Edina, Minn. "Our long-term goals are very much looking forward to [the NCAA tournament]. If we're fortunate enough to get there and have a decent seed, I think we definitely can make some noise.
"As well as we've done so far, I think our best hockey is yet to come," he added.
The most valuable player in Harvard's victorious 1989 NCAA tournament has caught echoes of that run in this year's campaign.
"We have a video from that season and I showed it to the team on the bus," said Ted Donato '91, now in his 11th season as head coach. "They were able to see the atmosphere that was on campus, the atmosphere that was in Bright Arena, and see the team on a national stage. I think the players can envision what potentially lies ahead. They know there's a lot of work to do.
"One similarity to me is, we've been able to have a very strong offensive team, and have a lot of players able to win us a game," said Donato. "That '89 team had a lot of different offensive weapons, and was a fun team to watch. It had the style of play we've been chasing for a few years: to be not only successful, but a team that's fun to watch and fun to play for."
Team-building efforts that began last spring are paying dividends now, said Donato, describing how a former Navy SEAL commander studying at the Kennedy School of Government, Adam LaRue, met with coaches and players to talk about leadership. "He had the guys develop an ethos — a recommitment, not only on the ice, to how we wanted to be viewed, in the classroom, on the ice. We really focused on having a room full of leaders."
The Harvard women, meanwhile, have forged an outstanding season of their own, snapping off 10 wins in a row from November to January. Led by captains Kalley Armstrong '15, Samantha Reber '15, and Michelle Picard '16, the Crimson (14-3-2, 11-2-1 in the ECAC) are second in the league and fourth in Division 1.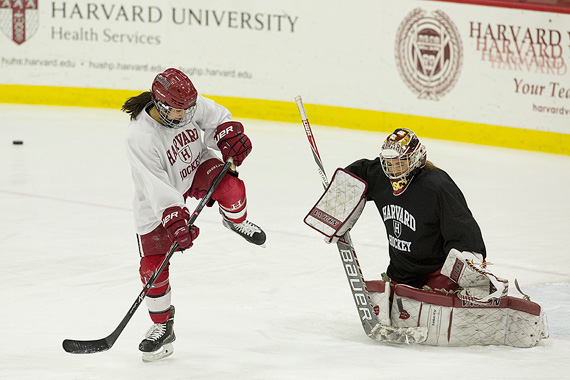 Head coach Katey Stone credits the success to a "team with strong leadership working hard consistently." The Crimson will face seventh-ranked BU in the opening round of the Women's Beanpot on Tuesday.
"It's great to have two teams in the national picture," Stone said. "It certainly adds to the buzz around the rink."
The rink itself accounts for some of the buzz. A major renovation and expansion of the Bright-Landry Hockey Center has been a springboard for Harvard's hockey renaissance, the coaches said.
The project included construction of a 20,000-square-foot addition between the hockey facility and the Albert H. Gordon Track. Among the upgraded spectator amenities are new concession, souvenir, and hospitality areas. Other enhancements include new locker rooms for the men's and women's hockey teams, as well as new sports medicine and workout facilities and coaches' offices.
The former Bright Hockey Center has been renamed in recognition of support from the late C. Kevin Landry '66 and his family. Support for the renovation also came from Johanna and John Boynton, both Harvard College Class of '88.
"The renovations to the rink have made a significant difference in the players' resources to prepare for success," Stone said. "We now have a top-notch Division 1 hockey facility."
Said Donato: "For a number of years this was a great and electric place to come to for game night. We're hoping to get that atmosphere back."