When "On the Town" made its Broadway debut 70 years ago on Dec. 28, 1944, it was heralded as youthful and fresh — just what young composer Leonard Bernstein and show collaborators Betty Comden, Adolph Green, and Jerome Robbins had in mind.
But "On the Town" was also subversive.
It was just a year before World War II's close, and racial tensions were high. But Bernstein and his production partners cast Japanese-American ballet dancer Sono Osato in the role of Ivy Smith while her father was interned as a Japanese national. "'On the Town' was in mid-run when the American bombings of Hiroshima and Nagasaki took place in August 1945," writes Carol Oja in her new book, "Bernstein Meets Broadway: Collaborative Art in a Time of War."
"In interviews with me, Sono Osato recalled that it was 'very strange, very strange' to headline a Broadway show amid geopolitical strife that had a direct impact on her family," she wrote.
Oja, Harvard's William Powell Mason Professor of Music, chair of the Music Department, and the Leonard Bernstein Scholar-in-Residence with the New York Philharmonic, was in the midst of researching another book on Bernstein's work when "I realized there was this whole really fascinating racial history" connected with musical's first production, she said.
The decisions in "On the Town" were by and large collaborative, however. "It's hard to know who decided what when you're dealing with a work that involved a lot of players and creative figures," said Oja. "Sono Osato said to me that if director George Abbott had been in charge of casting, she never would've gotten the part.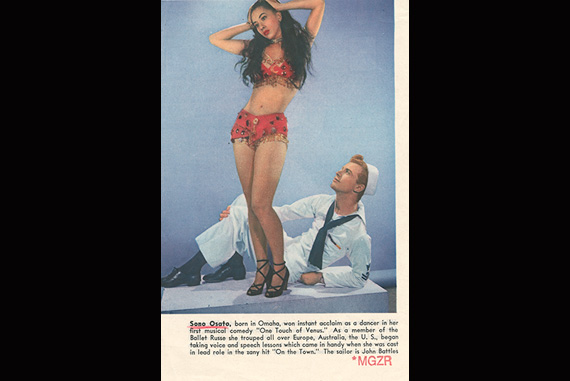 "But this team of young people, whose parents were all Jewish immigrants, had tasted their own discrimination," she continued. "The show wasn't advertised as a major statement about the Civil Rights Movement, but quietly, in terms of casting and what individual actors and dancers did on stage, it really pushed back against racial norms of the era."
Those norms included a tendency toward all-white casting and, for black performers, an expectation that they would enact stereotypes inherited from blackface minstrelsy. But bucking Broadway's trend, Bernstein and company cast African-Americans to play "full-fledged citizens who were portrayed equitably with their white colleagues," said Oja.
Significant casting decisions included African-American dancer and actress Billie Allen and the appointment of Everett Lee as pit orchestra conductor. Oja connected with Lee — now living in Sweden — via Skype. "He's 97 or 98 years old now, and it's incredible to me that someone in his 90s uses Skype," she said, let alone that he achieved his level of success with "racial conditions stacked against him."
In today's musical scene, "There's still a lot of talk about race-blind casting, about the degree to which performers of color are hired by American orchestras, or are present on Broadway, or are among the leading stars in the classical world and musical theater," Oja said.
While things are better now, she said the core issues aren't really resolved.
Oja, who was born in Hibbing, Minn., where Bob Dylan grew up, said that racial desegregation is a really important part of the book.
"As a scholar and a historian, you're dealing with facts. You're not making up the history, but you can choose what pocket of it to focus on. For me, right now, exploring the racial history of performance is a really important mission," she said. "It connects to my own desire to do what I can to increase social justice in the world we live in."