For many students, January is a time to rest, relax, and recharge for the semester ahead.
For the past seven years, it's also been an opportunity for students in Harvard's Graduate School of Arts and Sciences (GSAS) to explore topics they might not otherwise have time for — everything from the mating habits of insects to writing grant proposals to various imaging techniques.
Along with workshops aimed at developing technological skills, GSAS partnered with the Office of Career Services to highlight professional-development programs, including sessions on making the transition to a nonacademic career and expanding professional networks using online social media tools.
"Unlike most undergraduates, most graduate students remain on campus during winter break," said Garth McCavana, dean for GSAS student affairs. "We want January@GSAS to give them an opportunity to stretch themselves intellectually, meet their peers in the Harvard community, and hopefully have some fun, as well as provide some professional development that may be difficult to fit into their schedules during the semester."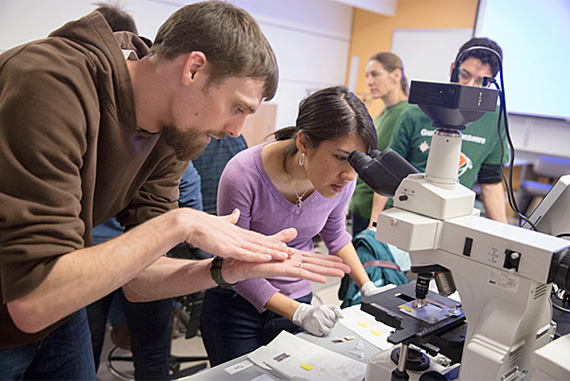 Among this year's events was an intensive, three-day microscopy workshop, sponsored by the Microbial Sciences Initiative (MSI), aimed at giving graduate students hands-on experience with cutting-edge imaging techniques, including the use of green fluorescent protein and electron microscopes.
"The idea of the MSI is that it's very interdisciplinary," said Karen Lachmayr, MSI's executive director. "There are people working on questions related to microbiology scattered across Harvard, from the Medical School to the [T.H. Chan] School of Public Health to the Faculty of Arts and Sciences, and these students represent most of that. Six years ago, when we started this program, we felt it tied in perfectly with the January break because it offered us the chance to give students an intensive experience they might not otherwise get."
For Sasha Naydich, a first-year graduate student at the School of Engineering and Applied Sciences, the workshop offered an invaluable introduction to a number of techniques he may later use during his research.
"The nice thing about this course is the comprehensiveness and the overview that we get over three days," he said. "We go through every type of microscopy that might be relevant, and then get hands-on practice with each technique, so we can understand the advantages and disadvantages of each.????
That knowledge is particularly important, he said, in helping him decide which technique to use in future research.
"Now I know if I want to detect single proteins I can use fluorescence microscopy, but if I'm working with larger samples, I can use optical microscopy," he said. "To have this broad spectrum of techniques in three days, and to have people coming in who are experts in each of these techniques, it's really valuable."
"No lab uses all six of the techniques we're learning," added Allen Lin, a first-year graduate student in systems biology. "So this is a really good way to get a crash course in these techniques. But now that we know what tools are out there, we'll have a much better understanding of what questions we can ask in our own research, so I think this is a great thing to have during the January break."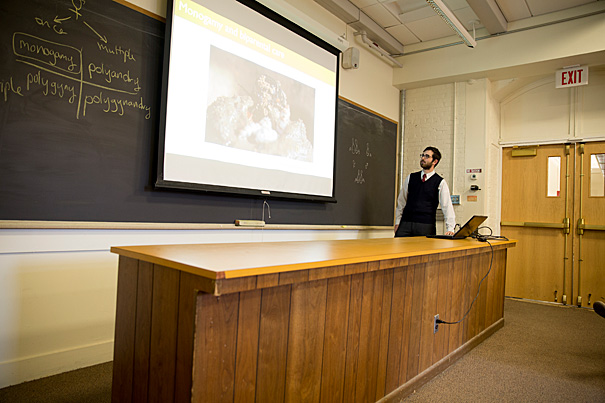 For John Boyle, a Ph.D. student in the lab of Hessel Professor of Biology Naomi Pierce, the winter break offered a chance to lead a class called "Insect Sex: What the Most Diverse Group of Animals Can Teach Us About the Evolution of Sex."
"What inspired this class was simply that … insects are really cool, and it's just fun to talk about them for two weeks," Boyle said. "What I wanted to do was to design a class that I could take with me later in life, when I'm teaching, and with a little bit of fiddling make it work for a number of different classes.
"The topics we're covering with this course are pretty standard sexual-selection modules, so if you were in a behavioral-ecology course, it would be divided into two halves," he continued. "There's utilitarian selection on how you survive and don't get eaten by predators, and then there's sexual selection, which is all the ways in which you increase your fitness by finding partners and convincing them to mate with you."
"Many of these students are still in the early stages of graduate school," Lachmayr said. "They're still solidifying what their research question is going to be and how to go about answering it. One thing these sessions can do is help introduce them to all the facilities on campus and the experts at each, so when they start to answer those questions they might incorporate some of those techniques that they may not have otherwise thought of."