"I became a journalist to come as close as possible to the heart of the world."
— Henry Luce, founder of Fortune, Time, Life, and Sports Illustrated magazines
When seventh-grader Beatriz Ferreira saw the first issue of her school newspaper, The Tiger Universe, she remembers thinking, "Oh my God, there's pictures of me and my friends!"
The Tiger Universe also included an article Ferreira had written, a fact that impressed her family and friends. "My mom was proud, my grandma was happy, everybody that's at school said 'congratulations,'" said Ferreira.
The students named their newspaper The Tiger Universe because the tiger is their school's mascot, and the word "universe" implies that the newspaper will serve the entire school community.
This past fall, more than a dozen Boston sixth- and seventh-graders got a taste of life as journalists. Participating in a program called Project Lede, the students learned just how much hard work goes into creating and publishing a newspaper.
Founded in 2013 by Harvard student Jackie Schechter '15 and her high school classmate, Elizabeth Quartararo, now a senior at the University of Delaware, Project Lede works with middle school students, teaching them how to conduct interviews, think like a reporter, come up with creative story ideas, and ask a lot of questions — finely honing that sense of curiosity that makes for a good journalist.
Schechter and Quartararo developed the idea for Project Lede after working on their high school newspaper. "I learned a lot more than basic journalism skills from that experience," said Schechter. "I became more engaged with the school community. I learned how to think creatively and be curious. I learned how to work with a large team of students."
The friends wanted to design a program that would bring a similar experience to middle school, which can be a formative time for students academically and socially.
Quartararo and Schechter named their program Project Lede, a play on words with "leadership" and "lede," a newspaper term for the first — or lead — paragraph in a news story. They received seed funding from the 2013 Harvard College Innovation Challenge. But it was in their hometown of Stamford, Conn., that the young women launched Project Lede as a pilot program based on a summer camp model.
"The idea was to spend the summer having students learn the skills and perfect their trade. Then, when school began again in the fall, the students would form a newspaper club that continued to produce a regular school paper," Quartararo said.
Schechter and Quartararo designed the curriculum, found a faculty adviser from the middle school, and recruited and trained local high school mentors who would help keep the newspaper club up and running when the two women returned to college.
That summer, they had 28 eager students ready to be journalists. "They wrote news articles, opinion pieces, profiles, and more," said Quartararo. "To teach sports reporting, we hosted a Project Lede Olympics where the students rotated participating in the games and reporting on them. When it was time to write reviews, a local cover band performed and the students wrote about the concert.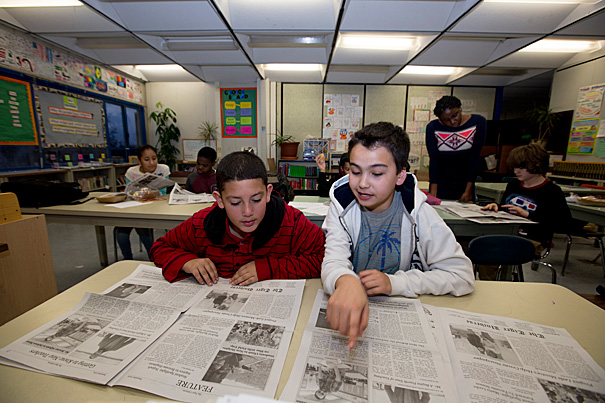 "We also covered photography, layout, and journalism ethics," said Quartararo. "The students said they had a great time and learned a lot, too."
Project Lede expanded this past summer to another Stamford middle school. In the fall, Schechter, with the help of classmate Hannah Borowsky '15, brought the model to Massachusetts and partnered with the Jackson/Mann K-8 School in Allston.
"Harvard helped us get connected to the Jackson/Mann, and we've really loved working there," said Schechter. "We were interested to see how we might use our same curriculum to run an after-school program instead of a summer camp. From September through December we [through Project Lede] are teaching the students journalism skills twice a week after school.
"Starting in January, our faculty adviser at the Jackson/Mann — sixth-grade ELA [English language arts] teacher Aaron Cohen — is going to take charge, and the students will make the newspaper club their own," Schechter added.
Schechter said they have learned a lot about what does and doesn't work in an after-school program as opposed to a summer camp. ????During the school year, students have a different set of responsibilities that aren't an issue during the summer. They always have homework to do, for example, and are often tired after a full day of classes. We've been modifying parts of our curriculum to make it more engaging for them, and we're learning as we go," she said.
Borowsky explained, "When we plan out activities for Project Lede, we're trying to hit that sweet spot where students are gaining really important academic and interpersonal skills, while also having fun. For example, to teach about writing review articles, students got to taste-test and critique chocolate doughnuts from two different stores. Students have also gotten excited about the business aspect of producing a newspaper, becoming pros at contacting local businesses to sell advertising space in the paper."
"My favorite part was calling the businesses," said sixth-grader Najeeb Noor.
"My favorite thing is that it actually helped me get better at my ELA work," sixth-grader Arthur Pauleus said.
Jorge Lluberes, a seventh-grader in the program, agreed. "I think Project Lede is a good after-school program that helps you with your writing. It's really fun [to do] after school — you learn how to make your own newspaper."
And because Cohen will continue the newspaper club after the Project Lede program ends, making this first newspaper was only the start.
"I'll be very glad to do it again," Ferreira added.