Curiosity — and perhaps a sense of ethnic pride — led Aris Deljohn to the Harvard Allston Education Portal (Ed Portal) on a recent fall evening.
"I came to see what you were going to say about my [Greek] cousins," the Allston-Brighton resident joked. "I wanted to know if you were going to say something good or not."
"Well, it's a mix," teased Keith Stone, a teaching fellow at Harvard University, smiling.
The exchange, part of the lecture series offered at the Ed Portal, wasn't focused on current events. The free seminar was part of several "in-person dialogue sessions" exploring the popular HeroesX series, an online class that focuses on the modern relevance of the "Ancient Greek Hero.:
Created for audience members ranging from the casually interested to history buffs, the dialogue sessions delved into the stories of Greek heroes, exploring how the old mythos echoes profoundly through our culture today.
"A hero in tragedy, and in the epic, is a person whose emotions are larger than life. A hero experiences suffering that is so much bigger, so much more intense than we do. We call this 'pathos,' which translates to passion," said Gregory Nagy, the Francis Jones Professor of Classical Greek Literature and professor of comparative literature, as well as the director of the Center for Hellenic Studies. "The whole point of a hero is that they make mistakes, too — but they make them bigger, and more severe. It is healthy to be aware of the lives and emotions of someone who is bigger than you are. That's one of the reasons why we have heroes."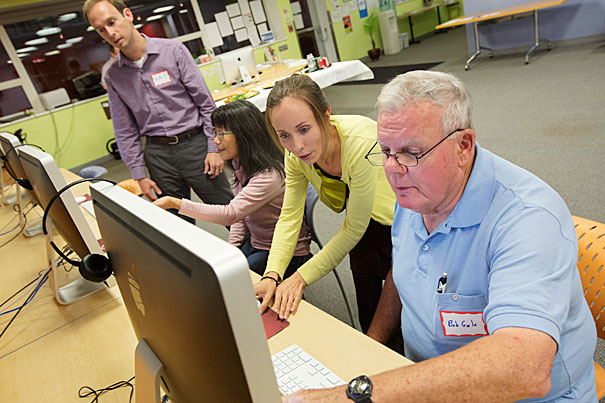 In a format similar to a book club, members of the community explored the entire HeroesX course over several weeks. One meeting was streamed live to hundreds of HarvardX participants across the globe. Led by either Nagy or Harvard teaching fellows, the sessions explored the heroes, myths, great epics, and rituals of ancient Greece.
"I'm really excited to be here tonight with those of you tuning in from around the world, and here in person," Nagy said to a crowd of nearly 60 at the Ed Portal. "This whole process [of online learning] is a learning experience for all of us.
"I'm not just the professor. I like to consider myself a fellow learner," he said. "The term MOOC [massive open online course] means so much more to me. For me the 'C' is not just about being a course. It's about content, communication, community … and conversation."
Those four C's seemed to resonate with the participants — both earlier this fall, and recently with Nagy. Why does the ancient Greek hero still hold such fascination today? Perhaps because humans themselves have not changed that much.
"All humans remain the same: we love, we hate, we chase the same things as people did millennia ago," Deljohn said.
The next Allston dialogue session will be held Dec. 4 from 7:15 to 8:15 p.m. at the Ed Portal, 175 N. Harvard St., Allston.