With Cambridge in autumn's full embrace, the families of Harvard first-year undergraduates flocked to campus for the annual Freshman Parents Weekend, Nov. 7-8.
The weekend featured activities designed to give parents a glimpse of the Harvard College experience. For most parents, this was the first time they'd been back to Harvard since dropping off their teens for the start of the academic year.
"Our daughter was happy to see us, which made us happy," said Segun Abegunrin.
Abegunrin made the trip east with his wife, Desireia, from their home in Los Angeles to visit their daughter, Simone.
"It's wonderful to meet the roommates and the friends you have heard so much about over the past few months, and to meet their parents too," Abegunrin added.
In the past 10 weeks, freshmen have met and gotten to know their roommates, shopped for classes, and signed up for extracurricular activities; they are now getting through midterm exams.
Approximately 2,000 family members participated in Freshman Parents Weekend, taking advantage of the opportunity to attend faculty presentations, tour the libraries and museums, and even sit in on classes.
On Friday afternoon, Dean of Undergraduate Education Jay Harris led a discussion on the liberal arts and academic integrity, which are critical to the College's mission of providing an "intellectual transformation."
"Knowing how to think, knowing how to analyze across disciplines, and to be able to recognize there are different ways of seeing the world and to do so with ethical decency and generosity — all of these are central elements of a liberal arts education," said Harris, who is also the Harry Austryn Wolfson Professor of Jewish Studies. "Self-consciously, a liberal arts education and the program in General Education are designed to help students get ready for the lives they will live after college. And we do that by asking them to engage in specific areas of inquiry … to really be able to appreciate the complexity of the world in which they live, which is necessary for our future citizens and citizen leaders."
Though the Class of 2018 is a long way from graduation, Harris did tell parents not to worry about their son or daughter getting a job after college.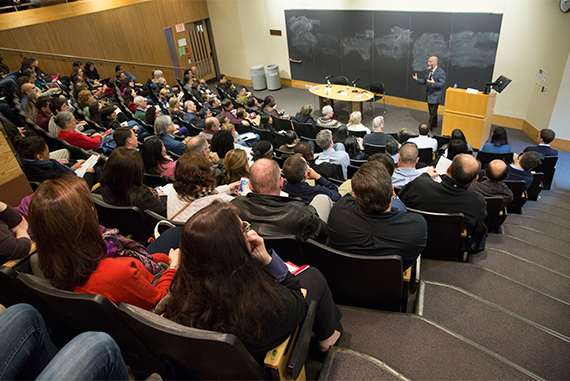 "One of the things we hope you will take on as our partners in the education of your students is urging them to pursue their academic interests and pursue their academic love. All the studies show us that parents have anxiety about jobs and the economy, but don't worry, they all get jobs," Harris said, eliciting laughter from the crowd. "They get jobs in every sector of the economy whether they concentrate in English or physics or economics. So, please, encourage them to pursue things they are passionate about."
Later in the day, parents gathered in Sanders Theatre for a welcome from President Drew Faust and Harvard College Dean Rakesh Khurana. Faust highlighted themes from her recent "The Case for College" speech, which she delivered recently at Booker T. Washington High School for the Performing and Visual Arts in Dallas. She told parents she wanted to emphasize the benefits that college provides because she has seen how it has "changed lives."
"College is one of the best, and one of the few chances that many of us will ever have to just follow our curiosity; to take a course in art or literature or genetics," she told parents. "Encourage your child to use this extraordinary opportunity to explore. College is a passport to other places, other worlds, other times."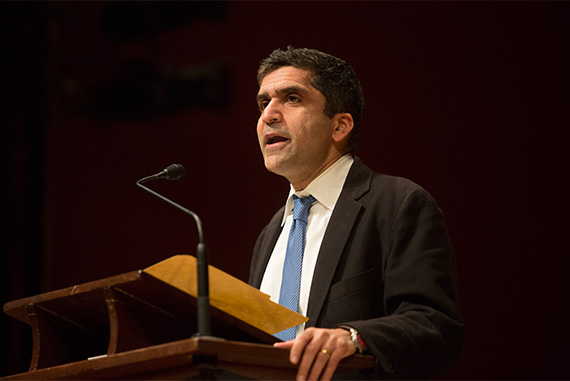 During Freshman Convocation at the start of the year, Khurana challenged the Class of 2018 to make their college experience "transformational" rather than simply "transactional." Before their parents this weekend, Khurana emphasized how the transformational experience is at the heart of the College's mission.
"Our goal at Harvard is not simply to prepare students for success in the job market. Our goal is to create the conditions for their intellectual and social transformation, to ignite in them a sense of imagination and a vision for the future, to prepare them to be the citizens and citizen leaders for our global society," he said. "We all worry about our children; the decision to have children is the decision to wear your heart on the outside of your body. This first year away at college brings new anxieties, but I don't want you to feel anxious. We have confidence in your children, and as you encourage them to seek transformation, we are honored to play our part and guide them through this next chapter in their lives."
After the president's and deans' remarks, Harvard's improvisation group, the Immediate Gratification Players, performed several improvised skits to add humor to some real-life college situations, including dealing with roommates, getting a bad grade, coming home for winter break, and the late-night phone call to home.
The skits resonated with the audience; parents laughed at the familiar scenes. Dean of Freshmen Thomas Dingman then hosted a panel of College administrators who discussed the themes of the skits.