Stories of learning, teaching, and turning points, in the Experience series.
Laurel Thatcher Ulrich is Harvard's 300th Anniversary University Professor, a feminist scholar with a taste for history from the bottom up and an appreciation for the pedagogic power of artifacts like hand-woven cloth and furniture.
In 1990, she unraveled a cryptic 18th-century diary in "A Midwife's Tale," which earned a Pulitzer Prize. Soon after came a MacArthur Fellowship, and then — in 1995, when Ulrich was 57 — an invitation to teach at Harvard.
Ulrich grew up in Sugar City, Idaho, the dutiful and precocious daughter in a fifth-generation Mormon family. She studied English at the University of Utah and was already married and pregnant by the time she graduated as valedictorian. She followed her husband east for his graduate studies, fell in with a writerly collective of Mormon feminists, and earned a master's degree part time.
Ulrich enrolled in a Ph.D. program in history at the University of New Hampshire (she had never taken a history course) and set to work. Her first scholarly paper, on funeral sermons for women, included a line that not only marked her for fame, but was an expression of her own story: "Well-behaved women seldom make history."
Q: What were your earliest influences as a scholar and writer?
A: I came from a family who read books and talked, then talked about ideas. When I got married I told my husband he hadn't joined the Thatcher family, he had joined the Thatcher Debating Society.
That was almost literally true because my dad was a debate coach. He taught everything. This was small-town Idaho. In his first job he coached the girls' basketball team. He did everything, but he was basically a social studies teacher. He had been a debate coach before he became a principal, and then as I grew up he was superintendent of this little consolidated school district that we were in.
He was totally into politics, as the entire family was. My older brother, who was seven years older, had been a debater and naturally went to law school. It was that environment, where you talked, you read, you had a question, you went to the bookshelf, you went to the library.
My dad had wanted to be a lawyer as a young man, but he had no money because he too had come from a rural family. He had gone to the University of Utah. Here I am talking about my father. My father and mother were my primary influences, as is usually the case. My dad had been in theater at the University of Utah, and he had been a debater at the University of Utah. So I ended up going to the University of Utah, which was kind of a family tradition.
My mother went to the University of Utah, and she had — as was true in the 1920s — she did what women did, which was to do the Normal certificate to teach. But then she met my dad, who was boarding at her parents' house in the small town where she grew up. She got married and had kids and didn't ever teach. But she was a reader, and she coached speech and drama in church.
This was a little Mormon town, and in our community you did everything. You learned to dance; you learned to play piano. There were 900 people, but it was a town that thought kids should be cultivated. There were three piano teachers, and we did amateur theatricals. In those days you went to church twice on Sunday and twice during the week, practically, in some kind of activity. And everybody had to give talks. There was no professional clergy, so from the time you're 8 years old you're probably learning to give little talks.
It was a good environment, even though — you know — pretty small. I should say pretty small potatoes — and that's of course what everybody grew: potatoes. My grandfather, my maternal grandfather, had settled, homesteaded, in that part of Idaho in the late 19th century. So I grew up about 10 miles from where my mother grew up. My grandfather had retired from farming, and divided his farm. So my parents had an 80-acre farm that my dad and brothers ran in the summer. And then my dad taught school in the winter.
Q: Would you say you grew up on a farm?
A: I grew up in a little town named Sugar City for a sugar beet factory, but the factory closed as the farmers switched from sugar beets to potatoes. It was a little town, probably four or five streets deep from Main Street on each side.
The town I grew up in … was destroyed in 1976 when the Teton Dam broke and just washed away the old part of the town. Today Sugar City is kind of a suburb of Rexburg, which has a big Latter-day Saint college now, BYU Idaho. The college began in the late 19th century as Ricks Academy and then became Ricks College. My mother went to Ricks Academy for high school.
Q: By fifth grade you had decided you wanted to be a writer.
A: We read everything that came our way. But I think the first things I wrote were poems. My father's sister was a bookkeeper for a bookstore in Salt Lake City, and she sent us books for every occasion. They were just the classic children's stories — "Little Women" and "Little Men" — and children's poetry. So I started writing bad verse, you know, doggerel verse. When anybody had a birthday, I would write a poem, and my mother would be so proud, she would share it. As I got into high school, I started sending these to Seventeen magazine and to various church magazines. I would send off stuff, and it would come back, rejected.
Q: When did you move from writing verse to writing prose?
A: I mainly sent poems to Seventeen. I think they thought: That's a strange town she's from — Sugar City. So they asked me to write [an essay] about my town.
Q: "A Pail of Cream," published in December of 1957.
A: I think it was a couple of years before they got around to publishing it, and embarrassed me by changing my reference to lamb chops to "a pail of cream." I guess they thought it improbable that a neighbor would bring a gift of lamb chops on Christmas.
Q: In college, how did your sense of being a writer, or a scholar, evolve?
A: I started out in journalism. I thought that's what you did if you wanted to write. And then I just loved my freshman English class, and I thought, "Well, I really like this better." So I minored in journalism and majored in English.
Q: Did you have mentors in college?
A: I had fabulous teachers in the English Department but not writing teachers. Nobody ever encouraged me or mentored me, and I hardly ever read a woman writer. I have to be really honest. This was the '50s. Nobody was encouraging women to go to graduate school, even though I was valedictorian of this large state university. Of course, they probably didn't encourage me because I was married and pregnant by the time I graduated.
And I lost my confidence to write, even though I got straight A's on everything I wrote. I mean, what did I have to write about? I was just this nice young woman who had a family.
Q: After college, with children, you were in the Boston area …
A: I had my first child just after I graduated, at Boston Lying-In. I lived in Brighton my first year, and then in Cambridge. My husband was in graduate school. That's what you did in the '50s. You followed your husband. He did his Ph.D. at MIT. It was a wonderful kind of life. Wonderful friends. Everybody was doing the same things. Doesn't matter where you came from, we were all sort of packed into apartments with space heaters.
We came here in '60. My story is largely about being a Mormon woman from that period on. The church experience put me right at the center of a really dynamic community. There were local people and professional people but there were a lot of graduate students and graduate student wives. I did everything. It's a lay church; I taught all kinds of classes. I learned how to teach by teaching in the church setting. The women's organization — they were studying literature. I had a degree in English so I taught lessons on literature to other women. I think I wrote some plays — just goofy things for teenagers. I edited a newsletter.
This is probably more detail than you need, but it helps me remember. I was part of the Relief Society, which is the women's organization in the church, and we got the bright idea for fundraising that we would write a guidebook to Boston [in 1966]. I organized it and edited it and did quite a lot of the writing. My friend Bonnie Horne, who was the president of this organization — maybe you've read this story, it's a wonderful story — took the idea to the ward council. These guys who were in graduate school — they were at Harvard Business School — said, "Well, that's ridiculous. You won't make any money doing that." And Bonnie said, "We'll do it."
So we did it. Somebody gave us some money for a first printing of a thousand copies. We compiled the information, got people to do the drawings and type the text and do titles. We're talking about creating a physical artifact that we sent away to be printed and bound. We got one copy back as a sample.
Bonnie was so excited about this. She said, "I'm calling the women's page editor of The Boston Globe to see if she's interested in this." This woman said, "Bring it down." The next day we were all meeting at the church for something else and the phone starts ringing. The person in the office came in and said, "Where can people get this book?" She had written a kind of rave review of our book and we didn't have copies yet. So we sold our thousand copies before they had arrived.
They were typed on a typewriter. To us they looked fabulous. You have the printer reduce it 60 percent, and it looks like it's been typeset. Photo offset was pretty new.
So my life, for many years, was organized around these do-it-yourself, crazy projects. We then went on and did a much more elaborate second edition.
So pretty much I lived in the Greater Boston area from '60 to '70. We did two editions of "A Beginner's Boston" in the last half of the '60s. I had four kids, my kids were born in '60, '63, '64, '69 — and because I had this purposeful assignment, this collaborative project, lots of moral support and other kinds of support, I learned how to use small bits of time. Primarily my kids' naptime.
It was fun. By '70, the women who worked together on "A Beginner's Boston" were talking about the women's movement. We did a book of essays, edited by Claudia Bushman ["Mormon Sisters: Women in Early Utah," 1976]; we started a newspaper; and I continued to participate even after I moved to New Hampshire. It was an hour and a half away and I came down a couple of times a month. Exponent II is still being published. It's one of the survivors of those little homemade feminist newspapers that were produced in that period.
Q: At the same time you started doing graduate work.
A: I was crazy. How did I do all that?
I did a master's at Simmons College. It was a one-year program, and I did it in four years. Wylie Sypher was the graduate director.
You just couldn't go part time to a lot of graduate schools at that time. As a women's college, Simmons was concerned about women being able to further their education.
In the Simmons M.A. you essentially filled in what you hadn't done in your bachelor's. Somehow I had missed Chaucer, so I did Chaucer. And I did a course on Bernard Shaw's plays, and an American studies seminar. So it was pretty miscellaneous. There was no thesis, just eight courses. There were some good teachers there.
'I did not immediately assume that people with children and husbands were subordinate or incapable of having lives of their own.'
Q: After getting the degree, in 1971, did you start graduate school in history?
A: I hadn't finished the Simmons degree when my husband got a job teaching at the University of New Hampshire. So we went to New Hampshire. I had one more course to finish the M.A. so I did it at UNH and transferred it.
I had a part-time job for a year, teaching English, and it was fun. Don Murray — I don't know if you ever heard of Don Murray. He wrote for the Globe, and he had a Pulitzer and then became a journalism and English teacher at New Hampshire. … He was a wonderful guy. He was the supervisor. I taught freshman English, and then it became really obvious I didn't want to do that forever.
I thought: I don't want a Ph.D., I saw my husband go through that, why would I want to do that? Then I saw in the New Hampshire alumni magazine a beautiful chapter from a book just published by a new faculty member named Charles Clark. He was in the history department. I thought: That kind of writing is appealing. I don't think I want to write critical essays, and I'm not good enough to write poetry, and I'd never really written fiction. I wondered, what is history like? I had never taken a history course. I went to talk to Charlie Clark. I took his course on the literature of early America and loved it.
The history department was totally flexible. They admitted me, even as a faculty wife, and even though I had never had a history course. It's sort of astounding. And so I did [the Ph.D.] in eight years, which is not long at all. I wasn't teaching, so I was part time. I felt like I had come home. I just loved it.
UNH had just hired faculty members specializing in early American history. That's why I majored in early American history — because the best faculty were in that field. So it was Darrett Rutman and Charlie Clark: both former journalists who really cared about writing. They really encouraged me. They were both really terrific, really wonderful. But of course I couldn't have done it, wouldn't have done it, if I hadn't had my women's network — still in Boston, a lot of them. It was a very close network of good friends, and we continued to work on feminist stuff. Claudia Bushman got a Ph.D. at BU about the same time I was at UNH.
Q: What was that transition like in those days, from literature to history?
A: Charlie had an American studies degree, rather than a straight history degree. He had studied with Carl Bridenbaugh at Brown. Darrett was a hard-core social scientist in his approach to history, but a writer. The two of them really emphasized the literary side of history — history as writing — [but] their methodologies were totally different. Charlie was interested in historical literature and narrative, and he did more intellectual history. Darrett did a lot more quantification and social history. I really think working with the two of them made it possible for me to do what I did. I really got good training in social history and lots of nourishing in terms of writing history. It was a nice combination.
Q: Was it UNH that showed you the way to the history of ordinary people?
A: This was the heyday of the new social history. Darrett was part of that and Charlie was part of that as well. So I was nurtured twice. But I was also nurtured by the women's studies program at UNH and by my feminist collective, feminist friends that I had in Boston. That's how I would describe where my work came from.
Q: A westerner, a Mormon: You sometimes describe yourself in writing as an outsider. How did that influence your graduate work and your enthusiasms within your study?
A: This was all new. These weren't my ancestors. These weren't my stories. I didn't come with a ready-made narrative about this.
I was steeped in New England literature. One of my favorite teachers at the University of Utah, Bill Mulder, had a Ph.D. from Harvard in American studies and had studied with Oscar Handlin and others here. So I read all the classics in early American literature. I read John Winthrop and Anne Bradstreet and Benjamin Franklin. I had courses in the 18th century, even though I didn't have history courses.
Q: But reading about early New England must have been like reading French or German — foreign — literature.
A: I joke [that] we used to drive through the sagebrush singing "Over the River and Through the Woods." New England pretty much became [the source] of the national literature. So that part wasn't hard.
I came [to New England] and felt instantly at home. I had read all of Thoreau. As a kid I'd read all of Louisa May Alcott and I memorized Whittier and Bryant in high school. So when I say I'm an outsider, it was genealogically an outsider. I have no New England ancestors. But I had learned a lot about New England.
On the other hand, I think [studying] early America was serendipitous. So much of the early work in feminist history was in the 19th and 20th century. People were not working on the 17th and 18th centuries. I worked on the 17th and 18th centuries because I was in an early America history program, not because I decided in the abstract. In fact, when I originally thought of doing graduate work in history I was going to write about Mormon women, my own heritage. When we did "A Midwife's Tale" [the movie], Laurie Kahn-Leavitt, the producer, one evening kept me up late, trying to search my soul, trying to find out why I cared about Martha Ballard. And I had this sudden flash of insight that it was my grandmother, and the stories of listening to my grandmother, that made me identify so strongly with this woman.
Both sets of grandparents had homesteaded. My maternal grandmother died when I was too little to know her. But my paternal grandmother, Grandma Thatcher, had 12 children in a little homestead. It was in a different part of Idaho, in a town named after my great-grandfather: Thatcher, Idaho. I heard stories, frontier stories, from my dad as well as from my grandparents. There was something about being in a period of pioneering that was familiar. Some people think my Mormonism made me comfortable with Puritanism, and that's true, [but] only in the sense that I had read the Bible. But [it was] radically different theology. These are not the same people.
Q: So there were family and emotional ties in your fascination with Martha Ballard.
A: Yes — people on the frontier. That wasn't conscious — absolutely not conscious. But I think, as I look back, I'm comfortable with thinking about people milking cows. My grandmother milked cows in her day.
Q: Was your first book from your dissertation?
A: Yes, "Good Wives" [1982] was my dissertation.
Q: Revised?
A: I revised it in six weeks. I had a contract almost immediately, from Knopf, which is unheard of. But I was a little older and I never wrote it as a dissertation; I always wrote it as a book. My mentors taught us to do that.
Q: That was very unusual in graduate studies in those days.
A: I remember Darrett Rutman saying, "Don't sit at a typewriter without thinking of publication." And Charlie had published with Knopf. When I finished, he sent it to [Alfred A. Knopf editor] Jane Garrett. She took it. I think Harvard [University Press] turned it down.
Q: Did "Good Wives" represent the evolution of your scholarship?
A: "Good Wives" was inspired by my first seminar paper with Darrett Rutman, the study of funeral sermons. That's where that crazy slogan came from. ["Well-behaved women seldom make history."] That slogan was discovered by Kay Mills in an article I had written while I was still in graduate school.
Q: That was 1976, your first published scholarly article. That now-famous sentiment appeared in the first paragraph.
A: The sermons were prescriptive — all about what women should be. So I said, I want to find out what women actually did. So I framed the dissertation as a work of social history.
I was writing against a very strong trend in the field of women's history, and that's where the slogan becomes important. Anybody who wrote about the 17th century just talked about how oppressed women were, and it was all about witches. And I thought: How am I going to write about witches? There must have been some other people, somewhere — especially when I read the sermons, which were much less misogynist than I expected them to be.
Except for Anne Bradstreet's poetry, and maybe a half-dozen letters, I didn't have anything in a woman's hand in my dissertation. It all had to be wormed out of court records or other kinds of material.
Q: Did you have to travel far afield for primary documents?
A: No. I decided that the only way I was going to finish a dissertation with five kids was to stay close to home. I had to go to archives that I could get back [from] in the course of a day. The farthest I ever went was Boston, to the Massachusetts state archives. I worked a lot in Salem, Mass.; Concord, N.H.; York, Maine. I spent a lot of time in courthouses.
Q: Were you a pioneer in doing this book?
A: There were a couple of people working on similar things, but there wasn't much.
My colleague Nancy Cott was a real pioneer. She did an anthology while still a graduate student called "Root of Bitterness." I started teaching women's history at New Hampshire in 1975 or 1976, just as a summer course — I think the first course taught there in women's history. [I] called her and said: "Is your book out?" She said: "Not yet. You'll be fine without it." I was not there as early as Nancy, but for the early [America] field I'm probably considered a pioneer.
Q: Back to the idea of being an outsider, a westerner, a Mormon — and a woman, in the graduate school setting, and a wife. Could you tell me about how that informed your scholarship? The fact that you had a husband, you had five children, you had this role at home.
A: That influenced me tremendously, I think, because I did not immediately assume that people with children and husbands were subordinate or incapable of having lives of their own. And I valued — I valued — the things women did. I didn't always want to do them, but I valued them. And so younger women, who hadn't had those kinds of experiences: It was a little different for them. I was older, but I was by no means unusual. You look at the pioneers in women's history, who got their starts in the '70s and '80s — the profiles look very similar.
Q: Wives, mothers …
A: Wives, mothers, a little bit older. And a mixture. People who were successful, like Mary Beth Norton. Mary Beth Norton, Kathryn Sklar. I remember coming through New Hampshire and giving talks when I was just starting out and really being inspired by their existence, you know, regardless of what they said. Mary Beth Norton had studied at Harvard but had not written about women, and she may have been tenured already, but then turned toward women. So some of the pioneers in women's history had established themselves by writing about "mainstream" topics. Linda Kerber was another example.
If I had been at Harvard I never would have written "Good Wives." If I had been at Harvard I wouldn't have been a pioneer in women's history, I'm quite sure of that.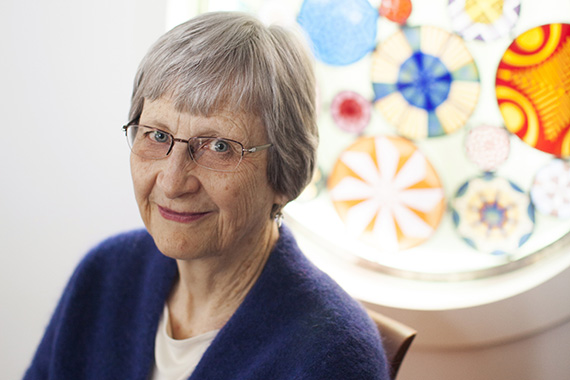 Q: Why do you say that?
A: I would have been told: A, I would never get a job. And B, I'd have been ridiculed for that work. Jill Ker Conway had to go off to Toronto to get the power to write about women.
Q: Part of this serendipitous landing in Durham, N.H., was that it was the University of New Hampshire, not Harvard. And it was professors who were former journalists, and not …
A: Exactly. I've said this many times, and I believe it strongly: It was not a disadvantage to me. I had the advantage of disadvantage: a state school, a public school, a late start, and a nontraditional background — being in an English department, rather than a history department. There were so many things that really contributed to [my] doing something a little bit different.
Q: Including being a wife and mother.
A: And being a wife and mother, and having a lot of responsibility in a lot of directions. Now, I have to be careful about that, because I have to say I had a husband who supported me. Having a husband is a real advantage if you've got one who can support you. And so I didn't have to work.
Q: The two of you had five kids, born through the 1960s to 1975. Did it just seem normal to them to have a mother in graduate school?
A: Well, they knew they had a crazy mother. Every one of them contributed in some way to this enterprise. My middle child, Nathan, was a sophomore in high school when I was writing my dissertation, and he was fascinated with computers, which were in a big room in the university; there were no microcomputers. He was just dying to get to use the university computers, the mainframe computers — dying so much he was trying to sneak in. His dad got him permission, and ability to go use the computer. And the deal was — he had to type my dissertation.
Q: Did he?
A: He did. Nathan word-processed my dissertation on the mainframe at UNH, and he did a fabulous job, given the fact that he had barely taken a typing class. He was so thrilled to do it. I would type it on my electric typewriter at home, then I'd revise it by hand, and then I would hand it to him and he would go enter the changes into the mainframe. This brilliant kid. Really.
Q: "A Midwife's Tale" was published in 1990, and won the 1991 Pulitzer. Did the Pulitzer change your life at all — perhaps give you a new sense of self?
A: I don't know that it completely restored my lack of confidence, but it absolutely — dramatically — changed my life in lots and lots of ways. Let me count the ways.
One of the most important ways was discovering that ordinary people could be moved by history. This wasn't just an academic enterprise and it wasn't a contest to be the first to revise the latest theory. It was an enterprise through which people could derive meaning.
I had two emails this week, thanking me [for] "A Midwife's Tale." This book is almost 25 years old. People are still finding it and reading. I get these heartfelt letters.
Q: In one essay you wrote that history was a primary way of creating meaning.
A: "A Midwife's Tale" helped me find the ways in which people find meaning through the past — not just through their own pasts, but through other people's lives. It's a little eerie, actually, the way people connected to Martha Ballard. When I was working on the book I knew I was moved by this story, but I couldn't imagine anybody else would care.
I was so obsessive, really obsessive, in my effort to document, unpack, this cryptic diary. It was quite exciting — also quite daunting. I remember thinking: "This isn't working. Nobody's going to be able to stay with me through this narrative." So it still kind of surprises me that people read [the book] through.
Q: Martha was one of your early test cases for the idea that the lives of ordinary people, and the dailiness of their lives, could illuminate American history. Did your fascination with material culture also come out of the book about Martha Ballard?
A: Yes. "A Midwife's Tale" led me to the next project that I did [thanks to] the MacArthur. I felt like the MacArthur rescued me, in a way, from the Pulitzer because it gave me some time. You have a lot of responsibility when people are paying attention to you. It can really be overwhelming. You feel like: They expect me to do miracles, and I'm not sure I can do that.
I wanted to do a project that was hard in a different way. I knew I didn't want to work on a diary. I thought a lot about something I discovered in the course of working on "A Midwife's Tale" — the incredible investment of time in household production.
That had not been the case in "Good Wives." Men were weaving; women were not. There were few spinning wheels in people's houses. In earlier periods there was less household production than there was by the time of the American Revolution. So I wanted to know when that happened; whether this was just a phenomenon of Maine [and] how textile production changed. So I did a pretty massive study of household inventories.
People told me I was nuts. I gave a paper in Madrid where experts on textiles didn't believe my numbers. They didn't understand plebian household production. It didn't look like commercial production in Europe or Japan or wherever they were studying. I was looking at this strange phenomenon of this odd New England textile household production system.
That's what led me to the material culture. I met a woman from the Royal Ontario Museum in Toronto who was a weaver and a textile curator. I had a little fellowship there, and I went up there and started studying household fabrics.
I had already started that project pretty seriously when Laurie Kahn-Leavitt came calling, wanting to do the PBS documentary on "A Midwife's Tale." So working on the film closely with Laurie reinforced my interest in material and visual history.
Q: Why study artifacts and the material culture of a time?
A: It was an extension of my enterprise to discover people who didn't leave a lot of written documents. Martha Ballard left a terse diary [of 27 years], and it was wonderful. But most people didn't. But they left an awful lot of stuff behind.
I counted threads on an awful lot of sheets, just to learn what a homemade blanket looked like versus what a commercially made blanket looked like. "The Age of Homespun" is probably my least popular book, but it's a book that a lot of people who are really into material culture enjoy. It's [my husband's] least favorite book because it's not as much of a story. It's episodic; it's fragmented. But it was a really daunting research project.
I always was interested in the material fabric of life. I volunteered on a dig at Strawbery Banke in New Hampshire when I was working on "Good Wives." I've always liked museums. It was never central, but it has become central, especially to a lot of my teaching, and to a lot of my writing.
Q: Something central also, perhaps, is the world of early Mormon feminists you are writing about now. How did this early brand of feminism influence your own life?
A: I did not grow up with any consciousness whatsoever of early Mormon feminism. I grew up with the knowledge of strong women, particularly pioneers: You know, 12 children, log cabin, whatever. I learned about 19th-century Mormon women's feminism when we were working on some of our projects in Boston in the early '70s and discovered in Widener Library a complete bound set of "The Woman's Exponent," which was published from 1872 to 1912. None of us knew that such a thing had existed. And it was pretty remarkable.
That changed my life and the lives of a lot of other people. We suddenly saw a different kind of pioneering than [the stories of] long-suffering, noble [women] crossing the plains, giving birth in a log cabin. We saw these women voting and going to medical school.
The book I'm working on now, "A House Full of Females," originated in my desire to share that story more broadly. The general literature has talked about polygamy, but most people don't know much about 19th-century Mormonism at all. And that is my heritage. My ancestors were there. I've been wary about writing things that are too close to me; I think it's sometimes hard to do. But I thought, "I'm 75 years old. Why not? If I'm going to do it, I've got to do it now."
As I began researching this book I realized I didn't know that much about that world either. It was just fascinating. Something seemed familiar, particularly the terms used — the general vocabulary, its structure. But I did not understand that world. So it was kind of exciting to get into this and rediscover it. And it's brought me back to diaries. I'm working with diaries. I'm working with a whole bunch of diaries.
Q: And are you traveling to find them?
A: Well, the lovely thing in the however many years since I first thought about this Mormon history, there's been a real revolution in the archives. There are beautiful print editions. Utah State University Press has had a series that's been going on for 20, 30 years of primary works in Mormon history. There are probably eight or nine of these in a series [and] other presses doing similar things.
I have been spending a lot of time in Utah working with originals. I like working with original documents, even if I have a modern edition. The church history library in Salt Lake, where lots of these materials are kept, is a brand-new building with amazing technical proficiency. So I can find something in the catalog online that I know I need. It's an astounding archive.
Q: How are you using what you find?
A: I'm writing a narrative based on the diaries … from about 1835 to 1857.
Q: You're a pioneer again.
A: The book is about men and women. "House Full of Females" refers to women both in voluntary organizations and in polygamous families.
Q: You have a male diarist in there as well?
A: I have several.
Q: Nobody's done this before.
A: Lots of people have written about Mormonism from 1830 to 1875. But nobody's tried to understand the relationship between female activism and the marriage system. Everybody assumes there is a relationship — that it made women more independent, that it increased solidarity, since they outnumbered the patriarch. People all speculate about that. But I don't know anybody who has sat down and tried to put it together in a detailed narrative.
Q: In a way, you've come in a circle.
A: I have.
Q: You're going back west. Back home. Back to stories your grandparents might have hinted at.
A: Right. I thought I would try to sneak them in, you know. But darn, they didn't write. But they're there, you know.
Q: You're also circling back to 1970 and that circle of friends you had, when you discovered this aspect of Mormon life.
A: Yeah. And they're a group of people that is still important in my life.
Q: I think we've covered some ground.
A: I think we've covered a lot of ground. I've got a lot of years.
Interview was edited for clarity and length.