Briana Burton, an associate professor of molecular and cellular biology, and Kiran Musunuru, an assistant professor of stem cell and regenerative biology, have been named the winners of this year's Fannie Cox Prize for Excellence in Science Teaching.
Created through a gift from Gardner Hendrie '54, the prize is awarded annually in recognition of exceptional teaching in introductory courses. Recipients receive a $10,000 personal award and $40,000 in unrestricted support for teaching and research. Selections are made by a committee of faculty members from across the sciences, including previous awardees, and are based on the ability to inspire students, instill in them a passion for science, and effectively communicate complex ideas.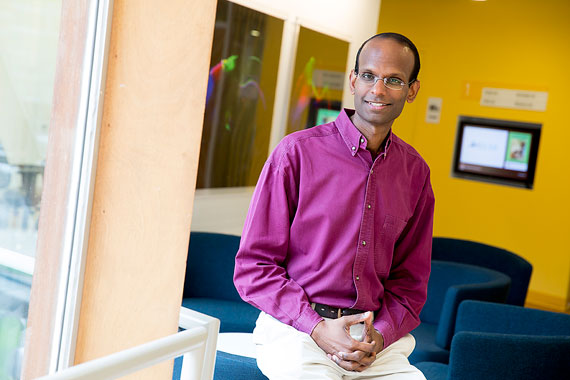 "The best teachers instill in their students a passion for their subject and an eagerness to learn, and both Briana Burton and Kiran Musunuru accomplish that," said Edgerley Family Dean of the Faculty of Arts and Sciences Michael D. Smith, also the John H. Finley Jr. Professor of Engineering and Applied Sciences. "They are prime examples of the innovative teaching that happens on a daily basis in Harvard's classrooms. I hope their colleagues in the faculty will join me in congratulating them for this well-deserved honor."
In a letter to faculty announcing the award, FAS Dean of Science Jeremy Bloxham cited Burton's and Musunuru's dedication in the classroom, passion in their fields, and hands-on teaching styles.
"Professor Burton is an amazing teacher," one student wrote about Burton. "Her lectures are very clear and … I felt more invested in the course because Professor Burton was so invested."
One of Musunuru's students called him "the best professor I have had at Harvard. He is an amazing lecturer … he's very accessible to talk about the course, research, and teaching outside of class. His enthusiasm is contagious. I would take any class he taught."
"I was extremely surprised and honored to be selected for this award," Burton said. "As teachers, we ourselves must be perpetual students. I am continually learning from my students and exploring new ways to engage them in the material. I particularly enjoy teaching in the foundation courses because this is the point at which most students make the transition from textbook learning to experimental thinking. This transition can be extremely challenging, yet it is absolutely essential to creating a population not just of scientists, but of critical thinkers who will ultimately go on to play key roles in a broad spectrum of influential fields."
Burton said she plans to use the support that comes with the prize to invest in research projects.
"It is an honor to be recognized for teaching, but much of the credit must go to Douglas Melton and David Scadden, as department chairs, Kevin Eggan, as head tutor, and William Anderson, as associate director of education, for serving as role models and establishing a culture of excellence in teaching for the Stem Cell and Regenerative Biology Department," Musunuru said. "My guiding principle is to have students learn by working with actual data from real-life cases, to recreate the process of discovery. I love to see the light in students' eyes when they experience the moments of epiphany that make scientific research so rewarding."
Musunuru said he plans to use the support to continue a research project — about the effectiveness of classroom vs. online learning — he began last spring as part of an introductory biochemistry course.
"We obtained empirical evidence that traditional face-to-face lectures resulted in improved student learning compared to online modules," he said. "I would like to use the funds to further investigate the effectiveness of lectures vs. online modules and better understand how best to 'blend' the approaches."