From above, Harvard's newest architectural wonder simply sparkles: a gleaming geometric rooftop poking above the trees.
The glass-and-steel crown, the calling card of Pritzker Prize-winning Italian architect Renzo Piano, caps the newly expanded and renovated Harvard Art Museums and is the building's defining feature, both in flair and function. Referred to as the glass lantern, it knits together the existing façades of the 1927 Fogg Museum building with an expansive addition that includes the Busch-Reisinger and Sackler museums, and showers the Fogg's iconic Calderwood Courtyard with natural light.
"Given the fact that Renzo uses light as a building material, I think in many ways he was a very obvious choice for us," said Thomas W. Lentz, the Elizabeth and John Moors Cabot Director of the Harvard Art Museums.
And light is everywhere. Piano's giant skylight disperses sunshine through the museums' conservation lab, art study center, and the new central circulation corridor, diffusing brightness into the galleries and arcades and the beloved old courtyard, creating what Piano calls the "light machine."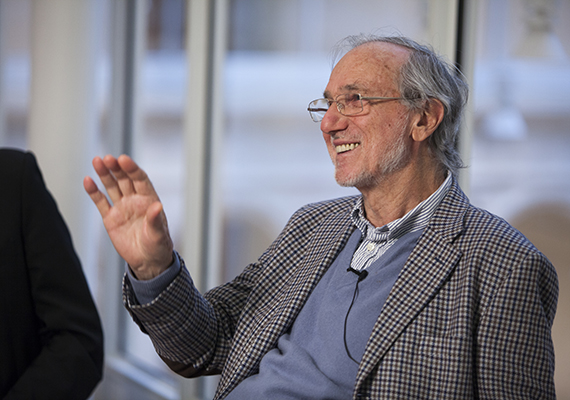 "Renzo is in essence lighting the museum from the inside out," said Charles Klee, principal at Payette, the Boston-based design firm that partnered with Renzo Piano Building Workshop on the museums' construction.
Today, Piano's portfolio is filled with various museum projects, but that success was preceded by a swirl of controversy. The Centre Pompidou in Paris rocked the architecture world when it opened in 1977, with its exposed ventilation ducts, brightly colored pipes, and covered escalators crisscrossing the modern museums' exterior.
"We were young bad boys," Piano said as he recalled his Paris collaboration with British architect Richard Rogers during a brief visit to the Harvard project earlier this year. "We never thought about making an icon or model. We just were obsessed by the idea to break the sense of intimidation typical of the museums at that time."
Piano said the Pompidou "was about making culture more accessible — creating curiosity more than intimidation. So that was the beginning. Then, after that, step by step."
The Harvard Art Museums is the most recent work in Piano's prominent career, one that builds on his efforts to invite people in and connect with culture, in part through the incorporation of natural light, and all of its "imperfections," in his evocative designs. Natural light is "not perfect, it's not entirely predictable," said Piano in the spring from a chair on the museums' third-floor arcade. "You feel the clouds coming, or you feel the day going away. You feel all these little changes. So the light is an essential element."
When Piano was named to Time magazine's list of 100 most influential people in 2006, Rogers called his longtime friend "an absolute master of light and lightness." His buildings, Rogers wrote, "grow out of how buildings go together and how light comes through them; he designs roofs that will pull light in."
At the Harvard Art Museums, that light is pulled in, diffused, and finally dispersed in important ways. It plays a central role for conservators and scholars eager to examine works of art in natural light, for visitors now able to view certain works in the light they were originally created for, and for the building's sensitive climate controls.
The slanted roof includes a series of outer glass panes that protect an intricate system of exterior shades used to help maintain the museums' temperature at 70 degrees, plus or minus one or two, and a relative humidity of 50 degrees, plus or minus five. Beneath the exterior panes and shades, a second layer of insulated glass shields the museum from the elements. Below that glass sits an interior shading system that conservators operate with a touch on a tablet computer. On a recent afternoon, paper conservator Anne Driesse carefully raised the shades on a large, slanted glass pane in the Straus Center for Conservation and Technical Studies. She watched as the afternoon sun highlighted subtle textures and details on a purple-hued, opaque watercolor by American painter Morris Louis.
Natural light, in particular raking light, allows viewers to see "topography like these creases and this flaking paint," said Driesse, pointing to small imperfections on the delicate page. "Often you can see a lot more with a natural light than any artificial illumination," she added, "and it's more pleasing to the eye."
Piano's grand design is as aesthetically pleasing as it is practical. A few floors up, the whir of exterior fans on the building's apex bounces off the angular points of glass erected to cover them. "We call them 'fly-bys,'" said Peter Atkinson, the museums' director of facilities planning and management, noting how the wedge-shaped panes have "flown by" the museums' physical roofline, hiding the ventilation system and extending Piano's design skyward. "And working out here in the winter, we are protected," added Atkinson. "There's function here as well. It's a brilliant idea."
Another Piano hallmark is his willingness to "show you the materials he works with," said Klee. As with the Centre Pompidou, where he revealed the building's inner skeleton to the public, his design for the Harvard Art Museums' roof exposes the intricate hardware that binds the glass lantern together.
"He embraces how things are put together, how things are held together, and that you can be very honest about that. And there's great beauty that can be found in just the devices, and the pleated rods, and the nuts and the bolts," said Klee.
Piano's roof adds another vivid dimension to the eclectic Harvard skyline, yet his dramatic glass hexagon is only just visible from Harvard Yard. In keeping with the desires of Cambridge Historical Commission officials, who were eager to preserve the integrity of the historic 1927 museum façade, Piano and his team designed the pitched roof so that its shallowest slope faces the Old Yard. "When you are on Quincy Street," said Atkinson, "you don't even know the glass is there."
But museum visitors, even those simply passing through on the ground floor, won't be able to miss the glass lantern or the gentle, inviting light spilling through its panes onto the courtyard's bluestone floor.
"The old, shabby, dark courtyard is filled with sublime natural light, as a courtyard should," said Harvard's Alex Krieger, professor in practice of urban design at the Harvard Graduate School of Design, who was given a preview of Piano's reimagined museum. "What's more, an entire upper constellation of curatorial spaces, workshops, and student study spaces are also graced with this light and openness. For those preservation-minded who may feel that the glass roof detracts or defaces the old Fogg, wait till you step inside and experience the 'quality of place' as it always should have existed."
When designing museum buildings, Piano said he thinks about "accessibility, about openness, about inviting people to enjoy and to share value with you." His remarkable roof and "light machine" should go a long way toward making that lofty goal a reality.
"The frontier between beauty and civic life and civilized life is not strong," said Piano. "Actually, this is the reason why beauty may save the world, because it's part of that. Maybe if this building becomes another step, another little brick in the construction of this idea — that beauty can save the world — then I will be happy."