Murat Ülker, a leading entrepreneur in Istanbul, has contributed $24 million on behalf of the Ülker family to the Harvard T.H. Chan School of Public Health (HSPH) to establish the Sabri Ülker Center for Nutrient, Genetic, and Metabolic Research. The gift will address what many scientists consider to be one of the greatest public health threats of the 21st century: chronic and complex diseases of a metabolic nature, such as diabetes and cardiovascular disease.
The incidence of these diseases has been increasing at an alarming rate in Turkey and around the globe and solutions have failed to emerge, with a devastating impact on health systems.
The gift, which was announced today, is being made in honor of the late Sabri Ülker, who started what is now Yildız Holding, a multinational corporation based in Turkey. The gift will support work being led by Gökhan S. Hotamisligil, the J.S. Simmons Professor of Genetics and Metabolism, and chair of the Department of Genetics and Complex Diseases at the School of Public Health. The gift will establish the Sabri Ülker Center to integrate advanced molecular and mechanistic research exploring how the body regulates metabolism and processes and uses nutrients. This work is believed to be an important scientific frontier for slowing the worldwide epidemic of metabolic diseases.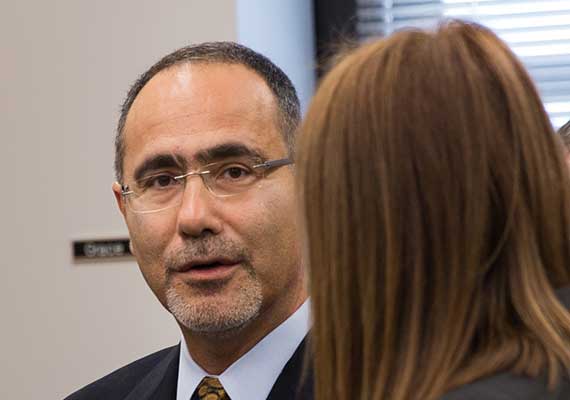 Worldwide, obesity has nearly doubled since 1980; more than 1.4 billion adults aged 20 and older are overweight or obese, leading to an estimated 3.4 million deaths annually. The health consequences of overweight and obesity include heart disease and stroke — the leading causes of death worldwide — diabetes, and several types of cancer. Recent studies have shown that the prevalence of obesity in Turkey has increased to nearly 35 percent of the country's population. Other research demonstrates that 13.7 percent of Turks have been diagnosed with diabetes as of 2010. In the United States, researchers predict that the number of obese Americans will rise to 164 million by 2030, leading to 7.8 million more cases of diabetes, 6.8 million more cases of coronary heart disease and stroke, and 539,000 more cases of cancer.
"With rates of chronic metabolic disorders skyrocketing across the globe, this transformational gift comes at a time of great need for resources to support our basic research," says HSPH Dean Julio Frenk. "The knowledge emerging from this line of scientific exploration has tremendous implications for efforts around the globe to prevent and treat problems like obesity, diabetes, and cardiovascular disease."
There is an urgent need for new and innovative approaches to manage the overwhelming burden of chronic diseases and offer better ways to prevent these diseases from developing.
"The Sabri Ülker Center will address this unsustainable trend by developing new strategies and approaches to prevent and treat such debilitating disorders," said Ali Ülker, grandson of Sabri Ülker and vice chairman of Yıldız Holding's board of directors. "We hope this contribution to science will benefit humanity greatly and we have every confidence in Professor Hotamisligil's research and leadership as a world-renowned, pre-eminent scientist in the field of metabolic diseases."
The gift will be used to support faculty and researchers, and to train students and young researchers who are merging contemporary, cutting-edge basic mechanistic science to explore nutrients and metabolism. A biennial international symposium will also be organized by the center.
"We are honored to receive this visionary gift," says Hotamisligil, a native of Turkey. "The establishment of the Sabri Ülker Center in support of our work has the exciting potential to benefit people in the U.S., Turkey, and around the world, and we are extremely grateful to Murat Ülker for his extraordinary generosity."