For 13-year-old Krishan Eskew of Allston, attending the Technique Swim Academy at Harvard University this summer has been an eye-opener. Instructors use underwater cameras to observe campers' swimming techniques, providing eagle-eyed feedback on how they can develop a stronger stroke — and get a better competitive edge.
"We get a lot of attention," Eskew said. "The instructors watch really closely and talk to us about how we can improve. It's great."
The detailed, individualized feedback he received was possible due to a scholarship program run by the Harvard Allston Education Portal, which awards camp scholarships to Allston and Brighton youths every year. Eskew was among 28 who received scholarships this year to one of three weekly summer athletic camps on Harvard's campus: the Technique Swim Academy, the Crimson Soccer School, and the Tennis Academy at Harvard.
Established in 2008, the Ed Portal provides Allston-Brighton residents with access to Harvard wellness and recreational programs. The scholarship program not only brings local kids to learn and compete on Harvard grounds, but also to work one-on-one with members of its athletic staff.
Stephanie Morawski '92, head coach of Harvard women's swimming and diving, has led the swim camp since 1997, and says its impact is visible on the very first day. As the youngsters walk in to Blodgett Pool, she said, "It's fun to watch their eyes widen."
It's an understandable reaction, as most have never swum in a 50-meter pool before.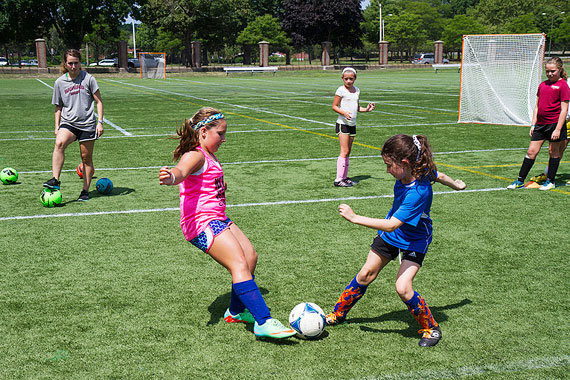 "The Harvard environment is inspirational," Morawski said. "Having local athletes attend all our camps brings the community closer together. In athletics, we know that we reside in the Allston-Brighton community. This is our home, and providing scholarships to give individuals the opportunity to attend camp in their back yard is important."
Morawski said camp leaders benefit as well, reconnecting with the fundamentals of their sport while reaching out to local kids.
"Working with children on their stroke technique every summer really helps all of us refine our teaching skills as we return to the basics," she said. "And working at the camp also serves as a reminder that while coaching swimming may be our profession, the sport is supposed to remain fun for the athletes over the years."
Each week, a new group of campers come to Harvard's campus from the end of June to the end of August to take part in activities, competition, and leadership.
For Eskew, the payoff from being able to participate was a simple and positive one.
"I just wanted to improve my swimming," he said, preparing to dive in once more. "If you like swimming, this is really great experience."