June 2013
Legendary crew coach Harry Parker, who joined Harvard in 1960 and helmed the Crimson's heavyweight program starting 50 years ago, dies June 25 at the age of 77 after mentoring generations of Harvard rowers and U.S. Olympians.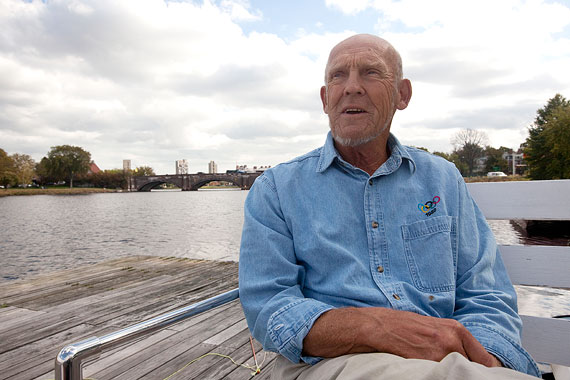 James E. Ryan, one of the nation's leading scholars of education law and policy, is named the next dean of the Harvard Graduate School of Education.
Originally constructed in 1807, Harvard's historic Fay House at the Radcliffe Institute for Advanced Study becomes the oldest LEED-certified building in the U.S. when it receives a LEED-NC Gold certification.
July 2013
Asa Gray Professor of Systematic Botany Donald Pfister is named interim dean of Harvard College. Pfister is an award-winning teacher, an influential scholar of plant and fungal biology, and a committed student advocate, most notably as master of Kirkland House, whose career at Harvard spans nearly 40 years. Pfister takes over for Evelynn M. Hammonds, who completes her five-year term as dean at the beginning of July.
A University-wide "Lighting Fair" provides tools and resources to reduce energy use to students, staff, and faculty. Members of the Harvard community are offered energy-efficient bulbs at a fraction of their regular cost.
August 2013
Irish poet Seamus Heaney dies on Aug. 30. Heaney began teaching at Harvard in 1979, was elected the Boylston Professor of Rhetoric and Oratory (1984-95), won the Nobel Prize in literature in 1995, and became the Ralph Waldo Emerson Poet-in-Residence, a post he held until 2006. Heaney's last official appearance at Harvard was at Commencement in May 2012. At Morning Exercises, in honor of the University's 375th year, he reprised his 1986 "Villanelle for an Anniversary," composed for the University's 350th.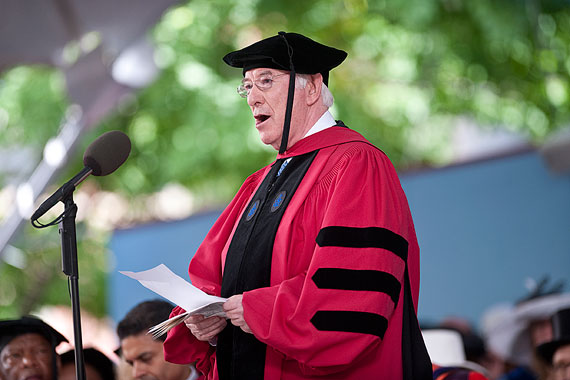 Jameela Pedicini joins Harvard Management Company as the first vice president for sustainable investing.
After 15 months of construction and renovation, Old Quincy, the first test project in the House Renewal initiative, begins welcoming students returning to campus. Undergraduates discover a fully transformed building designed to enhance the interactions of the multigenerational community living within it while retaining the historical character of the House. New social and academic spaces, including a smart classroom, music practice rooms, and a large lounge, work to enhance House life.
September 2013
The University kicks off the public phase of a $6.5 billion fundraising campaign designed to benefit key priorities during constrained financial times. If successful, it will be the largest ever in higher education.
Malala Yousafzai, the 16-year-old Pakistani girl who was shot on Oct. 9, 2012, in an assassination attempt for expressing her philosophy of gender equality in education, receives the 2013 Peter J. Gomes Humanitarian Award from the Harvard Foundation.
Hundreds of women convene for a weekend event celebrating 60 years of women at Harvard Law School.
Old Quincy is renamed in honor of Robert G. Stone Jr. '45, the late senior fellow of the Harvard Corporation, during a ribbon-cutting ceremony held in the House's O'Donnell Courtyard.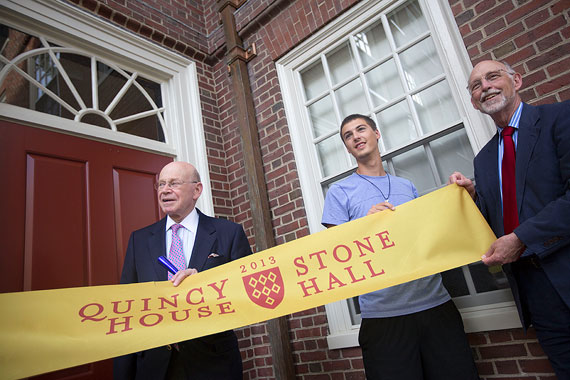 Historian and humanities scholar Peter K. Bol is named vice provost for advances in learning. Bol, the Charles H. Carswell Professor of East Asian Languages and Civilizations, will oversee both HarvardX and the Harvard Initiative for Learning and Teaching.
October 2013
Theodore William Richards Professor of Chemistry Emeritus Martin Karplus is one of three to share the Nobel Prize in chemistry.
James E. Rothman, a 1976 Harvard alumnus, wins a share of the 2013 Nobel Prize in physiology or medicine for work illuminating the internal machinery that cells use to transport molecules.
The Hutchins Center for African and American Research presents the W.E.B. Du Bois awards to White House adviser Valerie Jarrett, playwright Tony Kushner, U.S. Rep. John Lewis, Associate Justice of the U.S. Supreme Court Sonia Sotomayor, the commissioner of the NBA David Stern, and Hollywood director Steven Spielberg.
The Radcliffe Institute and the John F. Kennedy Presidential Library and Museum host a conversation with House Democratic Leader Nancy Pelosi on the 50th anniversary of the Presidential Report on American Women.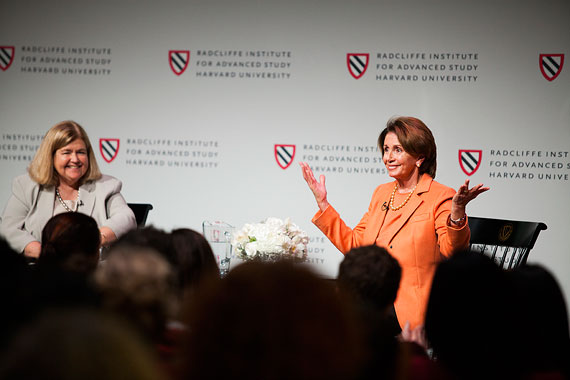 The winner of the Radcliffe Institute's first public art competition is revealed — "Saturate the Moment," designed by GSD students — and installed in the Susan S. and Kenneth L. Wallach Gardenat the launch of The Radcliffe Campaign called "Invest in Ideas."
Faculty of Arts and Sciences Dean Michael D. Smith formally launches the $2.5 billion Harvard Campaign for Arts and Sciences at a standing-room-only alumni event at Sanders Theatre.
The University announces that William F. Lee '72 will become the Harvard Corporation's senior fellow in summer 2014, succeeding Robert D. Reischauer '63.
Winthrop House is put next on the list of undergraduate residences to be renewed as part of the effort to reinvigorate Harvard College's historic House system. According to the plan, and pending final approvals, Winthrop will be taken offline immediately following Commencement 2016, and will reopen to undergraduates in fall 2017. Plans to renew Winthrop's Gore and Standish halls follow the completion of Quincy House's Stone Hall, ongoing construction at Leverett House's McKinlock Hall, and completion of Dunster House, which is scheduled for renewal immediately following Commencement 2014.
The Boston Redevelopment Authority unanimously approves Harvard's 10-year development plan in Allston, giving the initial green light to seven new building projects and two major renovations.
Harvard College launches a new initiative to encourage promising students from modest economic backgrounds to attend and complete college, whether at Harvard or at other selective institutions. The Harvard College Connection uses social media, video, and other Web-based communications, along with traditional forms of outreach, to connect high school students to Harvard and to other public and private colleges.
The Science Center atrium and Cabot Science Library, already filled with bustling undergraduates, will undergo a transformation to support learning and teaching for the digital age while more effectively connecting the library to the atrium and plaza social spaces.
November 2013
In the 130th playing of The Game, the Harvard football team — with the help of sophomore Paul Stanton Jr.'s four touchdowns — outmuscles Yale, 34-7, claiming its seventh consecutive win against its archrival at the Yale Bowl.
Years of discussion about the need for a Harvard campus center come closer to fruition when President Faust announces that a donor has been found and an architect selected for an expansive facility to transform Holyoke Center. The center, expected to open in 2018, will be named for its major donors, Richard A. and Susan F. Smith.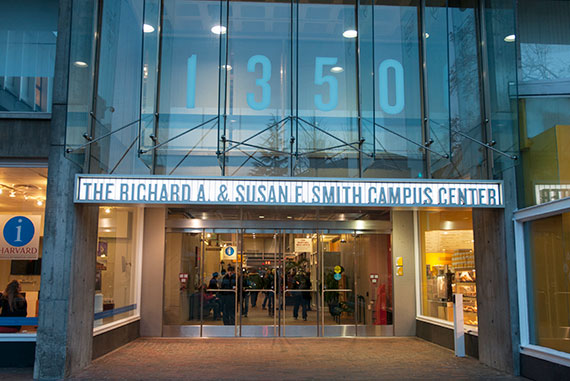 Kanye West meets with Graduate School of Design students during an impromptu visit and tour of the School. While visiting, West addresses students and distributes tickets to his concert in Boston that evening.
Carolyn Abbate, one of the world's most accomplished and admired music historians, is named a University Professor, Harvard's highest honor for a faculty member. Her appointment as the Paul and Catherine Buttenwieser University Professor takes effect on Jan. 1, 2014.
Sandra Naddaff, director of the Freshman Seminar Program and director of studies in literature, is named the dean of the Harvard Summer School.
Harvard is the leading producer of Fulbright Scholars for 2013-14, with 44 students — 32 from Harvard College and 12 from the Graduate School of Arts and Sciences — receiving the prestigious grants to conduct research or teach abroad. Of the 44, 39 accepted the awards.
Norm J. Jones, who has had a long and distinguished career in academic diversity, compliance, and inclusion, is appointed the associate chief diversity officer and deputy director in the Office of the Assistant to the President for Institutional Diversity and Equity.
December 2013
Surrounded by family and friends, 111 Harvard College undergraduates are honored during the annual midyear graduation ceremonies.
Brandon Liu '14 is named one of 36 students nationwide to receive a Marshall Scholarship, which will allow him to study for two years at a university in the U.K.
Two new studies conducted by Harvard researchers show no effect of music training on the cognitive abilities of young children.
Harvard's deans and the University's provost announce The Deans' Design Challenge: Urban Life 2030, which calls on students to work collaboratively across disciplines to propose sustainable ideas that would improve urban life by 2030.
Seniors Elizabeth Byrne, Alexander Diaz, Aurora Griffin, Paolo Singer, and Andrew Lea, and recent graduate Katherine Warren '13 are among the 32 Americans named as Rhodes Scholars. The scholarship, arguably the most prestigious academic award in the world, covers the full cost of two or three years' study at the University of Oxford. With this year's winners — the most in the nation — Harvard has now produced a total of 348 Rhodes Scholars.
Radcliffe's Arthur and Elizabeth Schlesinger Library on the History of Women in America marked its 70th anniversary with a symposium that honored women's history pioneer Gerda Lerner and with an exhibit that shared items from the library's Betty Friedan collection.
Irene Pepperberg, best known for her work with an African grey parrot named Alex — whose intelligence was estimated as equal to that of a 6-year-old child — relocates her lab to Harvard, where she is continuing to explore the origins of human intelligence by working with birds.
January 2014
Rakesh Khurana, the Marvin Bower Professor of Leadership Development at Harvard Business School, professor of sociology in the Faculty of Arts and Sciences, and co-master of Cabot House, is named dean of Harvard College, effective July 1.
Wintersession, the College-led programming initiative, offers a wide range of electives that let students indulge artistic or creative passions, explore career interests and professional-development opportunities, develop hobbies, or participate in recreational activities with friends. Well over 100 activities and programs bring together undergraduates, graduate students, faculty, and alumni.
Jazz musician and composer Vijay Iyer, who won a MacArthur Foundation grant, becomes the first Franklin D. and Florence Rosenblatt Professor of the Arts in Harvard's Department of Music.
Dame Helen Mirren visits Harvard as Hasty Pudding's Woman of the Year. A week later, Neil Patrick Harris turns up on campus as Man of the Year.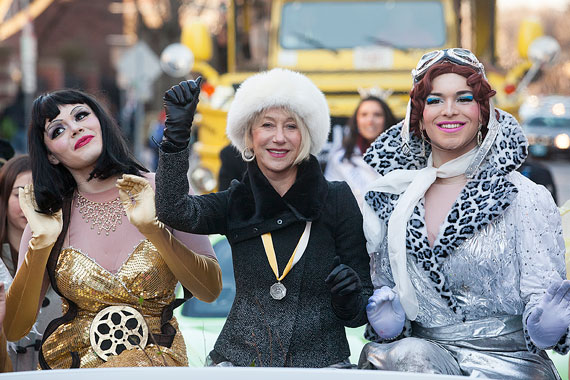 A team of Harvard scientists and engineers demonstrate a new type of battery that could fundamentally transform the way electricity is stored on the grid, making power from renewable energy sources such as wind and sun far more economical and reliable.
Harvard's undergraduate dining halls all earn Green Restaurant Association two- or three-star certification for their sustainability. Certification recognizes Harvard University Dining Services' ongoing efforts to operate efficiently and to source sustainable products.
A new Harvard study shows that, in as little as a day, diet can alter the population of microbes in the gut — particularly those that tolerate bile — as well as the types of genes expressed by gut bacteria.
HDS Professor Laura Nasrallah's edX online course "Early Christianity: The Letters of Paul" draws more than 22,000 participants from 180 countries. Some call it the largest and most concentrated scholarly discussion of biblical studies in history.
February 2014
Kenneth Griffin '89, founder and CEO of Citadel, makes the largest gift in Harvard College history. The $150 million gift is principally focused on supporting Harvard's financial aid program, which will affect as many as 800 undergraduates every year.
Applications to Harvard remain near record highs for the fourth year in a row. This year, 34,295 sought admission to the Class of 2018.
After being charged to lead a task force on Harvard's electronic communications policy, HLS Professor David Barron releases recommendations concerning Harvard's policies and protocols on the privacy of, and access to, electronic communications.
Capping his lauded Harvard lectureship, "Hidden in Plain View: Meanings in American Music," musician Wynton Marsalis and an all-star ensemble give a capacity crowd at Sanders Theatre a musical history of the roots of jazz in New Orleans.
HarvardX breaks 1 million registrants. That figure doubled from Aug. 5-11, 2013, when data gathered showed the total enrollments for HarvardX courses (including past, current, and future offerings) exceeded 500,000.
Jazz pianist Herbie Hancock begins his post as the 2014 Charles Eliot Norton Professor of Poetry at Harvard and kicks off his two-month lecture series, "The Ethics of Jazz."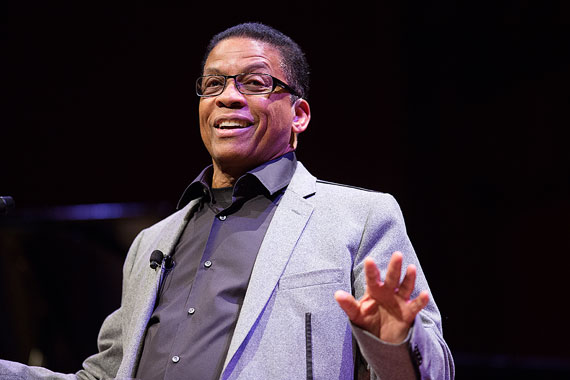 The Office for the Arts' 15,010-square-foot ceramics studio is dedicated with President Faust addressing a large crowd at the Allston facility.
Plans for Dunster House — the first undergraduate residence to undergo full House renewal — reveal significantly expanded social and program spaces and new horizontal corridors that will complement the traditional vertical entryways. According to administrators helping to guide the project, the updates will help transform the building to better support the living and learning needs of today's students, while preserving the character of the neo-Georgian river House.
Hip-hop star and actor LL Cool J comes to Harvard, pulling double duty as host of the Cultural Rhythms festival and as the Harvard Foundation's Artist of the Year.
March 2014
Harvard Associate Professor of Astronomy John Kovac and colleagues working on the BICEP2 telescope in the South Pole make history — and international headlines — when they observe gravitational waves, the first strong evidence of "cosmic inflation," which scientists say occurred in a fraction of the first second of the universe's existence, when it expanded billions of times over.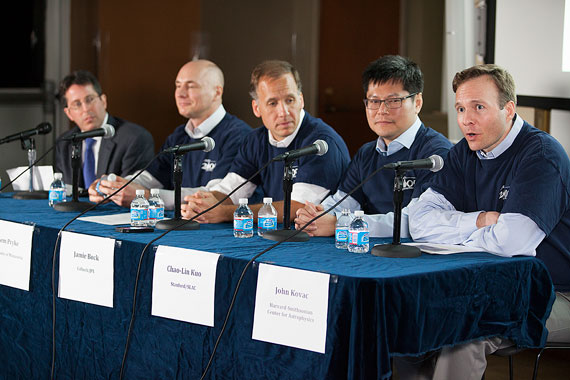 Professor John Briscoe, who has made a career of tackling water insecurity challenges around the world, is selected by the Stockholm International Water Institute to receive the Stockholm Water Prize, known informally as the "Nobel Prize of water."
Harvard Business School announces the launch of HBX, a digital learning initiative aimed at broadening the School's reach and deepening its impact. With HBX, the School has created an innovative platform to support the delivery of distinctive online business-focused offerings, including HBX CORe, a primer on the fundamentals of business.
Harvard's head basketball coach Kathy Delaney-Smith earns career win No. 514 to tie former Princeton coach Pete Carril for the most wins by an Ivy League coach.
The Harvard men's basketball team becomes the first team in the nation to punch its ticket into the tournament with a 70-58 victory at Yale, clinching the Ivy League Championship. The 12th-seeded Crimson has a 61-57 win over fifth-seeded Cincinnati in the second round of the NCAA tournament but loses to Michigan State in the next round.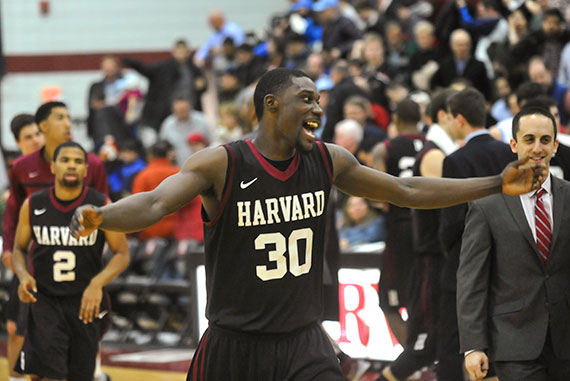 Harvard College sends admission notifications to 2,023 perspective members of the Class of 2018, 5.9 percent of the applicant pool of 34,295. Included are record numbers of African-American and Latino students, who constitute 11.9 and 13 percent of the admitted class, respectively.
The Harvard Art Museums announces the opening of its new Renzo Piano-designed facility to the public on Nov. 16, 2014. The renovation and expansion of the museums' landmark building at 32 Quincy St. in Cambridge will bring the three museums and their collections together under one roof for the first time, inviting students, faculty, scholars, and the public into one of the world's great institutions for arts scholarship and research.
Harvard Management Company, which oversees the University's $32.7 billion endowment, celebrates the 40th anniversary of its establishment.
President Faust announces the creation of a University-wide task force to recommend how the University can better prevent sexual misconduct involving students. The task force will include students, faculty, and staff from across Harvard and will consult widely within the Harvard community and beyond.
April 2014
In April, in a letter to the community, President Faust outlines steps that Harvard will take to continue its commitment to addressing the challenges of climate change and environmental sustainability. Faust formally accepts the recommendations of the 2012-13 Greenhouse Gas Reduction Goal Review Task Force and announces that Harvard has reduced its greenhouse gas emissions 21 percent including growth and renovation, and 31 percent excluding growth and renovation. Faust also creates a $20 million Climate Change Solutions Fund to spark innovative research and announces that Harvard's endowment will become a signatory to the United Nations-supported Principles for Responsible Investment.
The PBS series "The African Americans: Many Rivers to Cross," written and presented by Henry Louis Gates Jr., wins the prestigious Peabody Award. The honor signifies excellence on television, radio, and the Internet. Gates is the Alphonse Fletcher University Professor and director of the Hutchins Center for African and African American Research.
On April 15, the one-year anniversary of the Boston Marathon bombings, the Memorial Church opens its doors to runners, students, and community members wishing to reflect and pay respect.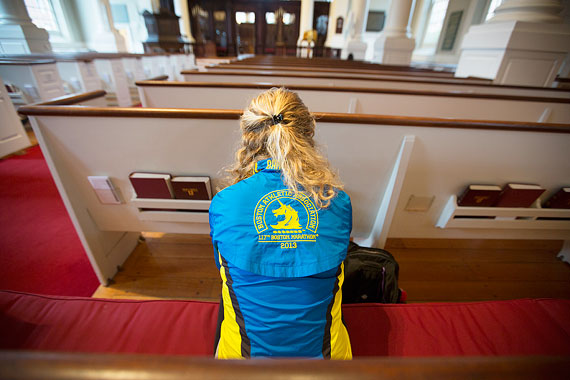 Reformed workaholic Arianna Huffington discusses her new book, "Thrive: The Third Metric to Redefining Success and Creating a Life of Well-Being, Wisdom, and Wonder," during a visit to the Harvard School of Public Health.
The Pershing Square Foundation, founded by alumni Bill Ackman '88, M.B.A. '92, and his wife, Karen Ackman, M.L.A. '93, awards the University $17 million to catalyze the work of Harvard's Foundations of Human Behavior Initiative.
Harvard Business School (HBS) Dean Nitin Nohria announces that the Bertarelli Foundation of Switzerland, co-chaired by Ernesto Bertarelli, M.B.A. '93, has established the Bertarelli Foundation Health and Life Sciences Entrepreneurship Fund with a generous gift to HBS. The fund will support activities at the Harvard Innovation Lab (i-lab), including the Deans' Health and Life Sciences Challenge, which will be renamed the Bertarelli Prize.
Harvard's Department of Physics wins a $1 million award from the Moore Foundation to study quantum systems. Physics Professor Subir Sachdev submitted the competition proposal, along with colleagues Eugene Demler and Bertrand Halperin.
American Repertory Theater (A.R.T.) Artistic Director Diane Paulus and Associate Professor of Astronomy John Kovac are named to Time magazine's list of the 100 most influential people in the world. Last year, Paulus won the Tony award for best direction of a musical for her restaging of the 1970s show "Pippin," and this year, Kovac, the project leader of the BICEP2 telescope at the Amundsen-Scott South Pole Station, discovered the effects of gravitational waves for the first time.
Ann Blair, Henry Charles Lea Professor of History; Matthew Harris, assistant professor of genetics and orthopedic surgery; Jill Lepore, David Woods Kemper '41 Professor of American History; Meira Levinson, associate professor of education; and Gary Urton, Dumbarton Oaks Professor of Pre-Columbian Studies, receive Guggenheim Fellowships.
The University launches HarvardX for Allston, a new educational initiative stemming from HarvardX and run in partnership with the Ed Portal. The program will bring HarvardX content to the Allston-Brighton community and general public by offering programs that integrate the latest in virtual education technologies with opportunities for face-to-face interactions and discussion.
The No. 16 Harvard men's lacrosse team does what no other Crimson team has done in 24 years, clinching the program's first Ivy League championship since 1990 with an 11-10 win at No. 13 Yale.
Levent Alpoge '14 is named a Churchill Scholar and will spend next year at the University of Cambridge. There, he will complete Part III of the university's Mathematical Tripos and conduct research in analytic number theory, which will earn him a master of advanced study in mathematics degree.
May 2014
President Faust awards novelist Margaret Atwood the Harvard Arts Medal, calling her a "true social and moral force," and praising her vast body of work, her creativity, and her "virtuosity of showing us the darkness." Atwood's appearance kicks off the annual Arts First festival.
Radcliffe celebrates 15 years of the Radcliffe Institute, founded in 1999, and 135 years of Radcliffe, founded as the Harvard Annex in 1879.
Harvard's Wyss Institute develops a new plastic from a natural element found in shrimp shells. The renewable plastic is strong enough for packaging and toys but once discarded quickly breaks down and enriches soil.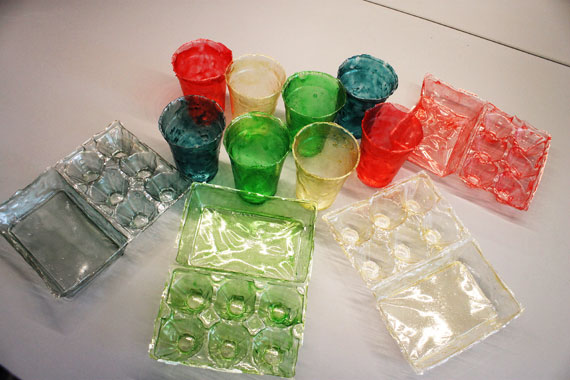 VACU Scan, an initiative to boost health care in developing countries, receives $70,000 as the winner of the 2014 President's Challenge. Changing the game, or at least advancing possible solutions for some of the world's greatest problems, has been the focus of the President's Challenge since its inception three years ago.
Professors Amy Wagers and Lee Rubin of Harvard's Department of Stem Cell and Regenerative Biology report that injections of a protein known as GDF11, which is found in humans as well as mice, improved the exercise capability of mice and improved function of the olfactory region of the brains in the older mice. The scientists previously demonstrated that GDF11 can make failing hearts in aging mice appear more like those of young and healthy mice.
A series of large paintings created for Harvard in 1962 by Mark Rothko are restored using an innovative digital projection system developed by a team at Harvard and the Massachusetts Institute of Technology that recaptures the works' faded colors. The opening of the renovated and expanded Harvard Art Museums this November will feature the inaugural special exhibition "Mark Rothko's Harvard Murals."
More than 82 percent of the students admitted to the Class of 2018 plan to enroll at Harvard for the fall term. This is close to the highest yield in more than 40 years. The Class of 2018 will also be the one of the most diverse ever admitted to Harvard College.