When officials began planning the future of the Harvard Art Museums several years ago, they envisioned vibrant teaching and learning centers that would foster new paths of inquiry and understanding for 21st-century art lovers and curious community members alike.
A new 205,000-square-foot museum building will open Nov. 16, bringing together the Fogg Museum, the Arthur M. Sackler Museum, and the Busch-Reisinger Museum under a magnificent, shining glass roof designed by Italian architect Renzo Piano. In addition to 40 percent more gallery space and state-of-the-art climate controls, the renovated and expanded facility will encourage visitors to engage with Harvard's vast collections in fresh, dynamic ways.
"We want to make our collections far more accessible than they have been in the past," said Thomas W. Lentz, the Elizabeth and John Moors Cabot Director of the Harvard Art Museums. "We want to put them to work for all students, faculty, and the community, not simply specialists. And most importantly, we want to do all this with models, mechanisms, strategies that encourage not simply just working across different fields and disciplines, which is very important to us, but also using the collections in new and different ways."
In the revamped museums, students and faculty will work with curators to create visual arguments in the University Galleries using works of art from the collections. Art and technology will collide in the Lightbox Gallery on the top floor, programmed in partnership with Harvard's metaLAB. A comprehensive Art Study Center will offer visitors the chance to view an artwork from any of the three museums' collections up close.
"A belief in the value of close, sustained looking and observation is a hallmark of this institution," said Lentz. "It's rather extraordinary what flows out of that process. It removes things from simply the realm of the abstract and theoretical into something that's more physical, more participatory."
For another hands-on experience, visitors can head to the lower level's Materials Lab to explore the properties and potentials of products such as plaster, said the museums' chief curator Deborah Martin Kao. Visitors might then bring that new insight to an examination of a vivid fresco on the first floor, or a plaster sculpture in the museums' contemporary gallery.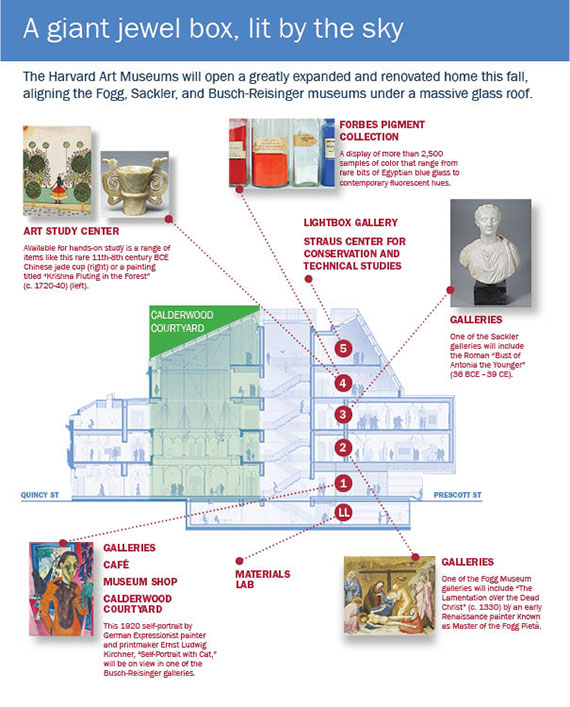 "In many ways, the power of the new Harvard Art Museums will come from the aggregated use of these special galleries, art study centers, labs, and unique programs," said Kao. "There will be a continual loop of testing and probing and always returning to the great objects, coming back with new questions and new perspectives."
To help viewers see the works anew, the galleries will include works from Harvard's other museums and galleries and will mix paintings and sculptures with photographs and prints, present American works next to European and Native American items, and display ancient works next to contemporary pieces. Smaller, more intimate galleries will encourage viewers to slow down and look more closely.
The building's thoughtful layout encourages a kind of dynamic dialogue between different types of artwork and new ways of seeing and engaging with that material. Piano's design not only showers the iconic Calderwood Courtyard — the starting point of the museums' central circulation corridor and a kind of public piazza — with sunshine, thanks to the massive, rooftop skylight, but the design also will offer interesting new juxtapositions.
Stepping off the elevator on the fourth floor, for example, a visitor has immediate views of the Straus Center for Conservation and Technical Studies and the museums' Art Study Center, but a quick glance at the galleries below reveals much more.
"You are looking down into an ancient gallery, and in the arcades below those ancient sculptures are 17th- and 18th-century European paintings that are reviving an interest in ancient art," said Kao. "These juxtapositions are happening in galleries from floor to floor. The architecture was designed in such a way that it supported the kind of curatorial desire to find ways to break down old silos and bring these powerful collections into a generative dialogue with each other for the first time."