Susan Hockfield, past president of Massachusetts Institute of Technology (MIT), held up an iPhone, pretending to take a photo of the audience. "This is the shape of the 20th century," she said. "Where did digital technology come from? It's the product of the 20th century's convergence of the physical sciences and engineering."
Hockfield addressed a packed John F. Kennedy Jr. Forum at the Kennedy School of Government Wednesday on the topic "The 21st Century's Technology Story: The Convergence of Biology with Engineering and the Physical Sciences," this year's Edwin L. Godkin Lecture.
The 20th century's convergence, Hockfield said, was accelerated during World War II and the Cold War-era space race with the Soviet Union. "I grew up in the shadow of Sputnik," she said of the famous 1957 Soviet satellite launch that triggered more U.S. funding of science. Hockfield cited President John F. Kennedy's unifying and ambitious target of traveling to the moon as a moment of inspiration.
Hockfield detailed two revolutions that catalyzed the convergence of biology with engineering and the physical sciences. First was the molecular biology revolution that "began with the elucidation of the structure of DNA by [James] Watson and [Francis] Crick in 1953." This breakthrough, Hockfield said, enabled researchers "to identify genes that cause disease" and made possible targeted therapies against cancer that "can hit the bad cells and leave the good ones relatively untouched."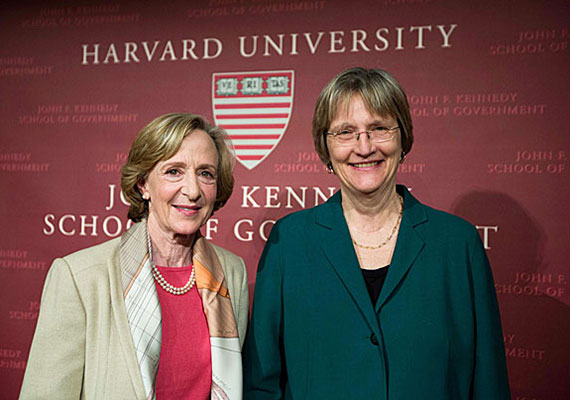 A second revolution came with genomics, allowing researchers to sequence the human genome and develop remarkable, increasingly personalized medical therapies. Hockfield presented a chart that showed "the cost of sequencing has plummeted from $3 billion in 2001, when the first human genome was sequenced, to about $1,000 today."
While introducing Hockfield, who was MIT's president from 2004 to 2012, Harvard President Drew Faust lauded her as "a leader who continues to inspire me and so many others in her deep commitment to the highest ideals of higher education."
Faust praised Hockfield's historic role in bringing Harvard and MIT together for a number of mutually beneficial "convergences."
"I was pleased to be her partner in initiatives that joined our institutions in unprecedented ways: the Broad Institute, the Ragon Institute, and edX," she said. As the forum audience broke into applause, the two leaders embraced. Hockfield then began, "I would echo all the lovely things Drew said about our working together. One of the joys of my presidency was the chance to work closely with Drew at Harvard."
During her remarks, Hockfield cited three examples of present-day convergence involving MIT research. The first involved nanoparticles that when injected into patients can diagnose "whether you have or don't have a certain disease early in the process." Second is "a virus that will do the work of synthesizing a lithium-ion battery" at room temperature, enabling "electric cars to travel greater distances" than batteries now permit. Finally, there are "nanoparticles designed to attack cancer." Hockfield showed the economic value of such research when she displayed a map of the Kendall Square biotech cluster, a multi-billion dollar driver of the region's innovation economy.
She also cited MIT's Koch Institute for Integrative Cancer Research, where chemists, engineers, and scientists from multiple disciplines mix together in both the physical space and the research space to develop innovative cancer therapies.
If the future of convergence holds tremendous promise for healthcare, clean energy, food production, and innovation-based economic development, Hockfield asked, "How do we turn that promise into action?" The challenges ahead, she noted, include the silos created by various scientific disciplines, their separate languages, and rigid institutional and funding structures. "We need to learn to speak and understand one another's languages," she said, and "create superhighways across departments to give people the possibility to work together." Funding also needs to be more flexible across disciplines, facilitating collaboration.
The federal government plays an important role: "Federal investments in research and development are the seed corn of economic growth from innovation," Hockfield said. In 1960, 2 percent of U.S. gross domestic product was spent on research, while today it's only .8 percent. "There was a time when support for research and development spending was a bipartisan issue," noted Hockfield, who called today's budgetary/political gridlock in Washington as "a terrible situation."
Despite such challenges, Hockfield concluded on a note of strong optimism. "Convergence will continue and is a wonderful tool for solving problems. The future we have not yet imagined is upon us, and the possibilities of convergence are truly beyond our imaginations."
Just as prior convergence helped to transform daily life with digital technologies such as that iPhone Hockfield held up, future convergence-driven breakthroughs hold the promise of being even more transformative.