Most students, by the time they leave Harvard, can speak intelligently across a range of topics, from special relativity to the foundations of ethical reasoning. Only a few graduate with the ability to bend a chunk of steel to the limits of imagination.
In the Instructional Physics/SEAS Instrument Lab, a professionally outfitted machine shop tucked in the basement of Lyman Laboratory, students can learn to use a host of equipment — from lathes to laser cutters to 3-D printers.
Though the shop is often called on to create one-of-a-kind items for faculty, its function is largely educational, said manager Stan Cotreau. The techniques students develop are applied to their thesis projects and available the rest of their professional lives.
"Most people come in here with absolutely no skills, so I introduce them to everything — I actually prefer that, because then they learn things my way," he said. "We start with things like 'This is a milling machine, and this is what it does.'"
For physics graduate student Christine Chiu, the scope of the training was a surprise.
"I thought there would be some machine-shop training, but I did not expect it to be so in-depth," she said. "We can do things like precision milling, where you can get a part down to a one-thousandth of an inch. What's really exciting are all the different techniques you use — there's a very logical and correct way to do everything … it's very active learning."
When it comes to explaining the difference between a press brake and a power drill, a better teacher than Cotreau, who has been working in the shop since 1993, would be hard to find.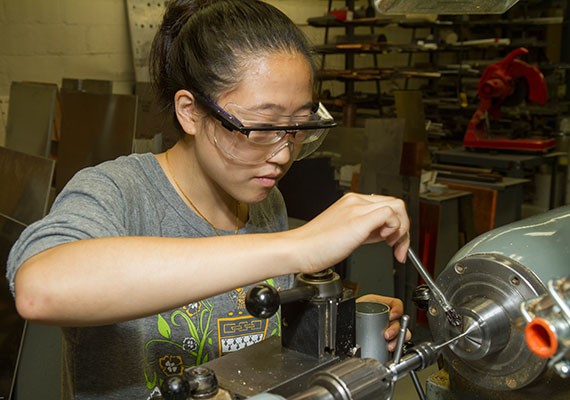 In addition to working in machine shops nearly his entire life — his first job, at 14, was to empty metal shavings and other debris from machines in his father's shop — he designed the curriculum from the ground up. Students have been asked to create a precision vise, miniaturized steam engines, and (nonfiring) cannons as part of his mission to diversify their skill sets.
One aspect of working in the shop, however, is emphatically straightforward: safety.
"I teach them to work methodically, and I teach them to work safely," Cotreau said. "Safety is huge. The students here will tell you — I'm pretty tough on them as far as safety goes, but you have to be. I don't want someone getting hurt."
Still, Cotreau works to keep the atmosphere in the shop fun. Most days, a radio plays over the grind of the machines, and jokes and good-natured ribbing are the norm. "Students here are under a lot of pressure," he said. "I try not to add to that. I try to keep things light here."
Godwin Abiola, a biomedical engineering concentrator at the School of Engineering and Applied Sciences, expects his shop training to prove invaluable as he begins work on his senior thesis, which will explore invariant object recognition — the ability to recognize a single object from multiple angles — in rats.
"It's really awesome that Harvard has resources like this for students," he said. "I have friends at other schools, and sometimes they don't even get the chance to operate machines like these, so this is valuable experience to have."
Cotreau recently expanded the shop's curriculum to include welding, and in January hosted a workshop with Anas Chalah, SEAS' director of instructional laboratories.
"I thought the class was a great intro to welding," said Jared Friedman, a student at the Graduate School of Design. "Stan made the class fun and informative … and I was able to get a lot of hands-on learning in the short time span."
Mike Popejoy, a fellow in the Philosophy Department, was just as impressed by Cotreau.
"Stan was a great teacher, very informative and patient, but also lighthearted, and gave us autonomy to give things a go on our own. His approach was both scientific and rational, but also intuitive, which I appreciated.  I'm grateful for having had the opportunity to take the class, and to learn something that I otherwise might not have ever tried in my life; and now I want to do more of it!"
Ivan Kozyryev, a second-year physics grad student, has made a second home of the shop. "I practically live here," he said, welding lengths of braided copper wire to act as a heat sink for an experiment. "It's great to be able to design something and then come in here and make it.
"Some people might think that the best part of science is when you get the results from an experiment," Kozyryev added. "But for me the best part is doing things like this, and to be honest, it's a lot of fun. I'm pretty proud that I now know how to weld, and that I know how to use a mill, and a lathe. It's awesome."