As a Harvard undergraduate, Diane Paulus haunted the halls of the American Repertory Theater (A.R.T.), trying to absorb every ounce of its energy and ethos. She dreamed of being cast in an A.R.T. production, a rare but real option for a gifted College actor if a director saw fit. She worked as an usher and attended every show she could, but it wasn't until after she left Harvard that she got a close look at a professional theater rehearsal.
"I wasn't inside a rehearsal hall until graduate school — that opportunity to just be in a high-level process. I remember thinking when I was a young director, 'How do you direct? … Maybe one day I will get to see it.'"
Since Paulus '88 took the helm of the A.R.T. as its artistic director in 2009, she has made sure that undergraduates interested in the business of professional theater can have a chance to see every side of that high-octane process up close as part of the theater's robust internship program.
As part of Wintersession between semesters, nine College students traveled to New York City as A.R.T. interns to help Paulus and her production team in the exciting and exhaustive process of bringing a new production to life. The musical "Witness Uganda" will have its world premiere at the A.R.T. on Feb. 4.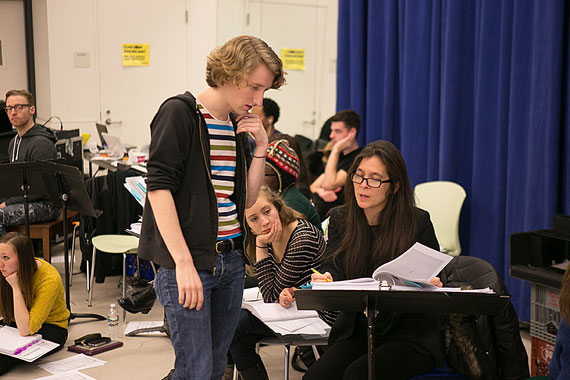 For close to a month, the students, along with the cast and crew, worked on the show that explores the challenges faced by American aid workers around the world. The interns helped with everything from script edits to learning the show's complex choreography.
They had a hand in "all the intricate layers of the physical life of a production," said Paulus. "They were really heart and soul involved in it, and impacting the whole process."
Producing intern Mark Mauriello '15 kept tabs on the show's daily operations. From a spot on the floor in the front of the rehearsal room, he took meticulous notes, watching for changes in the show's set, staging, or script, and reporting back to the producer in Cambridge.
"Every day is totally different, which is part of the best thing about it," said Mauriello during a lunch break from rehearsals.
The Kirkland House junior has long been involved with Harvard's theater scene, and is currently performing in "The Donkey Show," rolling around Oberon's disco-themed set on skates as the character Dr. Wheelgood. A theater arts and performance concentrator who is planning a career in the field, Mauriello he said he was "really, really lucky," to have worked with the A.R.T.
"To be able to sit in the room with someone like Diane Paulus, who is so unbelievably brilliant and great at what she does, and just to learn by watching her do things and being engaged with her work is a huge learning experience."
Choreography intern Megan Murdock '14 relied on her experience in southwestern Uganda last summer studying traditional East African dance to offer suggestions and information to the choreography team during her internship.
A neurobiology concentrator, Murdock explained certain customs to the cast and crew, like how the ankle rattle, something the choreographers considered adding to a production number, is used in the Ugandan dances she learned, and the nuances of the local handshake. She also helped to track the blocking of each dance sequence, and the videotape of some dance numbers.
Breaking into the competitive world of theater is notoriously tough, but the interns agreed that their A.R.T. experience has helped them.
"It gives you a leg up when you get out of college if you've already had the chance to work in a professional production environment," said Murdock, who hopes to pursue a career in dance after graduation. She added that Paulus' reputation as a dynamic director was quickly confirmed. "I had heard about her and how amazing she is to work with … and it's all true."
As one of the two stage management interns working with the show, the job of Jumai Yusuf '16 during rehearsals was to help manage the sets' moving parts and props, and to take detailed notes about where items needed to go at any point in the show.
At Harvard, Yusuf, a neurobiology concentrator, has managed, produced, or directed student productions. But she said being in the room watching and helping a professional show come to life was something different.
"One of the biggest differences is that they're rehearsing the show, but but they are also working on the script. They are making script changes very often throughout the day. It was really cool to see that happen, and to see what things ended up changing."
And getting to watch Paulus in full directing mode was special.
"She is so creative. She makes little changes that I would never have thought of that then greatly enhance the production. … It's really fascinating to see her work."
Paulus said the challenge of creating a new work is a complex, collaborative process, one that should be an integral part of the learning process at Harvard.
"Things are pushed, pulled, rejected, tried on, tried a different way … all of that is really the experience, which is such a theme of what we are talking about at Harvard. How do we provide that experience for our students, that investigation of the process, of the questions you ask, and show [students] how delicate and hard it is to crack something open?"
Seniors Lily Glimcher, Susanna Wolk, and Madeline Smith; juniors Brenna McDuffie and Selena Kim; and freshman Kyra Atekwana also worked as A.R.T. interns with the production.