They have written for and produced some of the most successful and acclaimed television shows in recent years, but Greg Daniels '85 and Robert Carlock '95 didn't come to Harvard with the intention of becoming television writers.
In fact, both said they envisioned applying to law school once their undergraduate days were over.
"I had met a bunch of weirdos, and I just wanted to hang out with them professionally. I felt more of a kinship with them than the people who were applying to law school," said Carlock, an executive producer and co-head writer for "30 Rock." "My parents didn't send me here with that expectation, and it wasn't something I was considering when I came here, because there is no path to becoming a television writer."
Daniels agreed.
"There is no path. In fact, when I went out to L.A." to become a writer, "I did have an acceptance letter to law school, so I guess I was hedging my bets a bit," said Daniels, co-creator of "The Office."
The discussion was part of the two-day Wintersession program "The Writers' Room: Writing for Television," presented by the Office for the Arts at Harvard and the Harvard Alumni Association.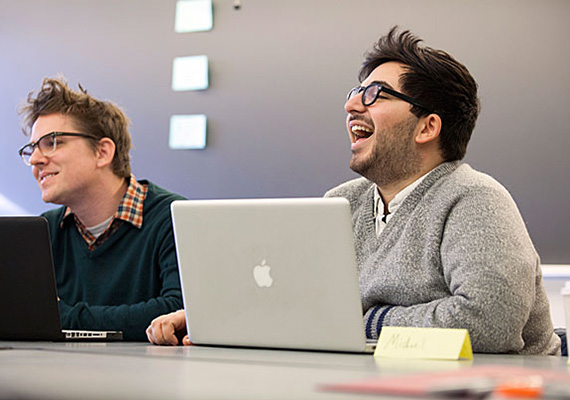 Wintersession is the time between terms when students who return before the start of classes can experience unusual opportunities they might not otherwise pursue during the semester. A College-led programming initiative, Wintersession offers a wide range of electives that let students indulge artistic or creative passions, explore career interests and professional-development opportunities, develop hobbies, or participate in recreational activities with friends. Once again this year, it brought together undergraduates, graduate students, faculty, and alumni.
At the Barker Center past Thursday, students listened to Carlock and Daniels discuss their craft, the limitations of writing for television, and how the industry has changed dramatically since they began their careers.
The two writers helped create some of the funniest shows of the past decade. Both spent the early part of their careers in the writers' room at "Saturday Night Live." Daniels went on to write for "The Simpsons," and in addition to "The Office," co-created "King of the Hill" and the current NBC hit "Parks and Recreation."  Carlock spent time on the "Friends" writing team prior to his work on "30 Rock."
"We tried to make the grounded weird and the weird grounded and hope that they meet in the middle," Carlock said of his work on "30 Rock." "I think the show had heart; it just lived in a universe where people were being hilarious all the time. And the cast was tremendous. Shows with bad writers and a great cast have worked, but shows with good writers and a bad cast have not."
To which Daniels quickly quipped, "Because it's easier to replace the writers. For all of you thinking about becoming a writer, it's sad, but true."
Daniels said when he first started in the industry there were just three television networks. Soon, a fourth was added, then cable rose in prominence, followed by digital media such as YouTube and Netflix, which now are changing the business once more.
"If you guys are interested in writing, or performing, or the arts in general, basically what you are doing is creating intellectual property. And how intellectual property rights are handled is going to have an enormous effect on whether you can make a living," Daniels said. "It has been this huge transfer from the content creators to the content distributors, where the investors in Pandora are the ones eating up the profits — not the person who wrote the song. I guess what I am saying is if there's a [Wintersession] room over there where they're talking about apps, you may want to go and do that."
He and Carlock also worked with two small groups of undergraduates for a day and a half of writing workshops, including a simulated writers' room.
"Our writing sessions were peppered with story after story about the ins and outs of the world of television writing. The unique and amazing part of this program was the chance to receive thoughtful critical feedback on our own ideas, pitches, and jokes from one of the best in the business," said Sam Richman '15. "Seeing the caliber of artists and writers that Harvard has produced and invites back serves as a challenge and an inspiration for us current students."
Wintersession programs let students dance, discuss, sing, perform, play, create, engage, explore, and relax. Offerings included instruction in personal finance, cooking, SCUBA diving, and beekeeping, and certification in CPR certification. There was also time for laser tag, three-on-three basketball, ice skating, and ski trips.
At Adams House, a four-day discussion on global citizenship included as guest speakers the former U.S. ambassador to New Zealand, David Huebner; diplomatic correspondent for Bloomberg News Flavia Krause-Jackson; and economist and Nobel laureate Amartya Kumar Sen, among others.
"With Wintersession, you can really do just about anything. And global citizenship is something we have been talking about in the House for the past few years. So we thought this was a good opportunity to really get serious about it and open the discussion up more broadly beyond Adams House," said Judith Palfrey, Adams co-master and T. Berry Brazelton Professor of Pediatrics at Harvard Medical School.
As a physics concentrator, Will Tobias '16 said he doesn't have a lot of time during the semester to focus on what it means to be a global citizen, so he was pleased Wintersession gave him the opportunity to do so during Wintersession.
"I really wanted to get back on campus to be with my friends, and when I saw the list of speakers for this program, it drew me in," Tobias said. "The list of speakers is really impressive, and here I am spending five hours a day discussing global citizenship."