After years of discussion, a Harvard campus center came closer to fruition Thursday, when Harvard President Drew Faust introduced the donor and announced the project's architects had been selected for an expansive facility to transform Holyoke Center.
The center, expected to open in 2018, will be named for its major donors, Richard A. and Susan F. Smith, and designed by London-based Hopkins Architects with Cambridge-based Bruner/Cott as executive architect. The planning process, which will begin this month, is anticipated to include substantial community and student input and last roughly a year and a half, with construction to begin in 2016.
"The Smith Campus Center will draw members of the University community together and serve as an important common space for everyone to enjoy and use," Faust said. "We are very pleased to be moving forward with planning, and we are eager to engage students, faculty, and staff in the important work of creating a flexible and welcoming campus hub."
The project will entail the renovation and remodeling of Holyoke Center as well as the focused renovation of the building's exterior. Holyoke Center was renamed the Richard A. and Susan F. Smith Campus Center during a brief ceremony outside the building.
The building's new name, posted over the entrance to its ground-floor arcade, was unveiled during the ceremony, which was attended by Richard and Susan Smith and members of their family, as well as several deans and University leaders. Faust, Provost Alan Garber, and Mike Taylor, senior partner for Hopkins Architects, made brief remarks.
The new center is expected to provide a major boost to the University's multiyear effort to create and improve common spaces across Harvard as a way to ensure its physical spaces foster the campus's intellectual, cultural, and social experience.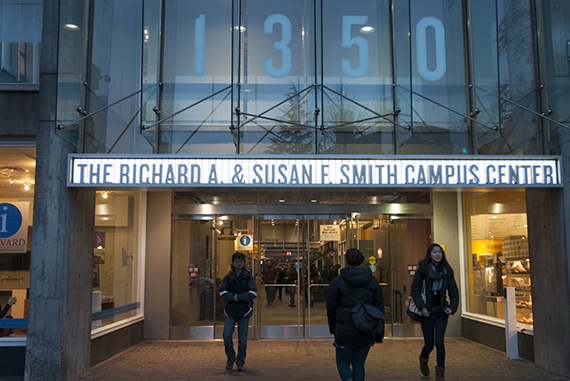 The Common Spaces program began in 2009 with the addition of comfortable seating and a program of scheduled performances and additional food options in Harvard Yard and in the small plaza in front of Dudley House to encourage informal gatherings. It also includes the recent transformation of the Plaza and the opening of Memorial Church's "porch" in Tercentenary Theatre.
The Smith Campus Center will be open to faculty, staff, and students across the University, and is intended to draw the community together and complement facilities already available in Harvard's undergraduate residential Houses.
In recent months, Faust had identified Holyoke as a likely site for a campus center because of its central location.
In her announcement, Faust said the project was able to move forward because of a significant contribution — whose amount is not being disclosed — by the Smiths. Richard Smith, the former chairman and chief executive officer of Harcourt General Inc., which at one time included General Cinemas and the Neiman Marcus department store chain, is a member of the Harvard College Class of 1946, though he graduated in 1944 due to World War II.
Smith and his wife, Susan, have a history of philanthropy toward Harvard and affiliated institutions, including the Dana-Farber Cancer Institute. In addition, Richard Smith served on both of Harvard's governing boards, including three years as an Overseer and nine as a member of the Harvard Corporation, from which he stepped down in 2000. He received an honorary degree from Harvard in 2001.
In an interview before the announcement, the Smiths said they were interested in giving a gift to the University that would have a lasting effect on students and faculty. When they heard that University leadership and students alike supported development of a centrally located campus center, they decided to support the project.
"Other universities … have great campus centers, and they do a wonderful job in enabling students and the whole community to associate with each other in activities and to make friends and to find a place to spend an hour between classes," Richard Smith said. "Of all the institutions one can think of, Harvard has been the leading developer of the future leadership of this country, if not the world. To be associated with it has been a great privilege and to support it in a meaningful way … will be a capstone in my relationship with Harvard."
The planning process for the center is just beginning. Faust's intention is for a comprehensive outreach effort to engage the Harvard community in the pro­cess of planning and programming the center. University planners said the facility is expected to offer large, flexible indoor gathering space for students, faculty, and staff and include food service, lounge, and study areas, as well as space for exhibitions, events, and performances. The first floor of the renovated structure is expected to remain open to the public, offering a mix of retail and food service options.
Hopkins Architects, which will develop detailed plans in consultation with the Harvard community, is an international architecture firm that designed, among others, Yale University's Kroon Hall and Princeton University's Frick Chemistry Laboratory. In his remarks, Hopkins' Taylor said that the firm is looking forward to the "long and exciting journey" ahead.
The lead architect, Hopkins, will be partnering with Bruner/Cott throughout the project. Michael Van Valkenburgh Associates is the project's landscape architect.
"All of us at Hopkins are absolutely thrilled to be here and selected by Harvard and Mr. and Mrs. Smith to help realize your vision for a vibrant campus center that will be at the heart of Harvard. We are looking forward to the collaborative process in the coming weeks, months, and years," Taylor said. "We are very thrilled. We are looking forward to the journey, and this is the first step."
Holyoke Center, which opened in the mid-1960s, was designed in the 1950s by then-Graduate School of Design Dean Josep Lluis Sert, who also designed the Science Center, the Peabody Terrace graduate student apartments, and the Divinity School's Center for the Study of World Religions.