As the Class of 2017 settled in at Harvard and began Freshman Week, students from 49 states and more than 60 nations were busy taking in the unfamiliar sights and sounds of the tightly packed, red-brick neighborhood that will be their home base for the next four years.
Many new arrivals said they had visited friends and family in the Boston and Cambridge area before moving onto campus, so they thought they had a pretty good idea about what to expect. But being there as a Harvard freshman has changed everything.
"It's entirely different to see it as a student," said Margaret Irving of New Brunswick, Canada, as she crossed the Yard with classmate Nick Ackert.
"It's a much more personal experience than looking at it as a tourist," said Ackert, a New York City native who has been studying in Taipei, Taiwan, for the last four years. "It's much more than just the campus — it's the students."
"Going here, there's this misperception of the typical Harvard student," said Rajkumar Pammal, referring to the "preppy" Ivy stereotype. "There's such diversity on this campus."
Pammal, from suburban Long Island, N.Y., noted that his three suitemates hail from Nepal, Florida, and North Dakota. The group recently bonded over the beanbag game "cornhole" on the grass near the Science Center. "That's just the microcosm of how everything is here," he said.
Beyond the Yard, students said they were finding Harvard Square to be a nice blend of hip urbanity and suburban ease that felt interesting, but also safe and comfortable.
Attending the pre-orientation program that began Aug. 20 gave some freshmen time to check out local shops and restaurants, meet other students, and ease their anxieties about starting a new life in a strange place.
"I'm amazed at the number of people I've interacted with already," said Rachel Stromberg of Tulsa, Okla.
Laetitia Tiani Vessah, whose family is originally from Douala, Cameroon, spent her pre-orientation week in the First-Year Urban Program, a five-day session run by students to help introduce freshmen to the Cambridge and Boston community by engaging them in public-service projects.
Tiani Vessah spent the week working as a volunteer at Fair Foods, a Boston nonprofit food rescue organization that delivers surplus groceries to low-income families for, at most, a nominal fee.
"I really liked that because I got to know more about the city," she said.
For many incoming students, getting acclimated to the broad and unpredictable spectrum of New England weather is a concern, especially for those who have never had to dress for frigid temperatures.
"In Oklahoma, we have ice storms, so I'm excited for snow," said Stromberg. "I think they'll deal with it better."
Udodiri Okwandu, who grew up in the suburbs of Los Angeles, is determined not to get caught off guard by the inevitable cold. "I bought a bunch of coats, but I have to get more," she said.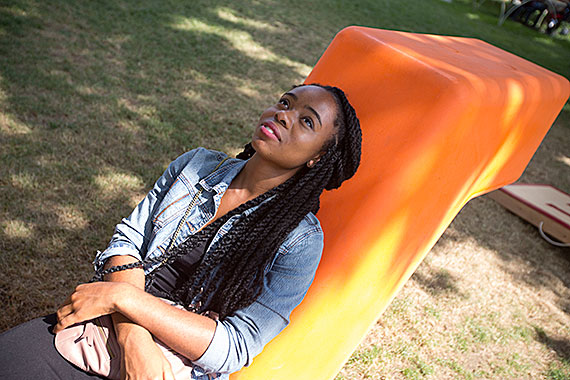 Said Belinda Zeng, a Cupertino, Calif., native: "I'm freaking out." For Zeng, the transition as a first-year student has been a little overwhelming, especially since many of her friends are going to college back in California, though some are also at Boston University.
"It's been kind of daunting," said Zeng about move-in day. "The first time I left my sister, it hit me: I'm at college now."
But Zeng said she's feeling more at ease, thanks in part to the kindness of strangers. She traveled to Harvard and then lugged "tons of suitcases" for what seemed like "miles across campus" to her residence hall, only to be confronted with three flights of stairs. Out of nowhere, she said, a stranger appeared and offered to help carry her belongings up to her room.
"That's what I love about Harvard," said Zeng. "There's this sense of community.
Everyone's just there for each other."