Marblehead native Hayley Reardon was just 11 years old when she picked up the guitar. A year later, she had written her own songs and wanted to perform onstage. Wary of having her play in a bar, her uncle suggested that she check out Club Passim, just steps away from Harvard's campus.
"As soon as I walked in, I realized that there was a whole, rich community that I hoped to become be part of, and a place where I could someday perform," said Reardon, who has since opened for Don White and who released her first album, Where the Artists Go, in 2012. "They welcomed me and took me in."
Passim, she said, "is where I found my voice, and it was a lot bigger than I expected it to be as a 13-year-old kid. The people there really listened; they heard that voice."
Over the years, Passim and its Harvard audiences have heard many voices, some of them the biggest stars of folk and blues. Bonnie Raitt chose to attend Radcliffe College partly because of its proximity to Club 47, as Passim was known in the 1960s; Tom Rush began performing in 1961 while studying English at Harvard; and Joan Baez famously played the club when she was just 17 — and there introduced a young Bob Dylan, who performed between acts.
Dan Hogan, director of Club Passim, called Reardon, who is now 16, "a young Joan Baez," and said her experience reflects the club's focus not just on exceptional musical experiences, but also on nurturing artists and building community.
"Passim is really a listening room," Hogan said. "It's not like a bar, where music is in the background. Our patrons are well informed about music, and the performers know that. Cambridge, particularly right now, is a great music community, and our music now is much broader than folk music or singer-songwriter. It's whatever music sounds good in a small listening room: bands, jazz, bluegrass, and solo musicians of all kinds."
Jack Megan, director of the Office for the Arts at Harvard and a former board member of Club Passim, has been listening since his undergraduate days at the College of the Holy Cross in Worcester.
"My initial affiliation was as a fan," Megan said. "There's a real intimacy between the club's space and the stage, between the audience and the performer. It allows for being both in and around the music, which creates a powerful intimacy — a real feeling of belonging and oneness, for both the performer and the audience."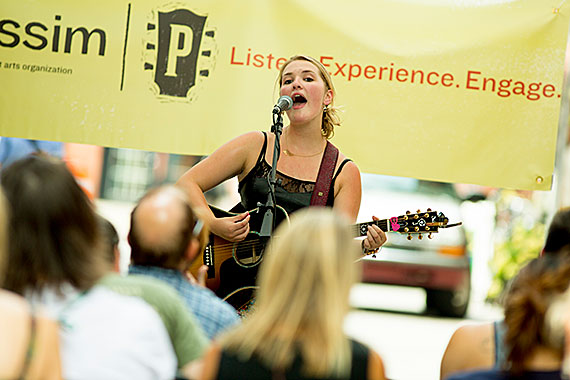 While the club's 55-year history is legendary, its new School of Music and close proximity to Harvard have created a strong bond among local musicians, faculty, staff, and students.
Forrest O'Connor '10, who plays the mandolin and served on Passim's board while a Harvard undergraduate, approached the club about webcasting its shows. O'Connor is the co-founder of Concert Window, a company that webcasts concerts to viewers around the world. Passim was the first venue partner to sign up.
"Passim has a legacy of finding and presenting really high-quality music every day," O'Connor said. "They're very open-minded and forward-thinking. The club has great connections with Harvard and Berklee College of Music, so it's a cross-city relationship that's a great resource for a lot of artists in the area."
Matt Glaser, a violinist and the artistic director of the American Roots Music Program at Berklee, has played at Passim since the late '70s. Building a connection between Berklee and Passim, he said, was a natural fit. On the fourth Tuesday of every month, Berklee students travel to Harvard Square to perform at the club. In addition, Berklee students and alumni provided music each Thursday this summer for the Passim-Berklee outdoor summer concert series on Palmer Street.
"They're a wonderful group of people to work with, and they really know what they're doing," O'Connor said of Passim. "It's definitely something that Harvard students should experience while they're here. There's just nothing else like it."
Harvard students should experience while they're here. There's just nothing else like it."
–>