Old Quincy has "wow" factor.
That's according to students who were moving into the 80-year-old neo-Georgian on Thursday. After 15 months of construction and renovation, Old Quincy, the first test project in the House Renewal initiative, began welcoming students this week. What they found was a fully transformed building designed to enhance the interactions of the multigenerational community living within it. Based on first impressions, the project was a success.
"I haven't been in a room as nice as this anywhere on campus," said Fola Sofela '16, as she walked into her six-person suite.
Sofela marveled at the size of her bedroom, and grinned as she examined the suite's common room, furnished with couches, chairs, and tables. One of her roommates, Lauren Greenawalt '16, pointed out some of the room's details, such as built-in desk lights and electrical outlets, and a mirror on the wardrobe door.
"Having the rooms fully furnished is nice. It immediately made me feel at home," Greenawalt said. "Some people say there isn't enough social space on campus, but I think this building goes a long way in addressing that."
Modern features were brought into the House to meet the needs of students in the 21st century, but the distinctive character of Old Quincy, based on its unique architectural design, history, and traditions, was maintained.
"It still has that classic Harvard feel, but it's now modern and can really meet the needs of the students," Sofela said. "I can totally see upperclassmen wanting to live here once they see it."
Next door, fellow sophomores Jon Ascherman and Joshua Grossman were moving furniture around in their double. They were equally impressed by the transformed Old Quincy.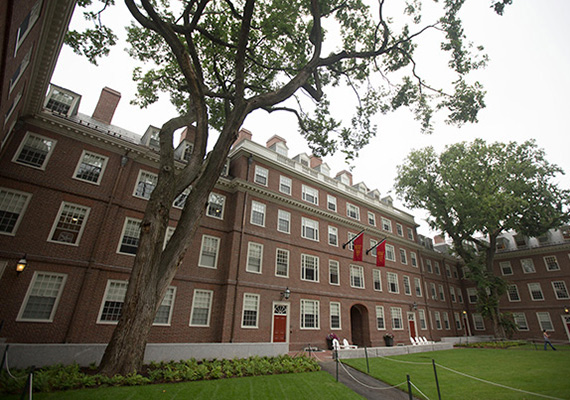 "The hallways are definitely a plus," Grossman said. "It is so easy to move around this building."
Horizontal corridors were added to the building to better connect the community. One resident tutor, who lived in the building before the renovation, praised that addition as a key one.
"It really is like night and day. It's very exciting for the tutors because we have new ways of connecting with our communities," said Lindsey Aakre. "During study breaks when I bake, all I will have to do is prop the door open and let the aroma waft down the hall. And I am really excited to see how the students will use the spaces."
The once underutilized basement is now home to performance spaces, a state-of-the-art smart classroom, and a multipurpose room that opens onto a new terrace.
That's where Rose Whitcomb '16 was sitting in a skylighted study nook.
"I'm a musician and I have already been totally obsessing over the piano in the performance room. It will make collaborating easier, and sharing easier, and it was just an awesome idea to create this space," she said. "My first thought when I saw all of this was that people put a lot of careful thought into this building, and I just feel lucky to be here."
As the outline for House renewal was taking shape, the House Program Planning Committee (HPPC) was created to engage faculty, students, and staff in a yearlong conversation about the mission and purpose of the undergraduate Houses. Students, faculty, administrators, and alumni remain engaged as other renewal projects move forward.
House Masters Lee and Deborah Gehrke said it has been quite an experience to see and hear the excitement of the students as they explore the building.
"We are so happy to bring everyone back together again so that the House is whole once more. We are especially excited to see how the students and faculty will use the new living, social, collaboration, and teaching spaces," the Gehrkes said in a statement. "Our residential tutors can already envision how the combination of new vertical and horizontal entryways will enhance the living and learning communities. We are extremely pleased with the outcome of the Quincy test project."
An official ribbon-cutting ceremony for Old Quincy will be held Sept. 7.
"I never want to leave Quincy House. That's because anything else would be a downgrade," Greenawalt said.