Students, staff, and faculty regularly indulge in exquisite dining on campus at the Harvard Faculty Club. But providing quality meals to the Harvard community has its price, and in the case of fresh herbs, that reached upward of $80 a week.
That ended this spring. Since May, the club has been growing its own herbs in an on-site organic garden.
"We only started planting in April, and then the whole month of May we didn't buy any herbs. We just used our own," said Rolando Abaquin, the club's executive chef.
The pesticide-free garden, which adorns the outside of the club and even part of the delivery entrance, has produced a cornucopia of herbs and vegetables, including habanero and banana peppers, rosemary, basil, dill, sage, tomatoes, eggplant, mint, and thyme.
"We're really growing a lot in this little space that we have," said banquet chef Joseph Santos. And what the club can't grow itself, it gets from the Harvard Community Garden.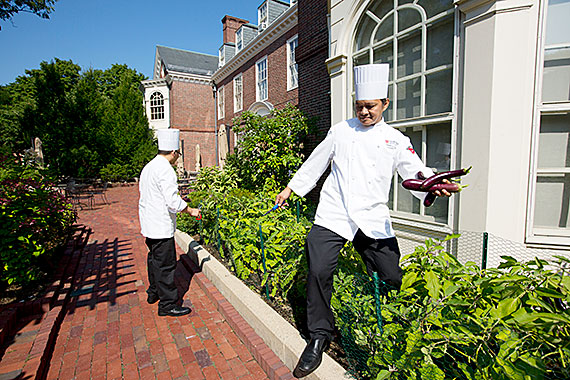 Last year, the club's garden wasn't nearly as successful. "Our crop was much smaller because rabbits would eat our plants down to the stumps," Santos said. But after installing gates and creating elevated box gardens, "we don't have any problems," said Abaquin.
Abaquin and Santos also gave much credit to general manager Syed Shahidullah for the success this year. "He's such an avid gardener," Santos said. "He knows about what to plant and when to plant them. He was kind of like the architect of this garden."
Not surprisingly, the home-grown crops have made for fresher-tasting dishes from the Faculty Club kitchen — especially the basil.
"We used to get five pounds of basil and that would make a batch of pesto, and you'd taste it and it would taste like pesto," Santos said. "But when you use just a handful of this garden basil, the taste is like, wow!"
Both chefs say tending to the garden is a therapeutic break from hours in the kitchen. "It relaxes my mind," said Abaquin.
When the winter months approach, the chefs have designed a plan to preserve what they can and compost the rest until it's time to plant.
"Some of the herbs we can freeze and preserve them for a few months," said Abaquin.
Next spring, he and Santos hope to expand the garden to include even more varieties.
"Gardening saves money, our food is more flavorful," said Santos, "and we're slowly reducing our carbon footprint."