Actress and arts activist Jane Alexander on Friday received the 2013 Radcliffe Medal, which recognizes someone "whose life and work substantially and positively influenced society," said Lizabeth Cohen, dean of the Radcliffe Institute for Advanced Study, who presented the medal.
Alexander is a "warrior for the arts," Cohen said during the afternoon event known as Radcliffe Day, a luncheon and reunion celebration traditionally held a day after Harvard's Commencement. Alexander's work at the head of the National Endowment for the Arts (NEA) from 1993 to 1997 helped deepen and expand the group's constituencies and helped protect arts funding, ensuring "that Americans enjoy continued access to the arts," Cohen said. Alexander's talents and accomplishments, she added, "have touched us all."
The actress has garnered four Oscar nominations, nine Emmy nominations and two wins, and seven Tony nominations, including a win for her Broadway turn in "The Great White Hope." She is also known for her advocacy work. Responding to the assassination of Martin Luther King Jr. in 1968, the actress joined the civil and human rights movements, protested the Vietnam War, and became an outspoken critic of nuclear proliferation.
During her remarks, Alexander called for more arts funding and education in public schools. She said that the recent educational movement toward focusing on science, technology, engineering, and math, known as S.T.E.M., should instead be a concentrated effort to generate S.T.E.A.M., with an added A for arts. She lauded the Rhode Island School of Design for its efforts to get the S.T.E.A.M. initiative going.
"I applaud President [Drew] Faust and Dean Cohen for all they are doing here on these campuses to put more arts into the curriculum, because I think that is what we need for the future," Alexander said.
She urged her listeners to engage with the arts, either on their own or with their children. "It's important to find what is important to you in your creative life … [and allow] yourself to fail over and over again on your own terms." Failure, she added, "is the most exacting teacher and defines your path to success."
"Creativity can be encouraged," said Alexander, "and exploring the arts is a fabulous way to do it."
She said her own arts epiphany came at age 6, when her father took her to the ballet. "I was gobsmacked," said Alexander, who recalled thinking, "Oh my God, is this possible? Does this really exist in life?" From that moment she wanted to be on the stage, and initially focused on dancing. But the rigors of dance proved too hard, so Alexander turned to the theater, nabbing the role of Long John Silver in the fifth grade.
She attended Sarah Lawrence College for two years, where she concentrated on theater. But her true education came, she said, during a transformative year studying abroad in Scotland. She hitchhiked across Europe, sang, acted, and won a leading role in a Tennessee Williams play during the new Edinburgh Festival Fringe. "I got an education my parents never dreamed of," she joked. Back in the United States, instead of returning to school, Alexander headed to New York City "with $40 in my pocket, and I have never looked back."
Alexander also offered a note of caution about the wonders of social networking tools such as YouTube and Facebook. "It is exhilarating, and it is sometimes edifying, but I don't think we have passed yet from the information stage and made the leap to creativity and storytelling." While many artists may struggle to move forward in this digital age, they will find a way, she said. That leap "is about to come … I think we are on the cusp of that breakthrough."
Alexander's message resonated with many in the audience, including Claire Gilman Selfridge, a graduate of the Class of 1948. "I was inspired," said Selfridge, a onetime singer. Selfridge said the talk encouraged her be open to artistic and creative outlets. "If I am open to it, then I can just let it come."
Earlier in the day, the theme of arts and creativity held center stage as four panelists, all artists and former Radcliffe Fellows, took part in a discussion titled "From Artist to Audience" at the Loeb Drama Center of the American Repertory Theater (A.R.T.). Diane Paulus, A.R.T. artistic director, moderated the Radcliffe-sponsored panel that unfolded on the set of the theater's current production, "The Pirates of Penzance."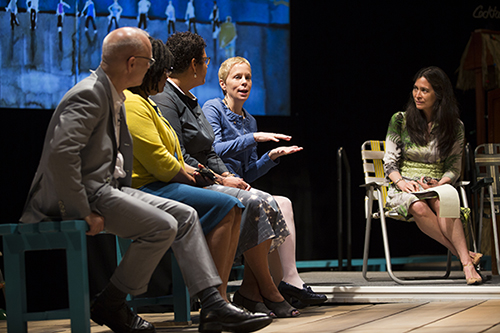 The panelists — a poet, a painter, a composer, and a designer/photographer —  discussed their creative process, technology and the arts, the importance of funding, creativity blocks, and engaging an audience.
"Being an artist is the hardest job I've ever had," said Beverly McIver RI '03, a painter and a professor of art at North Carolina Central University whose work examines racial, gender, and social identity. She said she has been the fortunate recipient of numerous grants during her career, but that money is always a worry. What she studied in school "gave her the skills," she said, "but not the financial means," and she urged aspiring artists to study business and administrative practices in addition to their craft.
Poet Elizabeth Alexander, RI '08, who composed "Praise Song for the Day" and delivered it at the 2009 inauguration of President Barack Obama, said she welcomes the Internet's connective powers. But the chair of the Department of African American Studies at Yale University also urged caution when reading poetry online.
Line breaks in a poem are critical to its structure, offering the reader both breath and time, said Alexander, who also is an essayist and playwright. Too often, she said, poems get "deformatted" on the Internet. "Always know what your sources are," she suggested.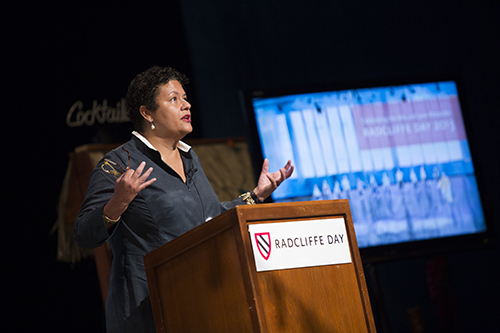 She said when it comes to connecting with her readers, she never tries to second-guess her audience, since "You never know what is going to draw someone into a work of art."
Attracting an audience to his work always involves some level of seduction, said photographer Mark Robbins RI '03. The executive director of the International Center of Photography, Robbins said that he often looks for some kind of material or color — "things that have a resonance so that people can enter in enough to begin to engage."
Music is the domain of contemporary composer Augusta Read Thomas RI '91. Her work often consists of complex scores, she said, but her goal is to always make her music sound spontaneous.