Phillip Golub '16, a jazz pianist who has been playing since he was 5 and started composing in high school, recently wrote a piece for piano and harp. All he needed was a harpist.
While discussing the importance of rebuilding Quad Sound Studios (QSS), he found one: Sara Kantor '14. Though they're both students in the Harvard and New England Conservatory dual degree program, the two hadn't met until QSS brought them together.
It's a perfect example of why rebuilding the studio is so important, said Dylan Perese '16, its business manager.
"It's a space on campus where creative people can connect," said Perese. "We want this to be a place where people can be validated for their talents and meet like-minded individuals, but also foster creative connections that might not otherwise be made, allowing artists to really push their creativity and performance."
For Golub, the studio could also be vital to his aspirations as a musician.
"Having a place to get together with other jazz musicians on campus is essential," he said. "Learning how to be spontaneous when you don't have an audience to feed off is essential. All my teachers say that the best thing you can do as a musician is to record yourself while playing, and then listen back and critique yourself. It's a crucial part of your development."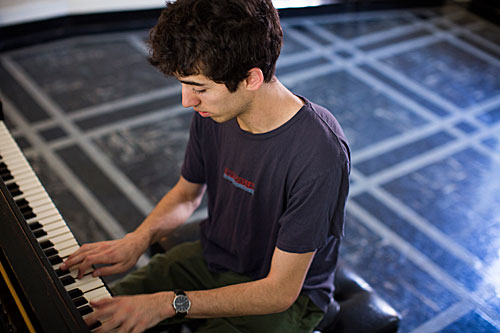 The once and future studio — in the basement of Holmes Hall in the Quad — is divided into three rooms: one where multiple musicians can play together; a smaller room for solo work; and the soundboard room, where engineers can record tracks and musicians can gather to listen to their work. Recording cables connect a pair of baby grand Steinways in the small concert hall above to the studio.
The studio closed several years ago after a flood. Perese and Matt Sheets '15, president of QSS, rediscovered the space and decided to bring it back stronger and better than ever.
The two are determined to raise the $20,000 necessary to make the space operational. Over the past year, QSS has raised more than $7,000 from Harvard organizations such as the Undergraduate Council, as well as corporate sponsors such as Shure and Avid. That support has helped with some items, but basics such as desks, preamps, cabling, monitors, and audio interfaces are still needed to finish the job.
A revived QSS would be the only entirely student-run studio on campus, Sheets said.
More importantly, it would be a full-service studio, offering space and assistance with recording.
Rashad Hossain '16, one of the founders of the Harvard College Rap Collective, said that the training would be invaluable. When Hossain booked time at another studio on campus, "it not only took a long time to get in to the studio, but when we did, we realized we had no idea how to use the equipment."
Most studios on campus are do-it-yourself, Sheets said, which is why he and Perese are working with alumni and local professionals to train students as sound engineers in the studio. Having that expertise means that "musicians can focus on their music and students who are interested in sound engineering can learn a trade — and they can then collaborate between those groups."
In a conversation at the studio, Sheets described the extensive repairs already under way — from repairing walls and untangling cables to installing new shelves — and those to come.
"Students will be doing all the work in putting the studio together," he said. "We'll be rebuilding sound baffles on the walls and putting in the insulation. It's going to be a team effort."