James E. Ryan, one of the nation's leading scholars of education law and policy, will become the next dean of the Harvard Graduate School of Education (HGSE), President Drew Faust announced today.
Ryan, an award-winning teacher who has served on the University of Virginia faculty since 1998, succeeds Kathleen McCartney, who will leave Harvard to become president of Smith College on July 1.
Ryan will officially assume his new role on Sept. 1, near the start of the 2013-14 academic year. Richard J. Murnane, the Juliana W. and William Foss Thompson Professor of Education and Society at the HGSE, will serve as acting dean from July 1 until Ryan begins his tenure.
[Read a question-and-answer session with the new dean here.]
"Jim Ryan is an outstanding scholar, teacher, and academic leader with a deep passion for improving education and for enhancing the interplay of scholarship, practice, and policy," Faust said. "Throughout the search, I have been impressed by his seamless integration of the intellectual and the practical, his warm and open personal style, and his evident talent for drawing together people from different backgrounds, disciplines, and points of view.
"He has a keen interest in how diverse modes of academic research can benefit education practice and policy," Faust added, "and how the concrete challenges facing educational leaders and policymakers, as well as teachers and students, can helpfully inform the scholarship and teaching we do here. He is also an astute and empathetic listener, and I know he looks forward to connecting with people across the HGSE in the coming weeks and months as he prepares to take up his new role."
"I am honored and excited by this opportunity, and grateful to Drew Faust for inviting me to take on this role at such a critical time in education and in the life of the School," said Ryan. "Kathy McCartney's extraordinary leadership has generated great momentum, and I'm eager to build on that progress in close collaboration with remarkably talented faculty, staff, and students within the Ed School and across the University. Understanding how students learn, enhancing educational achievement, and expanding educational opportunity are among the defining challenges of our time, and the HGSE has an essential leadership role to play in meeting them. I look forward to serving a school with the intellectual vitality and commitment not simply to contribute to the field but to continue transforming it."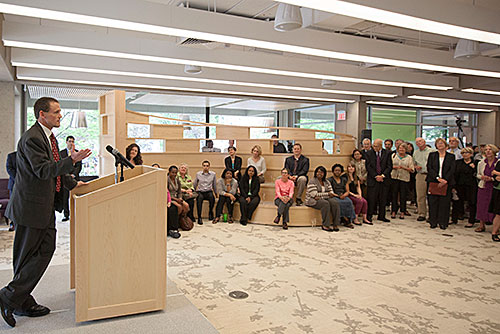 A highly influential scholar at the crossroads of education, law, and policy, Ryan is currently the William L. Matheson and Robert M. Morgenthau Distinguished Professor of Law and the F. Palmer Weber Research Professor of Civil Liberties and Human Rights at the University of Virginia. He is also co-founder and director of the Program in Law and Public Service at the University of Virginia School of Law, where he served for five years as the academic associate dean. He was a member of the U.S. Department of Education's Equity and Excellence Commission, which was charged with examining disparities in meaningful educational opportunities that give rise to the achievement gap, and with recommending ways that federal policies could address such disparities.
Educational opportunity has been the predominant focus of Ryan's most recent scholarship and teaching. His book "Five Miles Away, A World Apart: One City, Two Schools, and the Story of Educational Opportunity in Modern America" (Oxford University Press, 2010) explores questions of school segregation and inequality in the context of an urban school in Richmond, Va., and a nearby suburban school. He has written numerous articles for academic journals and other publications on such topics as school finance, school desegregation, school choice, school governance, a right to pre-school, teacher compensation reform, and the federal No Child Left Behind Act. He is also co-author of the casebook "Educational Policy and the Law" (2011).
Ryan has been honored with both the University of Virginia's All-University Teaching Award (2010) and with the Outstanding Faculty Award presented by the State Council of Higher Education for Virginia (2011). His courses have included offerings on law and education, comparative education law and policy, and schools, race, and law. He has lectured widely on a range of education policy matters.
Ryan served on the board of the Maya Angelou Public Charter School in Washington, D.C. Previously, he served on the Century Foundation's Task Force on the Common School and as vice chair of the American Bar Association's Committee on Public Schools. He has also served as a pro bono consultant on numerous education-related legal and policy issues.
He has received the U.Va. Law School's McFarland Prize for Outstanding Scholarship, the Education Law Association's Award for Distinguished Scholarship, and the U.Va. Black Law Students Association's Outstanding Service Award.
In addition to his scholarship and teaching on education law and policy, Ryan has taught and written about constitutional law, local government law, and Supreme Court litigation. He graduated summa cum laude with a B.A. from Yale in 1988, graduated first in his class from U.Va. Law School in 1992, and clerked for the late Chief Justice William H. Rehnquist of the U.S. Supreme Court. A former visiting professor of law at both Harvard and Yale, he was the inaugural Cameron Fellow at the University of Auckland in New Zealand.
Ryan is married to Karoline (Katie) Homer Ryan, a clinical instructor at U.Va. who specializes in child advocacy and special education law. The couple has four children.
In announcing the appointment, Faust expressed appreciation to "the many members of the HGSE community who have been so generous and thoughtful with advice on the dean search at a pivotal moment for the School. I especially thank the members of the faculty advisory committee for the search, whose lively discussions and candid counsel have done so much to shed light on the HGSE's recent trajectory and future opportunities and to bring the search to an excellent conclusion."