Diane Paulus, the artistic director of the American Repertory Theater (A.R.T.), scored big at Sunday's Tony Awards in New York City for her re-imagined version of the 1970s musical "Pippin." The show, which premiered at the A.R.T. before moving to Broadway, earned Paulus her first Tony in three nominations for best director.  "Pippin" also won three more trophies: for best performance by a featured actress in a musical for Andrea Martin, who plays Pippin's grandmother Berthe; best performance by a lead actress in a musical for Patina Miller, the Leading Player; and best revival of a musical. The Gazette's Colleen Walsh caught up with Paulus on her way back from Manhattan Monday to discuss the big night.
GAZETTE: What time did you get to bed?
PAULUS: I think it was close to 3 that I finally conked out. When you wear heels for 10 hours, you are just dying by the 10th hour. They have an official Tony gala at the Plaza, so I was there immediately after the ceremony, and then to the "Pippin" party, which I really wanted to get to because all the cast and the staff and everybody who worked on the show was there. That was at Hudson Bond, which is a restaurant bar in the theater district.
GAZETTE: How does a first win feel, compared with being nominated?
PAULUS: Just to be at the Tonys is such an honor and so thrilling. Every year that's been such an exciting feeling to be recognized. Of course, you are never thinking about getting those recognitions, but when they come, you take a second to think: "O.K., maybe we did all right, maybe this is something to enjoy." When you win, it's kind of a surreal experience … [but] the thing that is so great about actually winning is that you get to thank everybody that you want to thank, you actually have that opportunity to publicly credit all the people who made it possible. And then it's very odd because you get whisked away, and you leave the ceremony. And you are walked across the street to the press room in another building several floors up … and you've left the building, and the awards show is still going on, and you are hearing reports of who's winning what.
GAZETTE: Were you able to get back to see the other "Pippin" awards?
PAULUS: I was actually so determined to see Andrea's award, and she was coming up within 25 minutes, so I did the press in two phases. I went and I did half of it, and then I said to our press agents, "I really want to go back." So I ran back to Radio City [Music Hall], and then watched through the best revival award, and then I went back to the press room.
GAZETTE: Can you tell me about the spirit of collaboration on "Pippin?"
PAULUS: You know, any musical you do lives and dies on its collaboration. That's why I love musicals. It's such a collaborative effort, truly across so many areas: choreography, music — in this case, with "Pippin," that boundary extended to acrobatics and the circus. And the whole effort in "Pippin" was to find a stage language that was seamlessly integrated across all these very different areas, especially the circus, musical theater, traditional storytelling, and dance, and the [Bob Fosse] choreography, in our case. So I think to see that cast last night perform and to see them at the party, to see those acrobats side by side with the best of Broadway's dancers and musical performers to me was one of the biggest rewards of working on the show, to bring this unique company together and to forge a vision of a kind of musical theater that could bring these different people together. I think people know — yet maybe they don't know how many details are involved, from the orchestrations, to the music staff, to the music rehearsals, to the dance rehearsals … to the costumes that have to be worked to fit the acrobats, and the dancing, and the choice of shoes. Every single detail is layered. No decision can be made in an independent bubble. Everything is linked, and that makes it complicated. The potential for greatness is also there because you have so [many] minds working together on all the creative decisions.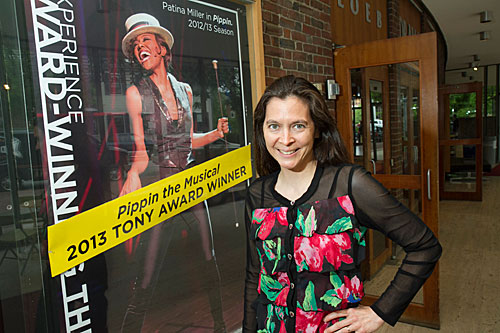 GAZETTE: What does this showing mean for Harvard?
PAULUS: Throughout the broadcast, there were several mentions of the American regional theater movement. … It was the Steppenwolf in Chicago, it was the McCarter Theatre Center at Princeton. And when the Huntington won [the regional theater award], they actually acknowledged Boston University.  The Tony Awards are a mark of excellence in our field in the theater … and you can only have a shot at excellence if you have a chance to take risks and innovate, when you have a safe place to incubate work. So that is what we do at the A.R.T. That's what our relationship with Harvard stands for. And when you experiment and something works out, the fact that we get a chance to show it to more audiences is just such a thrilling opportunity … That is another one of my passions, to really think about theater as a popular form that can reach demographically to many, many audiences. And when you bring a show to Broadway, you have that chance. But really, it all starts with the birth of the creative work. It was always my dream that any success that the A.R.T. had would be a success for Harvard University and that we could be a leader in the arts nationally — that Harvard could be a leader in the arts nationally — and last night, was, I think, a moment of celebrating that.
GAZETTE: Now that you've taken a show to the circus, how do you keep raising the bar on yourself?
PAULUS: You just go back to the drawing board and on to the next. We are getting ready to dive into next season at the A.R.T.  And all that planning is well under way. For me personally, I am directing a new musical next season, and I can't wait to put all my energy into that production, "Witness Uganda." After a little break, I will be diving into workshops all summer long, and into other projects on which we are in development. So it's back to the lab, so to speak, this summer.
GAZETTE: So many of your shows have gone on to New York. Is the A.R.T. becoming a feeding station for Broadway?
PAULUS: I think if you look at the field, theaters like the A.R.T. are creating work that is finding its way to the Great White Way, to Broadway — with "Who's Afraid of Virginia Wolf?," which won as a revival last night, and with "Pippin." I think it's part of a larger theatrical ecology that is the reality now for how we work. The truth is, every show we make for the A.R.T. is about making it for the A.R.T., and for our Boston audiences, and for our community at Harvard. That is why we make our work. It's been a kind of crazy ride that so many of our shows have been brought to New York. And with "The Glass Menagerie" opening in September, that will be another wonderful moment for the A.R.T. and for Harvard. I think it's more about Broadway recognizing the importance of the American regional theaters, and certainly recognizing the quality of the work that the A.R.T. is nurturing.
GAZETTE: Any other thoughts on the evening?
PAULUS: I just think what was so phenomenal last night was the number of women who were honored. It was only the second time in history that two women have won in the best director categories, for a musical, and a play. That's extraordinary. And four African-Americans won in the acting categories.
GAZETTE: Is there a message in that?
PAULUS: I just think we live in a different world in the 21st century, and I think maybe the Tonys reflected that last night, which is thrilling. For me, I just hope that it gives courage and inspiration to all the young women out there who are dreaming of being leaders in the arts.
GAZETTE: What are you plans for the summer?
PAULUS: A little break, a little travel, some time with my kids, then a little more vacation later in the summer when we go to the Cape. So that's coming. The beach is not coming soon enough, but it will eventually, in August.