The Wyss Institute for Biologically Inspired Engineering at Harvard University announced today that Hansjörg Wyss (M.B.A. '65), the entrepreneur and philanthropist who enabled the institute's creation in 2009 with a $125 million gift, has donated a second $125 million gift to the University to further advance the institute's pioneering work.
The Wyss Institute seeks to solve some of the world's most complex challenges in health care and the environment by drawing inspiration from nature's design principles. In addition to uncovering new knowledge about how nature builds, controls, and manufactures, the institute measures success in the ability of its faculty and staff to translate their discoveries into products that can have near-term impact.
"Mr. Wyss is extraordinarily generous, and we are deeply grateful that he has expanded his support of multidisciplinary research at Harvard," said Drew Faust, Harvard's president and Lincoln Professor of History. "Through the Wyss Institute, we are realizing his vision — generating promising technologies and building partnerships that extend far beyond our campus. This additional gift will enable the institute's continued success and create new opportunities to improve people's lives and the world in which we live."
The Wyss Institute has grown at a rapid pace since its founding in January 2009, and now includes over 350 full-time staff located in 100,000 square feet of research space distributed between Harvard's Longwood Medical Campus and Cambridge sites. This burgeoning community of scientists, biologists, physicists, chemists, engineers, and clinicians includes 27 core and associate faculty and their students and fellows, as well as 40 staff with extensive experience in product development and team management across multiple industries. The work at the institute ranges from early-stage exploration of new ideas to focused technology translation, with an emphasis on validating and de-risking technologies to enable their commercialization.
"We wanted to create a place where the innovation and imagination of the world's best minds could work beyond disciplinary boundaries to deliver life-changing medicines and technologies that are inspired by nature," said Wyss, who, after graduating from Harvard Business School in 1965, started a successful medical research and design company whose products have helped millions of patients recover from skeletal and soft tissue trauma and injuries. "I could not have dreamt of the institute's remarkable discoveries thus far, and am proud and excited to help them continue to build, explore, and improve lives."
A native of Switzerland who now lives in Wilson, Wyo., Wyss' philanthropy fosters new ideas, new tools, and new collaborations in areas ranging from medicine, education, and the arts to economic opportunity, conflict resolution, and land conservation. The Wyss Foundation, which Wyss established in 1998, is known for helping protect some of the country's most iconic landscapes — from Montana's Crown of the Continent to the Wyoming Range — and ensuring they remain open and accessible to all. All together, the Wyss Foundation has invested more than $175 million to help local communities, land trusts, and nonprofit partners conserve nearly 14 million acres in the West for future generations to explore and enjoy.
Wyss is also a founder of the AO Foundation, a medically guided nonprofit led by an international group of surgeons who specialize in the treatment of trauma and disorders of the musculoskeletal system, and PeaceNexus, a nonprofit foundation that brings together and advises government institutions, nongovernmental organizations, and businesses to expand peace-building capacity in conflict areas around the world. His significant contributions to the Beyeler Foundation have helped conserve and display some of the world's most important pieces of modern art.
At Harvard, Wyss' support for the institute's model of interdisciplinary work has led to impressive productivity in intellectual property creation, numerous corporate collaborations, multiple licensing agreements, and technology translation at an accelerated pace, with two potential products currently entering human clinical trials: a cancer vaccine and a vibrating shoe insole that promises to restore balance in the elderly. At the same time, the institute's faculty members have an unparalleled publication record, with an average of one breakthrough publication in Science or Nature every month since the institute's founding 52 months ago.
"Four years ago, we were tasked with developing an entirely new model for innovation, collaboration, and technology translation that more effectively bridges academia and industry, and that is precisely what we did," said Wyss Founding Director Don Ingber. (Video: Wyss Retreat 2012)
Part of what makes the institute so effective, Ingber said, is its ability to harness expertise of members from its nine partner institutions, and to leverage the intellectual and commercial power of the Greater Boston region and beyond. Other members of the institute consortium are Beth Israel Deaconess Medical Center, Boston Children's Hospital, Boston University, Brigham and Women's Hospital, Dana-Farber Cancer Institute, Massachusetts General Hospital, Massachusetts University Medical Center, Spaulding Rehabilitation Center, and Tufts University.
"The Wyss Institute has rapidly established itself as a hub for the new field of biologically inspired engineering," said Alan M. Garber, provost of Harvard University. "Thanks to Mr. Wyss' critical support, the institute has developed novel insights into living organisms with remarkable speed and productivity — and it has applied those insights to create an array of bioinspired devices and materials that promise to advance medicine and many other fields."
The Wyss Institute organizes its research priorities around six synergistic technology platforms: Bioinspired Robotics, Programmable Nanomaterials, Biomimetic Microsystems, Adaptive Material Technologies, Anticipatory Medical and Cellular Devices, and Synthetic Biology. Examples of projects under way include: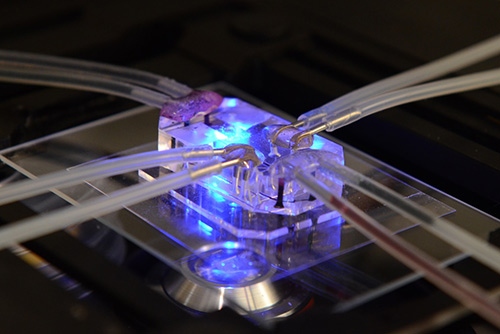 The RoboBee — a tiny robot inspired by the biology of a fly that may be used in search and rescue missions or to carry out pollination and replace dying bee populations. (Video: Controlled flight of the robotic insect)
Human Organs-on-Chips — microchips lined by human cells that are poised to revolutionize drug development and environmental testing by replacing animal studies. (Video: Lung-on-a-Chip — Wyss Institute)
SLIPS — a novel surface coating that repels just about everything — from oil and water to blood — which is being applied to increase the energy efficiency of refrigeration systems, to prevent fouling of water and waste treatment plants, and to prevent blood coagulation in dialysis devices and tubing. (Video: SLIPS)
An anticipatory medical device — a vibrating mattress that senses when an infant is about to stop breathing and then transmits signals that prevent apnea. (Video: What if we could prevent infant apnea?)
MAGE — a genome re-engineering instrument that fast-forwards the evolutionary process to produce more efficient and cost-effective microbial manufacturing plants for the chemical, pharmaceutical, and agricultural industries.
A biospleen for sepsis therapy — a dialysis-like therapeutic device that cleanses blood of a diverse array of pathogens and toxins by mimicking the body's innate immune system.
The continued support will ensure that the institute maintains its fast pace, Ingber said. "Mr. Wyss' additional gift — for which we are beyond grateful — ensures that our adventure in high-risk research and technology translation will continue," he said.