Selim Berker, an assistant professor of philosophy, and Joshua Greene, the John and Ruth Hazel Associate Professor of the Social Sciences, are this year's winners of the Roslyn Abramson Award, given annually to assistant or associate professors for excellence in undergraduate teaching.
The $10,000 award, established with a gift from Edward Abramson '57 in honor of his mother, goes each year to members of the Faculty of Arts and Sciences (FAS) "in recognition of his or her excellence and sensitivity in teaching undergraduates." Recipients are chosen on the basis of their accessibility, their dedication to teaching, and their ability to communicate with and inspire undergraduates.
"The Faculty of Arts and Sciences is deeply committed to strengthening research, teaching, and learning, and both Joshua Greene and Selim Berker exemplify that commitment," said FAS Dean Michael D. Smith, the John H. Finley Jr. Professor of Engineering and Applied Sciences. "These professors make strong connections with their students. They foster excitement in research and exploration that goes beyond the classroom walls. On behalf of the College and the entire FAS, I offer my thanks and congratulations."
Joshua Greene
Greene '97, said he was honored when he found out that he was a recipient of this year's Abramson Award.
"Teaching is something that I really love," said Greene. "As a researcher, you focus on the frontiers and the edges, but the undergrads that you teach are coming into this all new. I try to first determine what's really important and what's really interesting and try to show them the whole field, not just one narrow area where a researcher may focus."
Greene's research centers on moral judgment and decision-making, but his teaching style is focused on engaging his students. Even in a lecture, Greene said he makes it a point to take a more conversational approach, which is well-suited to the subject matter of social psychology.
"The experiments are really stories because you can present the research through the eyes of people who are being studied. If you start with these concrete instances, you can build to broader principles and connect them to real life so you're not just playing a theory game," Greene said. "There is something to be said for a good lecture, but I do think interactive learning is very important."
Seeing as many of the undergraduates he teaches will not follow a career path into psychology, Greene said he tries to get his students to focus on asking the right questions to solve a problem.
"I don't want them to just listen to lectures, read books, and answer questions because I know they will eventually forget most of the facts they needed to know to answer questions. What I really want is for them to be able to apply what they have learned," Greene said. "Here at Harvard we have so many people who will be running the world in 10 years or 20 years, maybe even five years, and if they do not remember anything else from my class I hope they take away a mindset and a view of the world. We would all be better off if we stopped and asked questions, and by approaching a problem with the right method you can figure out things you never thought you could figure out."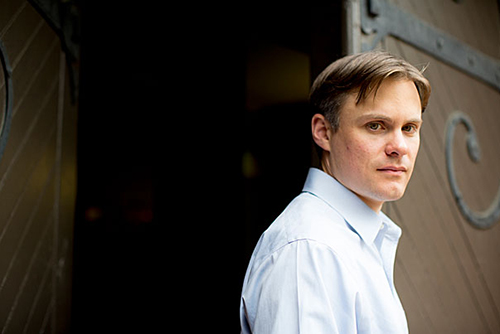 Selim Berker
For Berker '98, A.M. '00, discussions with students are what drive much of his classroom time.
"Even in my lecture classes I leave about half the time for discussion," he said. "I also make a point of learning every student's name by the second week of classes in order to foster a relaxed atmosphere in which conversation flows easily. Students are most engaged and interested when they are really grappling with the issues."
Another way Berker engages his students is by commenting heavily on their papers and having them rewrite them.
"Most students show up to college not having much — or any — experience writing a philosophy paper, which isn't like writing an English or history paper. It takes time to learn how to present a philosophical argument effectively. So in every course I teach I have my students rewrite at least one paper in light of my comments," Berker said. "Most students seem to really appreciate the opportunity and put a lot of effort into rewriting their papers."
Like most scholars, Berker is dedicated to his research, which includes ethics and epistemology. Time for research can be limited when poring over student papers, holding office hours, and even meeting with students who are no longer in his class.  But Berker said teaching is an important part of his job and one he takes very seriously.
"I often wish I had more time for my own research, but I'm also unwilling to take time away from my students," he said. "It is important to me to teach students how to read a text carefully, present a strong argument, and write well. It is important they develop these skills. And on the best days, they help me see a new approach to a problem or inspire me after a two-hour conversation about philosophy."