Drawing inspiration from the first responders to the Boston Marathon bombings, Harvard President Drew Faust urged graduating seniors on Tuesday to "run toward" challenges, passions, and places in life where their help is needed, despite the risks that might entail.
"My point today, as you prepare to graduate and take your Harvard degrees into the world, is that I wish for you, Class of 2013, lives of running toward," Faust said. "Lives in which you are motivated, even seized, by something larger than yourselves, lives of engagement and commitment and, yes, risk — risk taken in service to what matters to you most."
Faust made her comments during the annual Baccalaureate Service in the Memorial Church. The Baccalaureate Service dates to Harvard's earliest days and occurs early in Commencement week. Restricted to members of the graduating class, the service is intended as a farewell to seniors from the president and clergy, in a less-formal setting than that on Commencement Day.
The Baccalaureate also allows members of the Class of 2013 to don their caps and gowns before graduation. Class members lined up in the Old Yard in front of Holworthy Hall before 2 p.m. and processed past University Hall and the John Harvard Statue and into the church.
Presided over by Jonathan Walton, the Plummer Professor of Christian Morals and Pusey Minister in the Memorial Church, the service featured readings from several holy books, including the Quran, Hindu scripture, the New Testament, the Hebrew Bible, and the Analects of Confucius.
In his introductory remarks, Walton reminded students that, although they are about to achieve a goal long sought, their graduation is also a beginning, after which they will face more opportunities to learn as they meet the challenges of the world beyond Harvard.
"Today, this week, is not one of culmination and conclusion concerning your education, but rather it is a commencement. It is only just the beginning," Walton said. "Thus, we pray for open minds. We pray for humble spirits so that we might know that we always have more to learn."
In her speech, Faust extolled the class' virtues as she reflected on events of the past four years. The Class of 2013 was the first enrolled after the global economic crisis that "rattled almost everything," the first to experience Harvard's new academic calendar, and the most socio-economically and internationally diverse class in Harvard's history, representing 84 countries.
The class saw the repeal of the federal "Don't Ask, Don't Tell" policy involving gays in the military that triggered the return of ROTC to campus, included the rainy celebration of Harvard's 375th birthday, and saw the men's basketball team upset New Mexico in the NCAA basketball tournament despite a classmate's own mathematical model that gave the team just a 4.6 percent chance of winning. The prediction and victory prompted The Wall Street Journal headline: "Harvard Outsmarts Harvard."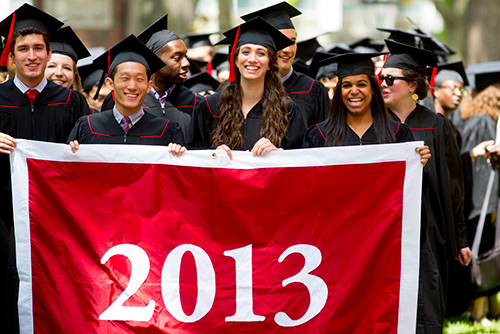 Faust also mentioned the academic integrity case that roiled the campus in the fall of 2012, reflecting that the incident raised hard questions about trust, success, and integrity. She added that an attitude of winning at all costs can make life into an "endless string of contests" that loses sight of a larger purpose and the sense of what success really means.
In thinking about that question, Faust sought to draw meaning from the carnage of the Marathon bombings and the split-second reaction of many people, including police, medical personnel, and bystanders, to lend a hand instead of dashing to safety.
While not everyone is ready to run toward an explosion, Faust said, everyone is suited to and needed for something, though that may mean leaving what's safe and certain for the unknown. It also means running not just toward your dreams, but also toward where you can help, Faust said.
"Living a life of running toward is what a liberal arts education has helped prepare you to do," Faust said.
"The best kind of learning does not train you to win. It teaches you to ask what winning might mean. It cultivates curiosity and boldness — whether you're tracking an elusive gene or boarding a bus in Mumbai — and it gives you a new capacity to act, despite the risks."
Senior Sachin Patel said he thought that Faust's message spoke to the experience of the Class of 2013.
"It was a great message, and [it] resonated with all of us due to the events of this past year," said Patel, who will return in the fall to attend Harvard Medical School. "It's bittersweet. I'm going to be here next year, but at the same time, it's closing a chapter and beginning another chapter."
Senior Juhi Kuchroo said she was glad that the Baccalaureate Service was inclusive, with readings from different faiths. Faust's message, she said, resonated with her.
"Go where help is needed, and [don't] just follow the same path, but take risks, and do what we're really passionate about," Kuchroo said. "I thought was really inspiring."