When artistic director Diane Paulus gave the classic "Pippin" a facelift for 2013-13 lineup of the American Repertory Theater (A.R.T.), people took notice.
How could they not? The sold-out spectacular, which centers on a young man's search for the extraordinary and his interactions with some mysterious traveling performers, got a boost from the Montreal-based circus troupe Les 7 Doigts de la Main, who added high-octane choreography inspired by the show's original director, Broadway dance legend Bob Fosse.
Now "Pippin" has been nominated for 10 Tony Awards, including best director of a musical for Paulus. Patina Miller, who starred as the leading player, was nominated for best leading actress in a musical, and Andrea Martin, who played Pippin's grandmother Berthe, was nominated for best featured actress in a musical.
No stranger to fanfare, "Pippin" has also garnered six Drama Desk Award nominations, 11 Outer Critics Circle Award nominations, and three Drama League Award nominations — so far.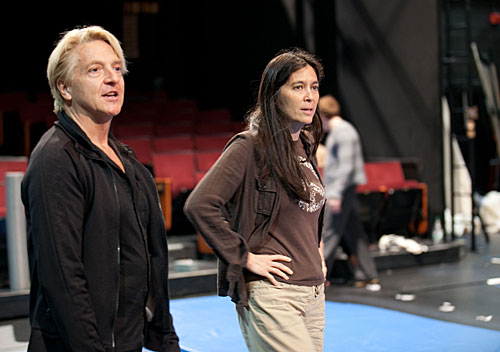 Adding the circus element, Paulus told the Harvard Gazette in January, made the story originally written by Stephen Schwartz and Roger O. Hirson all the more powerful and added "bold physical expression."
"And that was my interest, how to work on that, in a way to bring that potential viscerally forward. And part of that was the physical life of the production … [that] was so inextricably linked to Bob Fosse."
A labor of love for Paulus, "Pippin" got its moves from choreographer Chet Walker, who, along with Paulus, strived to preserve the essence of the original Fosse footwork.
Last year, the A.R.T.'s productions of "The Gershwins' Porgy and Bess" and "Once" took home 10 Tony Awards, including the prizes for best musical revival and best musical, respectively. Paulus was also nominated for best direction of "Porgy"; she had been previously nominated for "Hair" in 2009.
This week the A.R.T. enjoyed more successes, winning five 2012 Independent Reviewers of New England (IRNE) Awards for its productions, including best set design and best sound design for "Wild Swans," best actress in a drama (Brooke Bloom in "Marie Antoinette"), best performance by a promising young artist (Andrew Cekala in "Marie Antoinette"), and best lighting design (Christopher Akerlind for "Marie Antoinette").
The A.R.T. will announce the 2013-14 season on Friday.
The Tony Awards will be broadcast live on CBS on June 9. For more information.