Three centuries ago, Harvard's Commencement guests could expect to hear quite a bit from graduating students: namely, lengthy thesis defenses given in Greek, Latin, and Hebrew.
Today's versions of those early orations are decidedly shorter and more audience-friendly. But as this year's student speakers hope to prove, a fair amount of wisdom can be packed into five minutes.
Each spring, the Harvard Commencement Office holds a competition to select an undergraduate speaker, a graduate student speaker, and a Latin speaker. (The latter is a graduating senior and typically a classics concentrator, though rogue classicists with a knack for the dead language are welcome to submit.) At Morning Exercises on May 30, the chosen three will give their addresses before an audience of tens of thousands gathered in Tercentenary Theatre.
Below, the Class of 2013 speakers share their stories and offer a glimpse at the insights and advice they plan to offer their fellow graduates.
Fanaye Yirga, Latin speaker
Fanaye Yirga, 21, had never studied Latin before coming to Harvard. Born in New York, at age 5 she moved with her parents to their native Ethiopia and attended an international school in the capital, Addis Ababa.
"If you told me freshman year that I'd be giving the Latin oration at Commencement, I'd probably have laughed you out of the room," said Yirga, who took her first class in the language as a College sophomore.
At Harvard, she had planned to study visual and environmental studies, but her General Education courses in the classics convinced her to switch concentrations.
"My rationale at the time was that I'd rather stay up all night writing papers than stay up all night editing films," the Cabot House senior said with a laugh.
Last summer, she spent five weeks in a spoken Latin program at the Paideia Institute in Rome, an opportunity that helped prepare her for the speech she will give at Morning Exercises. The address — written, appropriately, in a night-before-deadline burst of inspiration — "uses the all-nighter as a metaphor for the Harvard experience," she said.
While her immediate future is up in the air, Yirga plans to apply to graduate school to continue studying the languages and texts she discovered at Harvard. She recognizes the irony of majoring in classics, a discipline whose small ranks of undergraduate concentrators often defend it on the grounds that it provides the best training in Western thought.
"As Ethiopians, we have our own classical traditions, so the Western civilization argument doesn't quite do it for me," she said. "But I love the literature, and that you get access to this whole tradition."
Quoting a line from Alan Bennett's "The History Boys," one of her favorite plays, she said, "The best moments in reading are when you come across something — a thought, a feeling, a way of looking at things — that you'd thought special, particular to you. And here it is, set down by someone else, a person you've never met, maybe even someone long dead. And it's as if a hand has come out and taken yours."
Felix de Rosen, undergraduate speaker
Born in Paris and raised in Philadelphia, Felix de Rosen has long inhabited two worlds.
"Growing up, I was always an outsider," de Rosen said, "the French kid" at school, "the American" on his family's many visits to their relatives back home. "It's taught me to always judge a situation or environment from outside that situation's values," the Leverett House senior said.
That hard-earned perspective, he insisted, wasn't a bad thing — especially at Harvard, where imposter syndrome can plague even the brightest students. For de Rosen, a sharp observer, Harvard was a place to find himself, even if that meant rejecting a culture of constant achievement that can be hard to ignore.
"I'm glad I've been here, because the challenges Harvard presents only become a prison if you don't want to learn from them," he said. He was drawn to the University's history and diversity as well. "If an outsider can come here and feel at home in some way, then anyone can."
The 21-year-old government concentrator — who after graduation plans to explore his varied interests, from documentary production to museum work to consulting in developing countries — satisfied his wanderlust during breaks by traveling to far-flung places. He photographed villages in Afghanistan and Iran; visited the Kumbh Mela, India's massive gathering of Hindu pilgrims, with an interdisciplinary team of Harvard students and professors; and spent six weeks in the rocky, barren islands of Cape Verde off the West African coast, researching the musical culture.
De Rosen also did a fair amount of exploring in Cambridge. At one of his favorite spots, Mount Auburn Cemetery, he stumbled upon the tombstone of Charles Ditmas, "Keeper of the Clocks at Harvard College," who died in 2001 after taking care of the antique timepieces for more than half a century. De Rosen's research into Ditmas's legacy provided the inspiration for the speech he will give at Morning Exercises.
In the lead-up to the big day, de Rosen seemed to be tackling his Commencement duties with characteristic equanimity.
"I have a terrifying fear of public speaking," he said. "But I can do something well while still being terrified of it."
Jon Murad, graduate speaker
Graduating Harvard Kennedy School (HKS) student Jon Murad has a message for the hordes of nervous graduates he'll be addressing in Tercentenary Theatre: Despite the pressures and expectations they feel as newly minted alumni, their futures are wide open.
No one knows that better than Murad '95, whose "inchoate desire to serve" took him, quite unexpectedly, from Harvard College to the New York Police Department.
A native of tiny Underhill, Vt., Murad, 40, studied English and theater as an undergraduate. After graduation, he moved to Hollywood and spent several years finding steady, if not exactly gratifying, work in front of and behind the camera.
"It wasn't a contributory life," Murad said, "and Sept. 11 made me come face to face with that."
It wasn't until a few years after the terrorist attack, when Murad was living in New York and engaged to his college sweetheart, that he stumbled upon the opportunity to take the New York Police Department civil service exam. At 33, he became a beat cop at a housing project in the Bronx, and steadily progressed to plainclothes work, including a major wiretapping case.
"It was a lot like HBO's 'The Wire,' with fewer alcoholic cops," he joked. "When it's exciting, it's more exciting than just about anything else."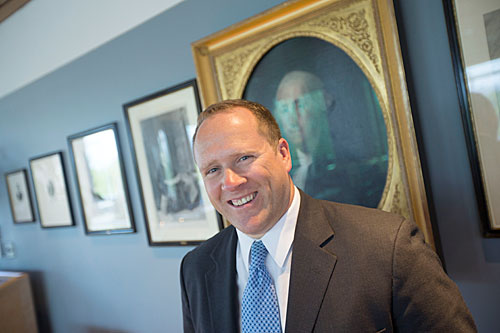 After a few years, he was found out: A chief read a report Murad had written "in which I had made the mistake of using the word 'ostensibly,'" a dead giveaway of an Ivy Leaguer.
That chance encounter led to a promotion to the department's in-house think tank, where Murad joined a small team that studied controversial issues, such as officer-involved shootings, and worked on major development projects like the design of a new policy academy. With scholarships from the New York City Police Foundation and the Harvard Club of New York City, he was given a year off to pursue a mid-career master's degree at HKS.
"My path toward service required overcoming misplaced biases about what was or was not appropriate for someone with a Harvard degree," Murad said of his post-College years. "But there's so much value in work that may not be what we think of when we think 'Harvard graduate.'"
When he returns to New York with his wife and two children, Murad will once again work the streets, this time as a sergeant. While his newly acquired policy skills won't be put to immediate use in his new role, he said, his Kennedy School experience was invaluable.
"It's given me a reinvigorated sense of purpose," he said.