Enemy of disease
The presentation of honorary degrees includes short biographies read by Provost Alan Garber. Brief as they are, these often contain interesting notes about the recipients.
During Morning Exercises, an honorary doctorate was given to Donald Hopkins, a graduate and onetime faculty member of the Harvard School of Public Health, and a giant in the fight against disease.
Hopkins worked on the successful campaign to defeat smallpox. Most recently, he has fought guinea worm disease, also known as the "fiery serpent," because the worm develops in the human body and emerges slowly, painfully.
In the mid-1980s, the worm was widespread — 20 countries — and the disease afflicted 3.5 million people. Today, there are just 600 cases, and as Garber put it, "the end is in sight."
Garber also said that Hopkins has a reminder of his mission in a glass jar on his desk, a guinea worm named Henrietta.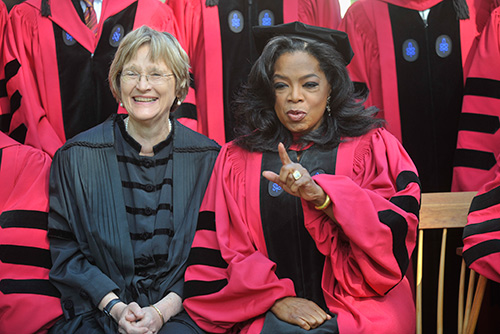 Brotherly putdowns
The speeches that sprinkle Commencement season offer plenty of opportunities to feed old college rivalries, and the conferring of honorary degrees isn't any different.
In describing the impressive body of scientific work that led to Massachusetts of Technology Professor JoAnne Stubbe's honorary doctorate, Provost Alan M. Garber offered that she "scaled the heights of science, while toiling at a humble technical institute, perhaps best known for its proximity to Toscanini's ice cream."
Next, Princeton.
Discussing the work of religious scholar Elaine Pagels, who earned her doctorate at Harvard, Garber pointed out: "She is now the Harrington Spear Paine Foundation Professor of Religion at what is arguably America's finest university, within a 20-mile radius of Exit 9 on the New Jersey Turnpike."
Dr. Menino
One audience favorite on Thursday morning was Mayor Thomas M. Menino, who received an honorary doctorate after 20 years of service to Boston.
Soundbytes: Conferring of honorary degrees
Menino, who recently decided against seeking a sixth term, has a bachelor's degree from the University of Massachusetts to go along with his honorary doctorate. In comments to reporters following Morning Exercises, he said that during the ceremony he was thinking back to how he used to fight with his dad about school.
"My dad loved education," he said. "When I was a young man, I fought with him every day. One day I said to my dad, 'Harry Truman didn't have a college degree and became president,' and my dad says to me, 'Times are different, you need a college degree.'
"The first thing I did when I was elected to the City Council is I went back to college and got my degree at the University of Massachusetts for four years. I didn't miss a class."
His advice for graduating seniors was simple: "hard work, be focused, have a plan."
"I never imagined this day would happen. I'm very humbled," Menino said, adding: "Now you have to call me doctor."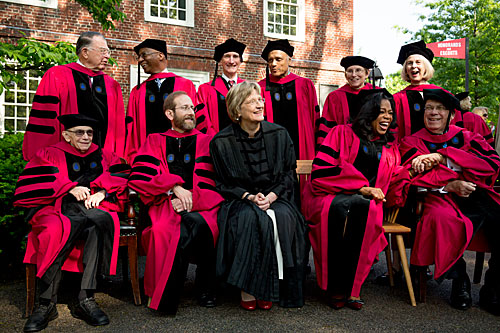 Shared experience
By tradition every Commencement Day afternoon, the oldest graduates of Harvard and Radcliffe colleges lead the alumni procession into Tercentenary Theatre. (It's the annual meeting of the Harvard Alumni Association, headlined this year by speaker Oprah Winfrey.) In the lead was George Barner, Class of 1929, a retired lawyer who lives in Kennebunk, Maine.  He will be 105 this December — but is 24 days younger than the man who was behind him in the procession: Donald Brown, a retired archaeologist and professor of anthropology who at 104 represented the Class of 1930. Both men were in wheelchairs, but Brown's son Christopher said his father was up to the walk this year — except he had caught a bug last week. Barner, who played tennis into his 90s, looked hale. "I'm happy to come in," he said of the ceremony. "It's probably the biggest day of my year."
Sitting next Brown was Lillian Sugarman '37, the oldest Radcliffe grad present. Her name was Lillian Sher when she graduated with a degree in German literature, but it was only because she studied typing and stenography over two summers that she landed a postgraduate job. Sugarman married in 1939, she said, "and I've been loafing every since." Sitting on her other side, grandson Peter S. Cahn '96, RI '09, had a good laugh at that idea. For one, Sugarman works out four times a week — a habit she acquired 50 years ago: "It wasn't fashionable when I started out."
Harvard Yard "seems the same" as in her day, said Sugarman. And are the people at Harvard any different now? "They're younger," she said.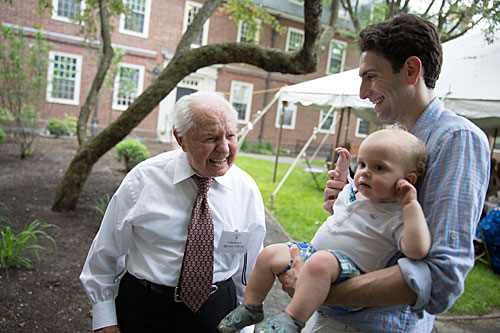 Making their entrances
"As soon as the 35th Class marches in, we will try to line up the president's party," said Fred Abernathy, Gordon McKay Professor of Mechanical Engineering and Abbott and James Lawrence Research Professor of Engineering, who each year takes up his post atop his traditional small podium, calling out facts and figures from the classes of days past and keeping the procession into the Old Yard moving, mostly smoothly. "Try," added Abernathy, "is all we can do."
"I've got two fake hips and a fake knee," explained one older woman with a laugh in the morning as she tried to get through the tight security check posted at the 1857 Gate without setting off an alarm. The kindly guard with a hand-held metal detector finally waved her through.

"I'm not very nimble in this thing," complained a tall, lanky senior to his friend as they ran through the Yard in the early morning, trying not to trip over their billowing black graduation robes.
Walton: "We need you to lead us"
The 362nd Commencement ceremony kicked off in the Memorial Church with the Senior Chapel Service, which included songs and a sermon from the Rev. Jonathan L. Walton, Plummer Professor of Christian Morals and Pusey Minister in the Memorial Church.
As days of rain suddenly gave way to summertime sun and high temperatures, many members of the Class of 2013 took off their caps and gowns, gulped bottles of water, and fanned themselves with their programs as they tried to cool down.
"We are willing to name an air conditioner after you," joked Walton to open the service, suggesting that those who considered donating a large sum of money would be rewarded with cooler climes in the church — and a nameplate.
Walton urged the graduating class to look with a sense of vision to the future and be ready to act, and not to merely stare blankly ahead at problems like economic and gender inequality, unequal access, and religious intolerance.
"We need you, Class of 2013, to use your privilege and your power to help shift the cultural climate. We need you to be thermostats, not thermometers; we need you to dictate and determine culture, as opposed to just reading it and reflecting it."
Harvard College, he said, gave them an ability to re-envision the world and their role in it with a broad perspective, a sense of the potential obstacles ahead and ideas about ways to overcome them. "This is what having vision is all about, to see things not as they are, but according to their potential."
Walton called on the graduates to be visionaries, to take chances, to think outside the status quo, and to act as agents of change because, he said, "We need you to lead us."
Walton's words struck a chord with senior Sophie Chang, a Quincy House resident and computer science concentrator who will work for Google after graduation:
"I thought it was very inspirational. It really felt like I could use his message in the real world. I am really excited to graduate and put some of those words to practice."
Walton, who has a torn Achilles heel, didn't let that slow him down. He gave his crutch to an assistant and limped with his walking boot to the front of the church, shaking hands and congratulating the graduates who gathered on its steps.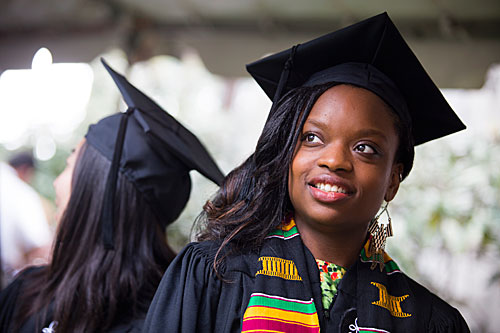 "Part of the carnival"
As graduate students gathered on Quincy Street Thursday morning before processing into Harvard Yard, the hurry up and wait nature of Commencement gave them a chance to reflect on the path they've taken.
J.Q. Liu, who is receiving a master's degree in health policy from the Harvard School of Public Health, plans to return to his native China to a faculty position at Sun Yat-sen University.
"I read many times about Harvard's ceremony, and now it's unbelievable to be a part of it," Liu said. "We are part of the carnival."
The hope to see Oprah
A small crowd of eager paparazzi gathered outside Massachusetts Hall mid-morning, their cameras clicking away in rapid fire. The reason was that Oprah Winfrey, the day's official Commencement speaker, was posing for pictures with Harvard President Drew Faust, Provost Alan M. Garber, and the day's eight other recipients of honorary degrees. One mother, who had been trying to track down her graduating son, temporarily gave up, happily settling instead for a picture of the media maven. "I knew that something important was going on," said New York resident Rachelle Katz. "We couldn't find our son, Adam, so we found Oprah instead. It's almost as good," she said with a laugh, "but not quite."
Putting on her top hat
As thousands gathered in the Old Yard readying for the procession into Tercentenary Theatre, one woman wearing a fascinator worthy of a royal wedding stood out. Linda Greenhouse, a Pulitzer Prize-winning reporter and a member of Harvard's Board of Overseers, donned an impressive white lace top hat with an embellished veil as she waited to march with her Class of 1968 from Radcliffe.
"I bought this hat in 1993 when I was the chief Commencement marshal at my 25th reunion" said Greenhouse. "There hadn't been too many women who had been chief marshals, and I asked the [organizers], 'What's the dress code?' They said for men it's a top hat and tails, so I went out and I bought this for myself, and now I am an Overseer, and I wear it every year. It's a lot of fun, I look forward to it, and I find it quite meaningful."
Remembrances, 50 years on
Bob Seaman and Brent Spears, graduates of the Class of 1963 and former Quincy House residents, reminisced about their Harvard days a half-century ago as they gathered with other class members in the Old Yard. When New Yorker Seaman was in high school, he was pondering where to attend when a fan of the University "persuaded me that Harvard was the place that I should go." Seaman agreed, changed his concentration from engineering midway through his Harvard career, graduated with honors in general studies with a focus on history, and went on to become a lawyer. "I came here and I never regretted it," he said. "I think the most important thing you can get out of college is inspiration to go on to do something else."
Spears recalled his time as a freshman in Massachusetts Hall, where the University's administrative offices are as well, and his connection to Harvard's 24th president, Nathan Pusey. "I was 17. I was a very callow youth," said Spears. "When I walked to class, Nathan Pusey … would come toward me; we would have a brief conversation. He was a warm, gentle, humble man. Nathan Pusey brought Harvard down to human size for me at a time when I was feeling pretty overwhelmed."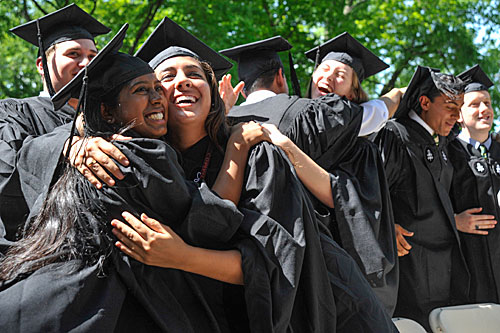 Service matters
Police presence at Morning Exercises wasn't just a matter of security. The sheriff of Middlesex County, as ever, called the meeting to order (at 9:49). A Boston police officer sang "The Star Spangled Banner" (very mightily and well). And a New York City officer — Jon Murad '95, recipient this year of a mid-career master's degree from the Kennedy School — delivered "In Praise of Clip-On Ties," the Graduate English Address. "When you're a cop, as I am, there's definite value to breakaway neckwear," he said. There are not many police officers out there with two Harvard degrees, said Murad. "That's not a boast. It's a lament." More Harvard graduates should go into public service, he said — and join him in defying the advice John Adams (Class of 1755) gave his own son, John Quincy Adams (Class of 1787): Get to the top. (Both became president of the United States — the second and the sixth.) "Success doesn't mean rising to the top," said Murad, who thinks his next beat will be in the Bronx. "It means changing the world." He finished: "Let us go forth, and serve as we can." Murad got the only standing ovation of the morning.
Soundbytes: Graduate English address (Jon Murad '95)
A moment to remember
Harvard President Drew Faust opened the Commencement ceremonies with a reminder of recent tragedies, asking for a moment of silence to honor the victims of the Boston Marathon bombings six weeks earlier and of the Oklahoma tornadoes just a week ago.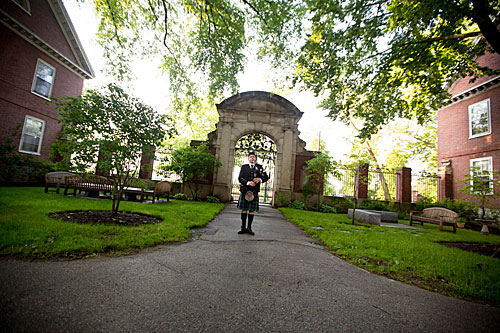 Watching the clock
Felix de Rosen '13, a government concentrator who traveled to Iran, Afghanistan, India, and Cape Verde during his years at Harvard, delivered the Senior English Address, "Listening to Time."  It was in homage to the late Charles A. Ditmas Jr., once keeper of the clocks at Harvard College. (Tool bag in hand, he would whisper to some of the older clocks: "How are you feeling today?") De Rosen's address also inspired some record keeping of the clockwise sort: exactly when degrees were conferred. In case present graduates (or future generations) are consumed with wonder, here is the breakdown, each clocked at the moment President Drew Faust said "I confer upon you …": From the Graduate School of Arts and Sciences Ph.D degrees were conferred at 10:24 a.m., and master's degrees of arts and science exactly two minutes later. Degrees related to the School of Engineering of Applied Sciences: 10:27. The three degrees conferred on graduates of University extension came in at 10:29, dental degrees at 10:33, medical degrees a minute later. Degrees in divinity were conferred at 10:36; those in law at 10:38. Degree candidates from the Business School stepped over the line and became degree holders at a business-like 10:40, with design degrees just behind, clocking in at the same hour and minute. Degrees in education: 10:43 a.m. (give that teacher an apple), and public health degrees two minutes later. Next, degrees from the Kennedy School: 10:46. And then, the finale (if noise and tumult is any sign), degrees were conferred at Harvard College at 10:52. Some time later, at 11:26 a.m., came the official moment of conferral for those honorary degrees: nine stories of the great and influential that deserve more time.
Soundbytes: Senior English address (Felix de Rosen '13)
Wisdom and dreams
As graduating seniors waited beneath a tent alongside friends and family, Winthrop House co-master Ronald Sullivan Jr., clinical professor of law at Harvard Law School and director of the Harvard Criminal Justice Institute, offered some final words of guidance. As the Class of 2013 left campus, Sullivan said, he hoped they would remember to dream big, and to persevere in the face of challenges.
Quoting theologian and former president of Morehouse College Benjamin E. Mays, Sullivan told students, "It is a calamity not to dream. Not failure, but low aim, is a sin." The Winthrop House master closed by reminding graduates to "always, always, always reach for the stars."
Over at the Law School, graduate Jeffrey Dawidowicz sat with his parents, his wife, Devorah, and his mother-in-law, watching other members of the class accept their diplomas.
"I'm looking forward to new things," he said, and glancing up at the sunlight that filtered down through a canopy of trees. "Passing the bar, my wife and I are expecting our first child, and I'm starting work in New York City."
— Jennifer Doody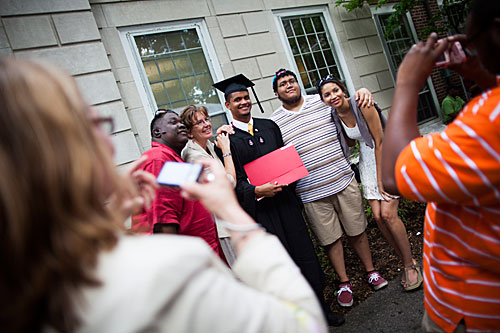 Leaving — perhaps not for long
For a group of students from the Graduate School of Education (GSE), Commencement Day meant mixed feelings, with happiness about achieving a long-sought goal and sadness about leaving a place and people who've meant so much to them.
Danielle Hayden, who is bound for Seattle and a July wedding, is also still searching for a job.
"It's the culmination of all our hard work and dedication, but also bittersweet because we're leaving behind friends and wonderful faculty," said Hayden, who was waiting on Quincy Street with three other GSE students, Hui Cheng, Yixin Tan, and Yuchen Shi, for the procession into the Yard to begin.
Cheng, who plans to stay in the Boston area, said that her farewells to Harvard on Thursday may not be forever. "I'm hoping to do a doctorate in a few years, so I'll be back," Cheng said.
"Excited, crazy, sleep-deprived"
Katherine Lim, a Cabot House senior, responded with some word association when asked how she was feeling on Commencement morning: "excited, crazy, sleep-deprived, very happy."
Lim, who took a semester off and so will return in the fall to complete her degree, said she's still trying to work out her feelings, knowing that she'll return in the fall without the friends with whom she has spent the past four years. She also admitted to being tired after not sleeping much the night before Commencement, on top of a senior week full of activities.
"I couldn't fall asleep, because of anticipation and excitement," Lim said, "but I'm feeling awake."
Cool pursuits
At Morning Exercise, chairs in Tercentenary Theatre were scattered with Harvard print publications — very handy for fanning yourself. Guests and graduates assigned to the shade of trees were the lucky ones. One line of chairs away, out of shadows and into the glare, the sun cut in like a knife. (Section D-3: shady. B-5: a griddle. Degree candidates in medicine: cool. Candidates in education: hot.) Hint for the next time: Large-format publications also make good hats, perched like pup tents on blazing domes. But one gentleman, with great foresight, sat on the grassy knoll by the steps to Houghton Library, looking cool and collected under a big umbrella. Next to him, in the full sun, a young girl swept the air for a bug. Swing and a miss.